Théodore de Banville and Le Nouveau Décaméron
Keywords:
Banville, Le Nouveau Décaméron, short fiction, modernity, women readers
Abstract
Between 1875 and 1890, Banville published nine volumes of tales, including two new editions of his short stories and tales collected before 1871. This article focuses on the conceptual framework that informed his storytelling practice, particularly his ideas about modernity, his avowed preference for courting a female audience, and the role he played in Le Nouveau Décaméron as the dean of the literary generation born between 1820 and 1830. Mendès offered a place of honour to Banville by naming him king of the storytellers of the first day. He is one of the most faithful collaborators, giving ten tales. We analyse "Tiï," an unusual and exotic tale, written especially for the eighth day on "Amours lointaines." The study of Banville's tales shows that the storyteller remained sensitive to questions of social life, in particular female autonomy.
References
Banville, Théodore de. « Beaux-Arts. Salon de 1848 ». La Sylphide, 10 mai 1848.
Banville, Théodore de. Contes pour les Femmes. Paris, Charpentier, 1881.
Banville, Théodore de. Critique littéraire, artistique et musicale, choix de textes, introduction et notes par Peter J. Edwards et Peter S. Hambly, Honoré Champion, 2003, 2 vol.
Banville, Théodore de. Dames et demoiselles. « À Léon Cléry ». Paris, Charpentier, 1886.
Banville, Théodore de. Paris vécu, section « Feuilles volantes ». Paris, Charpentier, 1883. Première publication sous le titre : « Chronique. Contes et conteurs ». Gil Blas, 13 février 1880.
Edwards, Peter J. Théodore de Banville : Nouvelles et contes (1845-1870), édition critique. Honoré Champion, sous presse pour le 1er trimestre 2022.
Huret, Jules. Enquête sur l'évolution littéraire. Paris, Charpentier, 1891.
Juin, Hubert. Lectures « Fins de siècles », « Catulle Mendès : Préface à Le Roi vierge ». Christian Bourgois Éditeur, 10/18, 1992.
Lacroix, Raymond. Théodore de Banville : une famille pour un poète. Biographie originale, historique et documentaire. Slatkine Érudition, 2016.
Lenormant, François. Histoire ancienne de l'Orient jusqu'aux guerres médiques. 9e éd., t. I. Paris, A. Lévy, 1882.
Mendès, Catulle. La Légende du Parnasse Contemporain. Slatkine Reprints, 1983.
Le Nouveau Décaméron. Paris, E. Dentu Éditeur, 1884-1887, 10 vol.
Vauthier, Éric. « Catulle Mendès, nouvelliste cruel de la Décadence ». Anales de Filología Francesa, n° 14, 2005-2006, pp. 233-250.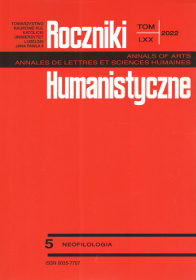 Copyright (c) 2022 Roczniki Humanistyczne
This work is licensed under a Creative Commons Attribution-NonCommercial-NoDerivatives 4.0 International License.