From the Earliest Origins to Contemporary Times: The Evolution of Instrumental Folklore in the Silesian Beskids (the Example of Trójwieś)
Keywords:
musical folklore of the Silesian Beskids, transformations of the Beskid folk instruments, Silesian bagpipe, passing on traditions from generation to generation
Abstract
Nowadays, in folk culture, various changes can be observed happening. These are also occurring in the musical folklore of the Silesian Beskids. This region has a rich tradition of developing musical repertoires, performance styles and folk instruments. The guardians of this tradition are musicians, frequently local ones, who pass it on to younger generations. They educate the younger Beskid musicians and ensure that the tradition is kept alive. At the same time, the repertoire and the construction of folk instruments are changing. This is taking place for creative, but also pragmatic and commercial, reasons, including, for example, the use of polycarbonate reeds in the Silesian bagpipe.
References
Burke, Peter. Historia kulturowa. Wprowadzenie. Wydawnictwo Uniwersytetu Jagiellońskiego, 2008.
Burszta, Józef. Kultura ludowa – kultura narodowa. Szkice i rozprawy. Ludowa Spółdzielnia Wydawnicza, 1974.
Cudzich, Ewa, i Michał Kawulok. "«Ujec od Wojtosza» – z muzyką przez sady, ludzkie anatomie. O Janie Kawuloku (1899-1975) z Istebnej". Dudziarze.pl, dudziarze.pl/project/ujec-od-woj tosza-z-muzyka-przez-sady-ludzkie-anatomie-o-janie-kawuloku-1899-1975-z-istebnej/. Dostęp 1.04.2022.
Czekanowska, Anna. Kultury tradycyjne wobec współczesności. Muzyka, poezja, taniec. Wydawnictwo TRIO, 2008.
Hoff, Bogumił. Lud cieszyński jego właściwości i siedziby. Obraz etnograficzny [...]. Serya I Górale Beskidów Zachodnich, t. 1: Początki Wisły i Wiślanie. Księgarnia M. Arcta, 1888.
Klekot, Ewa. Kłopoty ze sztuką ludową. Gust, ideologie, nowoczesność. Wydawnictwo słowo/obraz terytoria, 2021.
Kopoczek, Alojzy. Instrumenty muzyczne Beskidu Śląskiego i Żywieckiego. Aerofony proste i ich repertuar. Beskidzka Oficyna Wydawnicza BTSK, 1984.
Kowalski, Piotr. Popkultura i humaniści. Wydawnictwo Uniwersytetu Jagiellońskiego, 2004.
Morcinek, Gustaw. Ziemia Cieszyńska. Wydawnictwo "Śląsk", 1962.
Rokosz, Tomasz. Między mową a śpiewem: słowo, muzyka i obrzęd w kontekście przemian. Towarzystwo Naukowe KUL, 2020.
Rokosz, Tomasz. "Oblicza folkloryzmu we współczesnej kulturze – prolegomena". Gadki,
www.gadki.lublin.pl/encyklopedia/artykuly/oblicza_folkloryzmu_we_wspolczesnej_%20kulturze.html. Dostęp 20.03.2022.
Szymonowiczowie, Maciej i Katarzyna. Gajdosze. Fundacja Klamra, 2014.
Szyndler, Magdalena. Folklor pieśniowy Zaolzia. Uwarunkowania, typologia i funkcje. Wydawnictwo Uniwersytetu Śląskiego, 2011.
Szyndler, Magdalena. Ludowa kultura muzyczna Śląska Cieszyńskiego ze szczególnym uwzględnieniem Beskidu Śląskiego. Folklor pieśniowy Istebnej, Koniakowa i Jaworzynki – źródła repertuarowe a ich transformacje. Wydawnictwo Uniwersytetu Śląskiego, 2018.
Tacina, Jan. Gronie nasze gronie. Wydawnictwo "Śląsk", 1959.
Trębaczewska, Marta. Między folklorem a folkiem. Muzyczna konstrukcja nowych tradycji we współczesnej Polsce. Wydawnictwa Uniwersytetu Warszawskiego, 2011.
Turek, Krystyna. Sylwetki zbieraczy i badaczy muzycznego folkloru Śląska. Katowice 2001.
Wywiad ze Zbigniewem Wałachem, Istebna, 6.10.2021.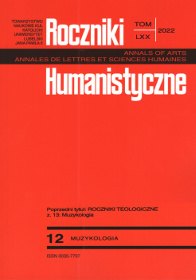 Copyright (c) 2022 Roczniki Humanistyczne
This work is licensed under a Creative Commons Attribution-NonCommercial-NoDerivatives 4.0 International License.