"Nostalgia is a Longing for Paradise": The Issue of Nostalgia in Collector of Paradise by Evgeny Chizhov
Keywords:
nostalgia, memory, post-memory, time, 1990s
Abstract
This article deals with the subject of nostalgia in the novel The Collector of Paradise (2019) by Evgeny Chizhov. The introduction presents a brief overview of research on nostalgia, while highlighting its various aspects and typologies.
In the analysis of the text, the main emphasis is placed on the portraits of the main characters: Kirill, a regular at the Moscow flea markets, and his mother, who suffers from Alzheimer's. The most distinctive feature of these characters is their relationship to time, the past and memory. They both illustrate different aspects of returning to the past and detachment from the present. Their sense of time can be said to represent different types of nostalgia. The plot of the novel takes place in the 1990s, when, as a result of the collapse of the Soviet Union, the entire future of the characters remained in the past. However, the bygone epoch is not idealised, therefore the novel cannot be labelled as nostalgic.
Nostalgia interests the writer as a widespread phenomenon with the hallmarks of a disease that prevents living in the present. The heroes' longing for a different epoch can also be viewed as frustration resulting from the confinement of a human being in a limited time, which makes it impossible to live for eternity.
References
Aleksandrova, Marina. "Yevgeniy Chizhov, «Sobiratel' raya»: lyudi bezvremen'ya i nostal'giya kak diagnoz" [Александрова, Марина. "Евгений Чижов, «Собиратель рая»: люди безвременья и ностальгия как диагноз"], regnum.ru/news/cultura/2980698.html. Dostęp 20.10.2020.
Assman, Aleyda. Raspalas' svyaz' vremeni. Vzlet i padeniye temporal'nogo rezhima moderna. Per. Boris Khlebnikov i Dmimtriy Timofeyev. Novoye literaturnoye obozreniye, 2017 [Ассман, Алейда. Распалась связь времени. Взлет и падение темпорального режима модерна. Пер. Борис Хлебников и Дмимтрий Тимофеев. Новое литературное обозрение, 2017].
Augustyn, Leszek. "Kultura transcendencji: czas egzystencjalny w ujęciu Mikołaja Bierdiajewa". Czas w kulturze rosyjskiej, red. Andrzej Dudek, Księgarnia Akademicka, 2019, ss. 181-194.
Barthes, Roland. Światło obrazu. Uwagi o fotografii. Tłum. Jacek Trznadel. Wydawnictwo Aletheia, 2008.
Bauman, Zygmunt. Retrotopia. Jak rządzi nami przeszłość?. Tłum. Karolina Lebek. Państwowe Wydawnictwo Naukowe, 2018.
Berliner, David. "Are Anthropologist Nostalgist?". Anthropology and Nostalgia, red. Olivia Angé, David Berliner, Berghahn Books, 2015, ss. 17-34.
Berliner, David. "Multiple nostalgias. the fabric of heritage in Luang Prabang (Lao PDR)". Journal of the Royal Anthropological Institute, nr 18, 2012, ss. 769-786.
Boym, Svetlana. Budushcheye nostal'gii. Novoye literaturnoye obozreniye; 2001 [Бойм, Светлана. Будущее ностальгии. Новое литературное обозрение, 2001].
Brushlinskiy, Andrey Vladimirovich. Problemy psikhologii sub''yekta. Institut psikhologii RAN, 1994 [Брушлинский, Андрей Владимирович. Проблемы психологии субъекта. Институт психологии РАН, 1994].
Bykov, Dmitriy. "Kakoy byl god, kakiye personazhi...". Novaya gazeta, 25.12.2009 [Быков, Дмитрий. "Какой был год, какие персонажи...". Новая газета, 25.12.2009], novaya gazeta.ru/articles/2009/12/25/39825-kakoy-byl-god-kakie-personazhi. Dostęp 18.12. 2020.
Chantsev, Aleksandr. "Souchastiye vo vremeni" [Чанцев, Александр. "Соучастие во времени"], godliteratury.ru/projects/evgeniy-chizhov-sobiratel-raya. Dostęp 12.09.2020.
Chizhov, Yevgeniy. "Eto moy gorod". Moskvich, 24.07.2019 [Чижов, Евгений. "Это мой город". Москвич, 24.07.2019], moskvichmag.ru/lyudi/eto-moj-gorod-pisatel-evgenij-chizhov/. Dostęp 15.12.2020.
Chizhov, Yevgeniy. "Kak nam obustroit' ray?". Rossiyskaya gazeta, 25.10.2020 [Чижов, Евгений. "Как нам обустроить рай?". Российская газета, 25.10.2020], rg.ru/2020/ 10/24/evgenij-chizhov-zhizn-poslozhnee-kompiuternoj-igry.html. Dostęp 15.09.2020.
Chizhov, Yevgeniy. "Pisateli Ol'ga Slavnikova i Yevgeniy Chizhov: «Tabuirovannykh tem net. Yest' vkus» Yekaterina Pisareva" [Чижов, Евгений. "Писатели Ольга Славникова и Евгений Чижов: «Табуированных тем нет. Есть вкус» Екатерина Писарева"]. Афиша Daily, daily.afisha.ru/brain/14287-pisateli-olga-slavnikova-i-evgeniy-chizhov-tabuirovannyh-tem-net-est-vkus/. Dostęp 12.10.2020.
Chizhov, Yevgeniy. "Pro menya" [Чижов, Евгений. "Про меня"], snob.ru/profile/26978. Dostęp 12.09.2019.
Chizhov, Yevgeniy. Sobiratel' raya. E-book, Izdatel'stvo AST, 2019 [Чижов, Евгений. Собиратель рая. E-book, Издательство АСТ, 2019].
Colin, Clément. "La Nostalgie comme Catégorie Géographique: une Proposition Théorique". The Canadian Geographer / Le Géographe canadien, nr 62(4), 2018, ss. 494-504.
Collier, John Jr., i Malcolm Collier. "Zasady badań wizualnych". Tłum. Kaja Gadowska. Fotospołeczeństwo. Antologia tekstów z socjologii wizualnej, red. Małgorzata Bogunia-Borowska i Piotr Sztompka, Znak, 2012, ss. 738-760.
Demin, Il'ya. "Fenomen nostal'gii v gorizonte postmetafizicheskoy filosofii istorii». Vestnik Samarskoy gumanitarnoy akademii. Seriya «Filosofiya. Filologiya» nr 1 (11), 2012, ss. 16-25 [Демин, Илья. "Феномен ностальгии в горизонте постметафизической философии истории». Вестник Самарской гуманитарной академии. Серия «Философия. Филология» №1 (11), 2012, сс. 16-25].
Etkind, Aleksandr. "Rabota gorya i utekhi melankholii". Neprikosnovennyy zapas, nr 3, 2013, ss. 209-220 [Эткинд, Александр. "Работа горя и утехи меланхолии". Неприкосновенный запас, № 3, 2013, сс. 209-220].
Fitzgerald, Francis Scott. Wielki Gatsby. Tłum. Ariadna Demkowska-Bohdziewicz. Książka i Wiedza, 1982.
Gladwell, Malcolm. Punkt przełomowy. Tłum. Grażyna Górska. Znak, 2019.
Gorin, Dmitriy. "Chuvstvo istorii v kul'ture «drugoy modernosti», ili Buratino kak zerkalo russkoy evolyutsii". Neprikosnovennyy zapas, nr 3, 2013, ss. 107-117 [Горин, Дмитрий. "Чувство истории в культуре «другой модерности», или Буратино как зеркало русской эволюции". Неприкосновенный запас, № 3, 2013, сс. 107-117].
Govorukhina, Yuliya Anatol'yevna, i Petr Petrovich Kaminskiy, Vyacheslav Alekseyevich Sukhanov. ,,Nostal'giya po sovetskomu v khudozhestvennykh diskursakh". Nostal'giya po sovetskomu, red. Zoya Ivanovna Rezanova, Izdatel'stvo Tomskogo universiteta, 2011, ss. 279-326 [Говорухина, Юлия Анатольевна, и Петр Петрович Каминский, Вячеслав Алексеевич Суханов. ,,Ностальгия по советскому в художественных дискурсах". Ностальгия по советскому, ред. Зоя Ивановна Резанова, Издательство Томского университета, 2011, сс. 279-326].
Huyssen, Andreas. "Present Pasts: Media, Politics, Amnesia". Public Culture, Bd. 12 (1), 2000, ss. 21-38.
Ivanova, Natal'ya. Nostal'yashcheye. Sobraniye nablyudeniy. Raduga, 2002 [Иванова, Наталья. Ностальящее. Собрание наблюдений. Радуга, 2002].
Kalinina, Ekaterina. Mediated Post-Soviet Nostalgia. Södertörn University, 2014.
Klivis, Edgaras. "Nostalgia as Political Emotion: Eastern European Subjectivities in the (Post) Soviet Theatre Context". Nordic Theatre Studies, nr 21, 2009, ss. 64-73.
Le Goff, Jacques. Historia i pamięć. Tłum. Anna Gronowska i Joanna Stryjczyk. Wydawnictwa Uniwersytetu Warszawskiego, 2007.
Litovskaya, Mariya. "Sovetskaya imperiya kak tema sovremennoy literatury». Nostal'giya po sovetskomu, red. Zoya Ivanovna Rezanova, Izdatel'stvo Tomskogo universiteta, 2011, ss. 326-343 [Литовская, Мария. "Советская империя как тема современной литературы». Ностальгия по советскому, ред. Зоя Ивановна Резанова, Издательство Томского университета, 2011, сс. 326-343].
Louental', Devid. Proshloye – chuzhaya strana. Per. Aleksandr Vasil'yevich Govorunov. Izdatel'stvo «Vladimir Dal'», 2004 [Лоуэнталь, Дэвид. Прошлое – чужая страна. Пер. Александр Васильевич Говорунов. Издательство «Владимир Даль», 2004].
Łaguna-Raszkiewicz, Kamilla. "Fotografa jako źródło postpamięci". Pedagogika Społeczna, nr 1 (59), 2016, ss. 155-164.
Łukaszewicz Alcaraz, Aleksandra. Epistemologiczna rola obrazu fotograficznego. Ku podmiotowi tak jakby i epistemologii jak gdyby. Rola fotografii w określaniu naszych tożsamości i świata wokół nas. Wydawnictwo Naukowe Scholar, 2014.
Mazur, Liudmila. "Golden Age Mythology and the Nostalgia of Catastrophes in Post-Soviet Russia". Canadian Slavonic Papers, t. 57, nr 3-4, 2015, ss. 213-238.
Megill, Allan. Istoricheskaya epistemologiya. Per. Marina Alekseyevna Kukartseva, Vladimir Yevgen'yevich Kashayev i Vladimir Sergeyevich Timonin, Kanon+, 2007 [Мегилл, Aллан. Историческая эпистемология. Пер. Марина Алексеевна Кукарцева, Владимир Евгеньевич Кашаев и Владимир Сергеевич Тимонин, Канон+, 2007].
Michałowska, Marianna. "Fotografia". Modi memorandi. Leksykon kultury pamięci, red. Magdalena Saryusz-Wolska i Robert Traba, Wydawnictwo Naukowe Scholar, 2014, ss. 140-141.
Mittelstaedt, Werner. Das Prinzip Fortschritt. Ein neues Verständnis für Herausforderungen unserer Zeit. Peter Lang, 2008.
Napiórkowski, Marcin. "Epidemia pamięci". Antropologia pamięci. Zagadnienia i wybór tekstów, red. Paweł Majewski, Marcin Napiórkowski, Wydawnictwa Uniwersytetu Warszawskiego, 2018, ss. 15-37.
Nostalgia. Eseje o tęsknocie za komunizmem, red. Filip Modrzejewski i Monika Sznajderman. Wydawnictwo Czarne, 2002.
Oleynikov, Andrey. "Istoricheskiy opyt – novyy predmet teorii" [Олейников, Андрей. "Исторический опыт – новый предмет теории"], kogni.narod.ru/exper.htm. Dostęp 10.09. 2020.
Oushakine, Serguei. "«We're Nostalgic but We're not Crazy»: Retrofitting the Past in Russia". The Russian Review, nr 66, 2007, ss. 451-482.
Repin, Taras. "Kak festival' molodëzhi 1957 goda izmenil SSSR". Russkaya semerka, 18.10. 2017 [Репин, Тарас. "Как фестиваль молодёжи 1957 года изменил СССР". Русская семерка, 18.10.2017], russian7.ru/post/kak-festival-molodyozhi-1957-goda-izmenil/. Dostęp 16.12.2020.
Sekretov, Stanislav. "Istoriya bolezni". Znamya nr 12, 2019 [Секретов, Станислав. "История болезни". Знамя nr 12, 2019], znamlit.ru/publication.php?id=7465. Dostęp 3.10.2020.
Semenova, Natal'ya, i El'zhbeta Tyshkovska-Kaspshak. "Iskusstvo imitatsii i spleteniy: nostal'giya po Chekhovu v sovremennom teatre". Mezhdunarodnyy zhurnalissledovaniy kul'tury. Nostal'giya: vospominaniye – potrebleniye – rekonstruktsiya, nr 3 (36), 2019, ss. 6-22 [Семенова, Наталья, и Эльжбета Тышковска-Каспшак. "Искусство имитации и сплетений: ностальгия по Чехову в современном театре". Международный журнал исследований культуры. Ностальгия: воспоминание – потребление – реконструкция, nr 3 (36), 2019, сс. 6-22].
Smith, Laurajane, and Gary Campbell. "«Nostalgia for the Future»: Memory, Nostalgia and the Politics of Class". International Journal of Heritage Studies, t. 23, nr 7, 2017, ss. 612-627.
Sontag, Susan. Choroba jako metafora. AIDS i jego metafory. Tłum. Jarosław Anders. Państwowy Instytut Wydawniczy, 1999.
Sontag, Susan. O fotografii. Tłum. Sławomir Magala. Wydawnictwo Karakter, 2009.
Starobinski, Jean. Atrament melancholii. Tłum. Krystyna Belaid, Słowo/obraz terytoria, 2017.
Sukhanov, Vyacheslav Alekseyevich. "Nostal'giya i identichnost' – lenta Mëbiusa?". Nostal'giya po sovetskomu, red. Zoya Ivanovna Rezanova, Izdatel'stvo Tomskogo universiteta, 2011, ss.17-22 [Суханов, Вячеслав Алексеевич. "Ностальгия и идентичность – лента Мёбиуса?". Ностальгия по советскому, ред. Зоя Ивановна Резанова, Издательство Томского университета, 2011, сс.17-22].
Toymentsev, Sergey. "Legal but Criminal: The Failure of the «Russian Nuremberg» and the Paradoxes of Post-Soviet Memory". Comparative Literature Studies, t. 48, nr 3, 2011, ss. 296-319.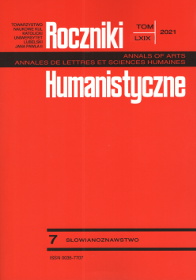 Copyright (c) 2021 Roczniki Humanistyczne
This work is licensed under a Creative Commons Attribution-NonCommercial-NoDerivatives 4.0 International License.