Verbo-Nominal Collocations with Gniew (Anger) in Brat Naszego Boga (Karol Wojtyła) and Their Translation into French and Dutch
Keywords:
nouns denoting emotion, anger, ontological structure, verb-noun collocations, translation strategies, equivalence
Abstract
This article reports on an analysis of the translation of collocations with the noun gniew (anger) in Karol Wojtyła's play Brat Naszego Boga ('Brother of our God') into French, and proposes translations of these collocations into Dutch. For the semantic-discursive analysis of collocations with gniew (anger), we established a methodological model in which we integrated – based on Eckman's definition of anger – elements of this emotion (as a process) and their linguistic realisation, which takes the form of a verb-noun collocation (of the V+N or N+V type) according to the cognitive approach of collocations proposed by Śliwa.
The study opens up a contrastive perspective in order to identify possible difficulties in the translation of verb-nominal collocations with gniew (anger). In order to facilitate a more detailed description of the degree of equivalence in the translation of these collocations, we have resorted to Camugli Gallardo's scheme.
This analysis allows us to state that a semantic-discursive approach applied to the comparative analysis of the translation of certain lexical units – such as collocations – could be adopted as a starting point for defining the criteria for evaluating the quality of a translation.
References
Cabré, M. Teresa. « On diversity and terminology ». Terminology vol. 2, no 1, 1995, pp. 1–17.
Coppin, Géraldine, David Sander. « Théories et concepts contemporains en psychologie de l'émotion ». Systèmes d'interaction émotionnelle, ed. Catherine Pelachaud. Hermès Science publications–Lavoisier, 2010, pp. 25–56. https://archive-ouverte.unige.ch/unige:34368. Accès 1.10. 2021.
Cruse, D. Alan. Lexical semantics. Cambridge University Press, 1986.
Ekman, Paul. « An argument for basic emotions ». Cognition & Emotion, no 6, 1992, pp. 169–200.
Geerts, Guido & den Boon, Ton. van Dale Groot Woordenboek der Nederlandse Taal – Dertiende herziene uitgave, Van Dale Lexicografie, 1999.
González Rey, Isabel. « Le 'double' principe d'idiomacité en traduction littéraire ». Revista de Filología, no 32, 2014, pp. 227–244.
Hausmann, Franz J. « Le dictionnaire de collocations ». Wörterbücher: ein internationales Handbuch zur Lexicographie. Dictionaries. Dictionnaires, eds. Franz J. Hausmann, Oskar Reichmann, Herbert E. Wiegand and Ladislav Zgusta, De Gruyter, 1989, pp. 1010–1019.
James, William. « What is an emotion? ». Mind, no 9, 1884, pp. 188–205. psychclassics.yorku.ca/ James/emotion.htm. Accès 1.02.2021.
Krzyżanowska, Anna & Balaţchi, Raluca-Nicoleta. « Traduire les émotions. Introduction ». Lublin Studies in Modern Languages and Literature, no 44(1), 2020, pp. 1–9.
Krzyżanowska, Anna. « Sur la place des noms d'émotion dans les études contrastives ». Studia Romanica Posnaniensia, vol. 42, no 5, 2015, pp. 67–79.
Lerat, Pierre. Les langues spécialisées, Presses Universitaires de France, 1995.
Maryniarczyk, Andrzej. « Rola języka naturalnego w metafizyce realistycznej ». Gaudium in litteris, red. Stanisław Janeczek, Wanda Bajor, Michał Maciołek, Wydawnictwo KUL, 2009, pp. 665–677.
Maryniarczyk, Andrzej. Metafizyka a ontologie. Wydawnictwo KUL, 2015.
Matsumoto, David, & Ekman, Paul. « Basic emotions ». The Oxford companion to emotion and the affective sciences, eds. David Sander, Klaus R. Scherer, Oxford University Press, 2009, pp. 69–73.
Mel'čuk Igor, Clas André, Polguère Alain. Introduction à la lexicologie explicative et com-binatoire. Duculot, 1995.
Nussbaum, Martha C. « Emotions as judgements of value and importance ». What is an emotion?, ed. Robert C. Solomon, Oxford University Press, 2003.
Olszewska, Maria. « Piękno Miłosierdzia. Dramaturgiczne wizerunki Brata Alberta ». Zeszyty Naukowe KUL, vol. 61, no 2, 2018, pp. 121–143.
Scherer, Klaus R. « What are emotions? And how can they be measured? ». Social Science Information, vol. 44, no 4, 2005, pp. 695–729.
Solomon, Robert C. « Emotions and choice ». Review of metaphysics, vol. 28, no 1, 1973, pp. 20–41.
Stoessel, Catherine. L'émotion esthétique dans la relation art-thérapeutique au sein d'un atelier d'artsplastiques dans un centre pénitentiaire de très haute sécurité. Psychologie et comportements. Université Sorbonne Paris Cité, 2017.
Śliwa, D. « Une approche cognitive des collocations ». Translation and Meaning, Part 6. Proceedings of the Lodz Session of the 3rd International Maastricht-Lodz Duo Colloquium on "Translation and Meaning", Held in Lodz (Poland), 22–24 September 2000, eds. Marcel Thelen, Barbara Lewandowska-Tomaszczyk, Hogeschool Zuyd Maastricht School of translation and Interpreting, 2002, pp. 291–296. www.hszuyd.msti.translation-and-meaning.nedweb.com/. Accès 17.02.2021.
Śliwa, Dorota. « Coeur et sentiments: une étude cognitive des collocations françaises et polonaises ». Parler des emotions : entre langue et litterature, dir. Anna Krzyżanowska, Renata Jakubczuk, Wydawnictwo UMCS, 2011, pp. 191–199.
Śliwa, Dorota. « Testament : entité – concept – termes français et polonais dans leurs relations pluridimensionnelles ». Roczniki Humanistyczne, vol. 61, c. 8 , 2013, pp. 131–147.
Śliwa, Dorota. « Parlons cerises : les prédicats et les relations dans les définitions lexicographiques et dans les énoncés définitoires ». Białostockie Archiwum Językowe, vol. 15, 2015, pp. 413–427.
Tutin Agnès & Grossmann Francis. « Collocations régulières et irrégulières : esquisse de typologie du phénomène collocatif ». Revue Française de Linguistique Appliquée, vol. 7, no 1, 2002, pp. 7–25.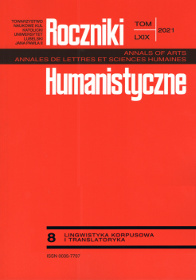 Copyright (c) 2021 Roczniki Humanistyczne
This work is licensed under a Creative Commons Attribution-NonCommercial-NoDerivatives 4.0 International License.