Hermes Trismegistus according to Marsilio Ficino: Argumentum—Translation and Commentary
Keywords:
Corpus Hermeticum, Marsilio Ficino, Hermes Trismegistus, Augustine, Lactantius, Clement of Alexandria
Abstract
The so-called Corpus Hermeticum has had a long history of translations, initiated by Marsilio Ficino's Latin version of the Greek original he prepared in 1463. So far Polish translations of the entire text remain rather less precise due to the fact that they are third-degree translations mediated by translations into other modern languages from the Latin version. Ficino's Latin translation had an introduction, in which he laid out both the ancient and early Christian tradition regarding Hermes Trismegistus. The presented article provides a commentary to Ficino's introduction and gives the Polish audience an opportunity to have all pieces of information that Ficino had access to in order to understand the knowledge of the time. Further, this paper presents the new Polish translation of Ficino's introduction.
References
Apulejusz z Madaury. O bogu Sokratesa, O Platonie i jego nauce, O świecie, oraz Pseudo-Apulejusz, Asklepiusz, czyli rozmowa z Hermesem Trismegistosem. Tłum. Kazimierz Pawłowski, Wydawnictwo Naukowe PWN, 2002.
Augustyn, święty. Państwo Boże. Tłum. Władysław Kubicki, ANTYK, 1998.
Bugaj, Roman. Hermetyzm. Ossolineum, 1991.
Campanelli, Maurizio. "Marsilio Ficino's portrait of Hermes Trismegistus and its afterlife". Intellectual History Review, t. 29, nr 1, 2019, ss. 53-71.
Campanelli, Maurizio. Mercurii Trismegisti Pimander sive de potestate et sapientia Dei a cura di Maurizio Campanelli. Aragno, 2011.
Cicero, Marcus Tullius. Pisma Filozoficzne, t. 1. Tłum. Witold Kornatowski, Państwowe Wydawnictwo Naukowe, 1960.
Czerkawski, Jan. "Hermetyzm w Polsce w XVI wieku". Roczniki Filozoficzne, t. 37-38, nr 1, 1989-1990, ss. 153-169.
Das Corpus Hermeticum durch Marsilius Ficinus aus dem Griechischen ins Lateinische und jetzt aus dessen Latein auf jeweils gegenüberliegender Seite ins Deutsche übertragen durch M.P. Steiner. Edition Oriflamme, 2014.
Ebeling, Florian. In The Secret History of Hermes Trismegistus: Hermeticism from Ancient to Modern Times. Tłum. David Lorton, Cornell University Press, 2007.
Howlett, Sophia. Marsilio Ficino and His World. Palgrave Macmillan, 2016.
Kingsley, Peter. "Poimandres: The Etymology of the Name and the Origins of the Hermetica". Journal of the Warburg and Courtauld Institutes, t. 56, 1993, ss. 1-24.
Klemens Aleksandyjski. Kobierce. Tłum. Janina Niemirska-Pliszczyńska, t. 2, Instytut Wydawniczy Pax, 1994.
Laktancjusz. Pisma wybrane. De mortibus persecutorum – Epitome – De ira Dei. Tłum. Jan Czuj, Jan Jachowski Księgarnia Uniwersytecka, 1993.
Laktanz. Vom Zorne Gottes. Tłum. Heinrich Kraft i Antonie Wlosok, Wissenschaftliche Buchgesellschaft 1983.
MacDonald, Paul S. Nature Loves to Hide: An Alternative History of Philosophy. Alternative Books, 2018.
Myszor, Wincenty. "Corpus Hermeticum IV. Wstęp, przekład z greckiego, komentarz". Studia Theologica Varsaviensia, t. 16, nr 1, 1978, ss. 186-196.
Myszor, Wincenty. "Corpus Hermeticum VI i VII. Wstęp, przekład z greckiego, komentarz". Studia Theologica Varsaviensia, t. 16, nr 2, 1978, ss. 241-247.
Myszor, Wincenty. "Corpus Hermeticum XIII. Wstęp, przekład z greckiego, komentarz". Studia Theologica Varsaviensia, t. 17, nr 1, 1979, ss. 245-256.
Myszor, Wincenty. "Poimandres. Wstęp, przekład, komentarz". Studia Theologica Varsaviensia, t. 15, nr 1, 1977, ss. 205-216.
Nawrot, Liliana. "Źródła hermetyzmu i alchemii". Nowa Krytyka, t. 10, 1999, ss. 179-199.
Platon. Phaidros. Tłum. Edward Zwolski, Aureus 1996.
Platon. Phileb, Tłum. Edward Zwolski, Aureus, 1999.
Platon. Sofista. Polityk. Tłum. Władysław Witwicki, ANTYK, 2002.
Ptaszek, Robert T., Diana Sobieraj, redaktorzy. Ezoteryczne tropy w kulturze Europy. Wydawnictwo KUL, 2013.
Riedweg, Christoph. Pythagoras. His Life, Teaching, and Influence. Tłum. Steven Rendall, Cornell University Press, 2005.
Sowińska, Agata. Hermetica średniowiecza i renesansu. Wydawnictwo Uniwersytetu Śląskiego, 2018.
Sytnik-Czetwertyński, Janusz. "Hermetyzm w filozofii Isaaca Newtona". Kwartalnik Filozoficzny, t. 43, nr 2, 2015, ss. 151-167.
Śnieżyńska-Stolot, Ewa. "'Nereidy i morskie stwory' w Kaplicy Zygmuntowskiej na Wawelu. Na marginesie książki Stanisława Mossakowskiego: Kaplica Zygmuntowska (1515-1533). Problematyka artystyczna i ideowa mauzoleum króla Zygmunta I. Warszawa 2007 Instytut Sztuki Polskiej Akademii Nauk". Kwartalnik Historii Nauki i Techniki, t. 54, nr 3-4, 2009, ss. 275-287.
Śnieżyńska-Stolot, Ewa. Picatrix Latinus. Ikonografia planet i planet dekanicznych w rękopisie krakowskim. Wydawnictwo Uniwersytetu Jagiellońskiego, 2009.
Trzcińska, Izabela. Mit, logos i ratio. Wybrane koncepcje racjonalności od XV do XVII wieku. Wydawnictwo Uniwersytetu Jagiellońskiego, 2011.
Yates, Frances A. Giordano Bruno and the Hermetic Tradition. The University of Chicago Press, 1964.
Zieliński, Tadeusz. Hermes Trzykroć Wielki. Zygmunt Pomarański i Spółka, 1921.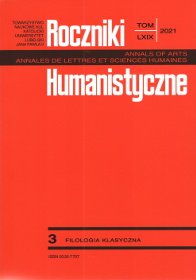 Copyright (c) 2021 Roczniki Humanistyczne
This work is licensed under a Creative Commons Attribution-NonCommercial-NoDerivatives 4.0 International License.