The Decima of Baroque Translations of Songs about the Vanities of this World (Inc.: "Cur mundus militat sub vana Gloria"): A Study of Sources
Keywords:
vanity of the world, Jacopone da Todi, Jan Libicki, Symeon of Polotsk, Wespazjan Kochowski
Abstract
This article contains the edition of ten Polish translations of a hymn about the vanity of the world, attributed to Jacopone da Todi (c. 1236-1306), and which were written in the years 1647-1747. Their authors were Jan Libicki (d. 1670), Symeon of Polotsk (1629-1680), Wespazjan Kochowski (1633-1700) and various anonymous poets.
References
Bukowiec, Paweł. Metronom. O jednostkowości poezji "nazbyt" rytmicznej. Wydawnictwo Uniwersytetu Jagiellońskiego, 2015.
Grześkowiak, Radosław. "Bramka Górskiego. O ubezwłasnowolnieniu staropolskich autorów przy wyborze podstawy krytycznego wydania". Terminus, nr 2, 2007, ss. 103-122.
Idaszak, Danuta. Grodzisk Wielkopolski. Katalog tematyczny muzykaliów. Musica Igellonica, 1993.
Katalog tematyczny rękopiśmiennych zabytków dawnej muzyki w Polsce, t. 1, z. 6, oprac. Elżbieta Głuszcz-Zwolińska, Polskie Wydawnictwo Muzyczne, 1983.
Maciejewski, Tadeusz. "Melodie z bernardyńskiego rękopisu 386/R". W kręgu dawnej poezji, Instytut Wydawniczy PAX, 1983, ss. 159-220.
Muza łacińska. Antologia poezji wczesnochrześcijańskiej i średniowiecznej (III-XIV/XV w.), oprac. Marek Starowieyski, Zakład Narodowy im. Ossolińskich, 2007.
Nawarecki, Aleksander. Czarny karnawał. "Uwagi śmierci niechybnej" księdza Baki – poetyka tekstu i paradoksy recepcji. Zakład Narodowy im. Ossolińskich, 1991.
Nikolayev, Sergey. "Stikhotvoreniye Yakopone da Todi «O suyete mira» v russkih perevodah XVII v." Trudy Otdela drevnerusskoy literatury, 1996, ss. 224-236.
Peretts, Vladimir. Istoriko-literaturniya izsledovaniya i materialy, t. 1, cz. 1. Tipolitografya F. Vaysberga, P. Gershunina, 1900.
Peretts, Vladimir. Zametki i materialy dlya istorii pesni v Rossii. Tipografya Imperatorskoy Akademii Nauk, 1901.
Poésie latine chrétienne du Moyen Âge (IIIe-XVe siècle), textes recueillis, traduits et commentés par Henry Spitzmuller, Desclée de Brouwer, 1971.
Trościński, Grzegorz. "Kancjonał radomskich bernardynów ze zbiorów Biblioteki Diecezjalnej w Sandomierzu. Z dziejów zasobu pieśni religijnych polskich franciszkanów obserwantów". Piśmiennictwo zakonne w dobie staropolskiej, red. Magdalena Kuran, Katarzyna Kaczor-Scheitler, Michał Kuran, przy współpracy Dawida Szymczaka, Wydawnictwo UŁ, 2013, ss. 105-128.
Wöhler, Arnd. Die handschriftlichen Kantionale des Franziskus Valentin Ruthen (1674-1734). Untersuchungen zu Quellen und Aufbau katholischer Gesangbücher des späten Barock in Pomerellen. Böhlau, 1999.
Zosim, Olga. "Katolicheskaya liturgicheskaya traditsiya i yeye znacheniye v razvitii vostochnoslavyanskoy dukhovnoy pesni XVII-XIX vekov". Chteniya Otdela russkoy literatury XVIII veka, vypusk 8, Al'yans-Arkheo, 2018, ss. 187-201.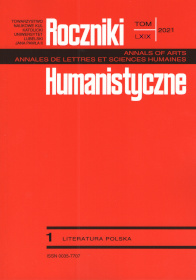 Copyright (c) 2021 Roczniki Humanistyczne
This work is licensed under a Creative Commons Attribution-NonCommercial-NoDerivatives 4.0 International License.