"A World Apart", "The Land of the Zeks", and "The Dead House"
Keywords:
Soviet labour camps, labour camp literature, Julius Margolin, Gustaw Herling-Grudziński, heritage of the "dead house"
Abstract
In this paper, I try to indicate common ground in the two largest literary works devoted to Soviet camps preceding Solzhenitsyn's The Gulag Archipelago, namely, A Journey to the Land of the Zeks by Julius Margolin and A World Apart by Gustaw Herling-Grudziński. These two books have gained such status in Western literary studies, but in Poland, however, literature researchers have not yet undertaken any important research on Margolin's work. Both authors and their works have a lot in common: Margolin and Herling were in the same camp complex (Kargopollag); they both undertook a hunger strike in order to obtain their release from the camp and described it in their works, and both treated their works as one of the instruments for fighting against this inhuman system. Finally, they both read Dostoyevsky's The House of the Dead in the Soviet camp, and this reading significantly shaped their understanding of the fate of the labour camp and its consequences.
References
Begin, Menachem. Białe noce. Tłum. Antoni Z. Danilewicz. CDN, 1989.
Biełomorsko-Bałtijskij kanał imieni Stalina. Istorija stroitielstwa. Ried. M. Gorkij, L.L. Awierbach, S.G. Firin. Gosudarstwiennoje Izdatielstwo "Istorija Fabrik i Zawodow", 1934.
Bolecki, Włodzimierz. "Inny świat" Gustawa Herlinga-Grudzińskiego. WSiP, 1994.
Czech, Jerzy. "…mówilibyśmy nie «archipelag GUŁag», ale «kraina zeków»". [Słowo wstępne do:] Julius Margolin. Podróż do krainy zeków, Wydawnictwo Czarne 2013.
Dostojewski, Fiodor. Wspomnienia z domu umarłych. Tłum. Czesław Jastrzębiec-Kozłowski. Puls Publication, 1992.
Gliksman, Jerzy. Tell the West. National Committee for a Free Europe, 1948.
Herling-Grudziński, Gustaw. Inny świat. Zapiski sowieckie. Czytelnik, 1998.
Herling-Grudziński, Gustaw. "Arcydzieło Daniela Defoe". [Przedmowa do:] Daniel Defoe. Dziennik roku zarazy. Tłum. Jadwiga Dmochowska. Puls Publication, 1993.
Herling-Grudziński, Gustaw. "Literatura wolna i upaństwowiona". Wyjścia z milczenia, oprac. Zdzisław Kudelski, Biblioteka "Więzi", 1993.
Herling-Grudziński, "Na krawędzi człowieczeństwa". Wyjścia z milczenia, oprac. Zdzisław Kudelski, Biblioteka "Więzi", 1993.
Herling-Grudziński, Gustaw, i Włodzimierz Bolecki. Rozmowy w Dragonei. Wydawnictwo Szpak, 1997.
Ivry, Benjamin. "Forgotten Witness to the Gulag". Forward, 28.12.2010. forward.com/culture/ 134265/forgotten-witness-to-the-gulag. Dostęp 25.05.2020.
Jackowska, Anna Maria. "Julius Margolin — świadek zagłady żydowskiej w obozach sowieckich. Przyczynek do dziejów zimnej wojny". Dzieje Najnowsze, 43, nr 3, 2011, ss. 99-111.
Katsman, Roman. "Puteshestviye w stranu Zeka: Poeticheskaya zagadka Yuliya Margolina". Slavia Orientalis, nr 4, 2018, ss. 611-629.
Kersten, Krystyna. "Problem Żydów w Polskich Siłach Zbrojnych w ZSRR i na Wschodzie w kontekście stosunków polsko-żydowskich w czasie II wojny światowej". Krystyna Kersten. Polacy, Żydzi, komunizm. Anatomia półprawd 1939-1968. Niezależna Oficyna Wydawnicza, 1992, ss. 15-75.
Kot, Stanisław. Listy z Rosji do gen. Sikorskiego. Wydawnictwo Jutro Polski, 1956.
Mandelsztam, Nadieżda. Nadzieja w beznadziejności. Tłum. Andrzej Drawicz. Wydawnictwo ABC, 1981.
Margolin, Julius. Dieło Biergiera. margolin-ze-ka.tripod.com/contents.html. Dostęp 25.05.2020.
Margolin, Julius. Podróż do krainy zeków. Tłum. Jerzy Czech. Wydawnictwo Czarne, 2013.
Nieobrezannoje "Puteshestviye w stranu «Ze-Ka» Julija Margolina". i-navi.livejournal.com/ 595646.html. Dostęp 25.05.2020.
Sapgir, Kira. "Puteshestviye na kraji sowietskoj noczi". Booknik 20.04.2011, booknik.ru/today/ all/puteshestvie-na-krayi-sovetskoyi- nochi/. Dostęp 25.05.2020.
Spytek, Patrycja. Inny świat! Rosja Gustawa Herlinga-Grudzińskiego. Wydawnictwo Adam Marszalek, 2019.
Sukiennicki, Wiktor. "Z nieludzkiej ziemi – relacje obcych i swoich". Kultura, nr 11, 1950, ss. 121-157.
Sucharski, Tadeusz. Dostojewski Herlinga-Grudzińskiego. Wydawnictwo UMCS, 2002.
Szałamow, Warłam. "Przez śnieg". Opowiadania kołymskie, t. I: Pierwsza śmierć. Tłum. Juliusz Baczyński. Wydawnictwo ATEXT, 1991, ss. 3-4.
Śniedziewska, Magdalena. "Osobiste sprawy i tematy". Gustaw Herling-Grudziński wobec dwudziestowiecznej literatury włoskiej. Wydawnictwo IBL, 2019.
Taylor-Terlecka, Nina. "Proza zsyłkowa". Literatura emigracyjna, red. Marek Pytasz, t. 1. Wydawnictwo "Śląsk", 1993, ss. 261-289.
Tołczyk, Dariusz. Gułag w oczach Zachodu. Prószyński Media, 2009.
Zimand, Roman. "Martwy dom żywych ludzi". Roman Zimand. Czas normalizacji. Szkice czwarte, Aneks Publishers, 1989, ss. 114-136.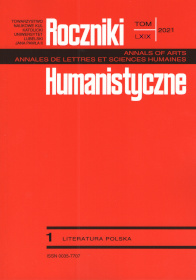 Copyright (c) 2021 Roczniki Humanistyczne
This work is licensed under a Creative Commons Attribution-NonCommercial-NoDerivatives 4.0 International License.