Karl Jaspers and John Paul II on the Idea of the University
Keywords:
Karl Jaspers, Karol Wojtyła – John Paul II, University, academic community, truth, vocation, identity
Abstract
This article is an attempt at synthetically juxtaposing those common threads of reflection on the university and its essence which are present in the works of both Karl Jaspers and Pope John Paul II. What is striking is the similarity of the problem of the university and the understanding of its very essence by both thinkers, regardless of the different eras in which they formulated their opinions and the differences in their philosophical positions. According to both thinkers, whether the idea of the university is implemented or not is connected to its approach to questions of truth, the universality of science, the formational role of the university, the vocation and ethos of the scholar, and the internal system of the university itself. Worthy of particular attention is the responsibility of scholars, their selflessness in the search for truth, and their duty to mould the humanity of those students who are entrusted into their care. In each of these areas there is a far-reaching convergence of positions, each developed independently and in different historical contexts. This fact can be interpreted in two ways: firstly, it shows the topicality of the problems facing universities, and secondly, it shows the universality of Karol Wojtyła's thinking, who, in his deliberations, goes beyond specific religious aspects and addresses his message as a general humanistic message to all of those who constitute a university.
References
Bobko, Aleksander, i Przemysław Gałkowski. "Uniwersytet – tradycja i współczesne wyzwania". Idea uniwersytetu dziś. Perspektywa filozoficzna, red. Magdalena Żadrecka-Nowak, Jadwiga Skrzypek-Faluszczak, Wydawnictwo Uniwersytetu Rzeszowskiego, 2012, ss. 52–66.
Gałecki, Sebastian. "John Henry Newman o filozofii i filozofach". Racjonalia, 2, 2012, ss. 32–46. Matuszek, Krzysztof, i Piotr Sztompka. Idea uniwersytetu. Reaktywacja. Wydawnictwo Uniwersytetu Jagiellońskiego, 2015.
Miłek, Łukasz. "Intelekt czy umiejętność? Spojrzenie Johna Henry'ego Newmana na uniwersytet". Kultura i Polityka, 5, 2009, ss. 59–72.
Newman, John Henry. Idea uniwersytetu. Przeł. Przemysław Mroczkowski, PWN, 1990. Newman, John Henry. Kazania uniwersyteckie. Przeł. Piotr Kostyło, Znak, 2000.
Twardowski, Kazimierz. O dostojeństwie uniwersytetu. Uniwersytet Poznański, 1933.
Uniwersytet XXI wieku. Nauka i lokalność. Studia, red. Jarosław Ławski, Kamil Pilchiewicz, Wydawnictwo UwB, 2018.
Wójs, P. "Karla Jaspersa idea uniwersytetu i uniwersytet realny". Karl Jaspers. Człowiek w epoce przełomu, red. Czesława Piecuch, Wydawnictwo Naukowe Uniwersytetu Pedagogicznego, 2013.
Zarębianka, Zofia. "Idea uniwersytetu wobec zagrożeń". Przegląd Powszechny, nr 10(1812), 2010, ss. 64–74.
Zarębianka, Zofia. "Zagrożona tożsamość. O przemianach uniwersytetu w świetle reformy szkolnictwa wyższego". Kronos, 4 (27), 2013, ss. 194–202.
Ziejka, Franciszek. Jan Paweł II i polski świat akademicki. Universitas, 2014.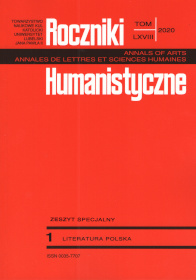 Copyright (c) 2020 Roczniki Humanistyczne
This work is licensed under a Creative Commons Attribution-NonCommercial-NoDerivatives 4.0 International License.