The Apologia of the Cross in Selected Homilies of John Paul II
Keywords:
homily, John Paul II, Cross, defence, new evangelisation
Abstract
This paper presents an analysis of the various ways the Cross was defended in John Paul II's homilies delievered in Poland on the following occasions: in Nowa Huta, in the Wawel Royal Cathedral and Zakopane. The speaker used arguments anchored in the Gospel and history. He emphasised the meaning of the Cross as a sign of God's redemption, gift and love towards humans. The speaker evoked people from Polish history who remained faithful to the Cross and are remembered for their heroic attitude: Queen Jadwiga, brother Albert Chmielowski, Bernardyna Jabłońska and Maria Karłowska. In his homily given in Nowa Huta, the Pope signalled the idea of new evangelisation, which requires all believers to undertake persistent and courageous defence of the Cross, irrespective of time and place. The paper also discusses rhethorical aspects of the sermons, such as various types of speech deployed therein (lectures, meditations, appeals) and stylistic devices (e.g. similes, parallelisms, rhetorical questions).
References
Biblia Tysiąclecia, Pismo Święte Starego i Nowego Testamentu. Pallottinum 2019.
Dunaj, Bogusław. Słownik współczesnego języka polskiego, t. 1, Przegląd Readers Digest, 2001. Gigilewicz, Edward. "Krzyż". Encyklopedia katolicka. Towarzystwo Naukowe KUL, t. X, 2004, kol. 11. Głowiński, Michał. Poetyka i okolice. Wydawnictwo Naukowe PWN, 1992.
Jan Paweł II. Trzecia pielgrzymka do Polski. Przemówienia i homilie. 9 VI1 1987–14 VI 1987. Znak, 1987.
Jan Paweł II w Polsce: 31 maja 1997 – 10 czerwca 1997: przemówienia i homilie. Znak, 1997.
Jan Paweł II. "Homilia w czasie Mszy świętej odprawionej przed opactwem OO. Cystersów w Mogile". Gaude Mater Polonia. Pierwsza pielgrzymka, czerwiec 1979, red. Andrzej Sujka, Wydawnictwo M, 2010, ss. 237–243.
Kłak, Tadeusz. "Apologia religii". Encyklopedia katolicka. Towarzystwo Naukowe KUL, t. I, 1998, kol. 786.
Korolko, Mirosław. Sztuka retoryki. Przewodnik encyklopedyczny, Wydawnictwo Wiedza Powszechna, 1998.
Kozłowska, Anna. Od psalmów słowiańskich do rzymskich medytacji. O stylu artystycznym Karola Wojtyły. Wydawnictwo Uniwersytetu Kardynała Wyszyńskiego, 2013.
Misiurek, Jerzy. "Medytacja". Encyklopedia katolicka. Towarzystwo Naukowe KUL, t. XII, 2008, kol. 435.
Nowak, Małgorzata, Wiesław Przyczyna. Nowa ewangelizacja. Język – teologia – kultura. Biblos, 2017.
Pajdzińska, Anna. "O perswazyjności w tekstach Jana Pawła II". Jan Paweł II Odnowiciel Mowy Polskiej, red. Stanisław Mikołajczuk, Magdalena Wrześniewska-Pietrzak, Wydawnictwo UAM, 2009.
Perelman, Chaim. Imperium retoryki. Wydawnictwo Naukowe PWN, 2002.
Pilch, Zygmunt. "Apologijne konferencje". Encyklopedia katolicka. Towarzystwo Naukowe KUL, t. I, 1998, kol. 791.
Topolińska, Zuzanna. "Vocativus – kategoria gramatyczna". Otázky slovanské syntaxe, Univerzita J. E. Purkyne, 1973, ss. 269–273.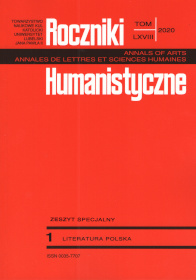 Copyright (c) 2020 Roczniki Humanistyczne
This work is licensed under a Creative Commons Attribution-NonCommercial-NoDerivatives 4.0 International License.