Film Music and the Crystal-Image in Krzysztof Zanussi's The Structure of Crystal
Ewelina Boczkowska

Dana School of Music, Youngstown State University, USA
Keywords:
Krzysztof Zanussi, Wojciech Kilar, Gilles Deleuze, crystal-image, film music, The Structure of Crystal
Abstract
Krzysztof Zanussi's 1969 debut feature film, The Structure of Crystal (Struktura kryształu), revolves around two scientists with opposing worldviews—one rooted in ethical integrity and the other driven by conformism. These polarities are reflected in Gilles Deleuze's notion of the crystal-image, which I apply to Wojciech Kilar's music for the film. I argue that Kilar's underscoring continuously reshapes the grounds of understanding between the antagonistic worldviews at the film's core, ultimately to deliver a powerful critique of the social reality of post-1968 Poland.
References
Bergson, Henri. Matter and Memory. Translated by Nancy Margaret Paul and W. Scott Palmer, George Allen & Unwin; Humanities Press, 1970.
Bikont, Anna, and Joanna Szczęsna. Lawina i kamienie: Pisarze wobec komunizmu. Prószyński i S-ka, 2006.
Chion, Michel. Audio-Vision: Sound on Screen. Edited and translated by Claudia Gorbman, Columbia University Press, 1994.
Deleuze, Gilles. Cinema 1: the Movement-Image. Translated by Hugh Tomlinson and Barbara Habberjam, University of Minnesota Press, 1986.
Deleuze, Gilles. Cinema 2: the Time-Image. Translated by Hugh Tomlinson and Robert Galeta, University of Minnesota Press, 1989.
Eisler, Jerzy. List 34. PWN, 1993.
Gorbman, Claudia. Unheard Melodies: Narrative Film Music. Indiana University Press, 1987.
Heldt, Guido. Music and Levels of Narration in Film: Steps Across the Border. Intellect, 2013.
Ingarden, Roman. "Kilka uwag o sztuce filmowej." Estetyka i film, Volume 4, Studia z teorii filmu, edited by Alicja Helman, Wydawnictwo. Artystyczne i Filmowe, 1972, pp. 201-222.
Lubelski, Tadeusz. Historia kina polskiego 1895-2014. Universitas, 2015.
Pelczynski, Z. A. "Marxism: The Polish Experience." Varieties of Marxism, edited by Shlomo Avineri, Nijhoff, 1977.
Podobińska, Klaudia, and Leszek Polony. Cieszę się darem życia, rozmowy z Wojciechem Kilarem. PWM, 1997.
Stróżewski, Władysław. "Ingarden's Ontology and its Role in Aesthetics." Roman Ingarden: ontologie, esthétique, fiction, edited by Jean-Marie Schaeffer and Christophe Potocki, Éditions des archives contemporaines, 2012.
Zagajewski, Adam, and Julian Kornhauser. Świat nie przedstawiony. Wydawnictwo Literackie, 1974.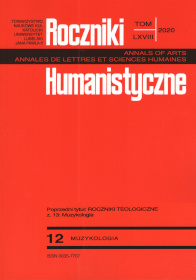 Copyright (c) 2020 Roczniki Humanistyczne
This work is licensed under a Creative Commons Attribution-NonCommercial-NoDerivatives 4.0 International License.