A Nineteenth-Century Processional from the Archive of the Bonifratres in Cracow (Kraków). A Contribution to Research into Latin Monody
Keywords:
Latin monody, manuscript, Processionale, Cantionale ecclesiasticum, Bonifratres
Abstract
The Archive of the Bonifratres' Monastery in Cracow holds a handwritten processional from 1811. The present author has conducted source criticism and compared its contents to Andrzej Piotrkowczyk's Processionale from 1621—which furnished a basis for the performance of processional chants in Poland for around 200 years—and selected nineteenth-century cancionals. The Cracow item, probably one of the last books of this type in this period, is proof of the high musical culture that was cultivated in the milieu for which it was destined, and a testimony of the cherished, living tradition of organizing processions. In this respect, it confirms the clear advantage of Polish books over Roman ones, with an increasing participation of the people chanting in Polish. The reprint of a greater part of the processional in subsequently published cancionals confirms, as a matter of evidence, the value and utility of this book.
References
Adamko, Rastislav. Rękopisy liturgiczne Biblioteki Kapitulnej w Spiskiej Kapitule (Studium liturgiczno-źródłoznawcze. Edycja tekstu). Doctoral thesis, Katolicki Uniwersytet Lubelski Jana Pawła II, vol. 1, Lublin, 2001.
Bebak, Marek. Kultura muzyczna w krakowskim konwencie bonifratrów pod wezwaniem św. Urszuli w latach 1608-1812. Instytut Muzyki i Tańca, 2017.
Bernagiewicz, Robert. Recepcja tradycji neumatycznych w notacji graduału wiślickiego w świetle neum liquescentes. Apostolicum, 1999.
Bodzioch, Beata. Antyfonarze Andrzeja Piotrkowczyka z lat 1600-1645 jako przekaz polskich tradycji liturgiczno-muzycznych na przykładzie oficjów rymowanych (Studium źródłoznawczo- muzykologiczne). Doctoral thesis, Katolicki Uniwersytet Lubelski Jana Pawła II, Lublin, 2005.
Bodzioch, Beata. Cantionale ecclesiasticum na ziemiach polskich w XIX i XX wieku. Polihymnia, 2014.
Boguniowski, Józef Wacław. Rozwój historyczny ksiąg liturgii rzymskiej do Soboru Trydenckiego i ich recepcja w Polsce. Unum, 2001.
Gieburowski, Wacław. Chorał gregoriański w Polsce od XV do XVII wieku ze specjalnym uwzględnieniem tradycji i reformy oraz chorału piotrkowskiego. Gebethner i Wolff, 1922.
Greniuk, Franciszek. "Prawodawstwo liturgiczne." Liturgika ogólna, red. Franciszek Blachnicki, Wydawnictwo KUL, 1973, pp. 247-280.
Kabot, Teresa. Dzieje pieśni wielkanocnej "Chrystus zmartwychwstał jest". M.A. thesis, Lublin, 1983.
Nadolski, Bogusław. Leksykon Liturgii. Pallottinum, 2006.
Norek, Jerzy. Graduał franciszkański z Płocka. Studium źródłoznawcze. Ośrodek Studiów Franciszkańskich, 2007.
Nowak, Dolores Monika. Officium defunctorum w języku polskim po Soborze Watykańskim II. Sindruk, 2017.
Paćkowski, Piotr. Śpiewy procesyjne Proprium de Sanctis w Processionale Andrzeja Piotrkowczyka z 1621 r. Studium źródłoznawczo-muzykologiczne. Doctoral thesis, Lublin, 2007.
Pawlak, Ireneusz. "Tridentinum i Vaticanum II—dwa etapy rozwoju monodii liturgicznej." Liturgia Sacra, t. 12, nr 2, 2006, pp. 307-319.
Pawlak, Ireneusz. Graduały piotrkowskie jako przekaz chorału gregoriańskiego w Polsce po Soborze Trydenckim. Wydawnictwo KUL, 1988.
Wiśniewski, Piotr. Śpiewy późnośredniowieczne w antyfonarzach płockich z XV/XVI wieku na podstawie responsoriów Matutinum. Polihymnia, 2010.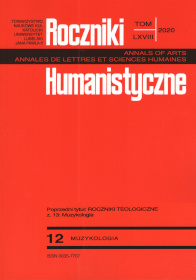 Copyright (c) 2020 Roczniki Humanistyczne
This work is licensed under a Creative Commons Attribution-NonCommercial-NoDerivatives 4.0 International License.