The Musical Culture in the Monastery of the Brothers Hospitallers of St. John of God in Seventeenth- and Eighteenth-Century Kraków in Light of the Sources
Keywords:
Brothers Hospitallers of St. John of God, Kraków, musical culture
Abstract
Polish musicologists have been interested in the musical culture of religious institutions in Kraków during the 17th and 18th centuries since at least the beginning of the 20th century, but up to now the musical life of the monastery belonging to the Brothers Hospitallers of St John of God was of no interest to them. The main aim of this article, based on archival sources, is to show when and what kind of music was performed in this monastery, who the musicians were and what instruments were in the church. It has been established that the Brothers Hospitallers did not have their own musical ensemble, but rather that they invited musicians from the city, including from a Jesuit ensemble, who added splendour to the most important celebrations of the liturgical year by playing masses, litanies, passions and requiems. The research has also discovered that there was a positive organ in the Brothers Hospitallers' church, and a harpsichord in their Hospital, the sounds of which made the patients' time there more pleasant.
References
Bebak, Marek. "Nieznane informacje o muzykach w dawnej Rzeczpospolitej zawarte w księgach chorych Szpitala Bonifratrów pod wezwaniem św. Urszuli w Krakowie". Muzyka, 59, nr 2, 2014, ss. 23-35.
Benedikt, Erich, u. Michael Jahn. Die Musikhandschriften der Klosterkirche der Barmherzigen Brüder in Wien. Verlag Der Apfel, 2007.
Bieniarzówna, Janina, i Jan M. Małecki. Kraków w wiekach XVI–XVIII. Wydawnictwo Literackie, 1984.
Freemanová-Kopecká, Michaela, editor. Collectio Fratrum Misericordiae Kukussiensis. Editio, 2013. Catalogus Artis Musicae in Bohemia et Moravia Cultae. Artis Musicae Antiquioris Catalogorum series, vol. VI/1–2.
Freemanová-Kopecká, Michaela, editor. Fratrum Misericordiae Artis Musicae Collectiones in Bohemia et Moravia reservatae. Editio, 2013. Catalogus Artis Musicae in Bohemia et Moravia Cultae. Artis Musicae Antiquioris Catalogorum series, vol. VII/1-2.
Freemanová, Michaela. "Jan Křtitel Vaňhal and the Bohemian and Moravian Music Collections of the Brothers Hospitallers (Barmherzige Brüder, O. S. I.)". Radovi. Zavoda za znanstveni rad Hazu Varaždin, no. 25, 2014, ss. 159–168.
Gapski, Henryk. Klasztory krakowskie w końcu XVI i w pierwszej połowie XVII w. Analiza przestrzenna środowisk zakonnych. Redakcja Wydawnictw Katolickiego Uniwersytetu Lubelskiego, 1993.
Grabowski, Ambroży. Wspomnienia. T. 2, wyd. Stanisław Estreicher, Towarzystwo Miłośników Historyi i Zabytków Krakowa, 1909.
Jeż, Tomasz. Kultura muzyczna jezuitów na Śląsku i ziemi kłodzkiej (1581–1776). Wydawnictwo Naukowe Sub Lupa, 2013.
Joachimiak, Grzegorz. "Cantare amantis est. Dobry śpiew i dobra muzyka w konwencie bonifratrów w Prudniku". Bracia Miłosierni – życie w służbie chorych i potrzebujących. Materiały przygotowane na międzynarodową konferencję naukową zorganizowaną 13 października 2018 roku w Cieszynie dla upamiętnienia 320-tej rocznicy rozpoczęcia budowy tutejszego konwentu i szpitala bonifratrów oraz setnej rocznicy służby bonifratrów w Polsce odrodzonej, red. Maksymilian Kuśka, Konwent Zakonu Bonifratrów, 2018, ss. 93-117.
Joachimiak, Grzegorz. "Z działalności muzycznej klasztoru oo. Bonifratrów we Wrocławiu w XVIII wieku". Muzyka, 59, nr 4, 2014, ss. 3-34.
Komarynska, Helena. Szpital Bonifratrów w Krakowie w XVII-XVIII wieku. Towarzystwo Naukowe Katolickiego Uniwersytetu Lubelskiego Jana Pawła II, 2010.
Konik, Marcin. "Życie muzyczne w dominikańskim konwencie Bożego Ciała we Lwowie". Życie muzyczne w klasztorach dominikańskich. Studia, red. Aleksandra Patalas, Musica Iagellonica, 2016, ss. 153-180.
Łobozek, Marcin Maksymilian. Stan potrynitarskiej zabudowy klasztornej bonifratrów na Kazimierzu w Krakowie – w świetle inwentarza, spisanego przed 1850 rokiem. Wydawnictwo Naukowe Papieskiej Akademii Teologicznej, 2003.
Matoga, Piotr. "W trosce o piękno liturgii. Historia organów w wybranych kościołach klasztornych Krakowa". Muzyka sakralna. Piękno ocalone i ocalające, red. Jacek Bramorski, Wydawnictwo Akademii Muzycznej im. Stanisława Moniuszki, 2016, ss. 68-92.
Mądry, Alina. Barok – część 2: 1697–1795. Muzyka religijna i jej barokowy modus operandi. Sutkowski Edition Warsaw, 2013.
Nowacki, Kazimierz. Dzieje teatru w Krakowie. Architektura krakowskich teatrów. Wydawnictwo Literackie, 1982.
Schrumpf, Rudolf. "Kirchenmusik bei den Barmherzigen Brüdern Eisenstadt". 1760–2010 Festschrift, Eisenstadt, 2010, ss. 68-73.
Schubert, Ingrid. "Archivalische Beiträge zur Musikgeschichte der Barmherzigen Brüder in Graz, von der Gründung des Konvents bis 1900". Studien zur Musikwissenschaft, nr 39, 1988, ss. 63-129.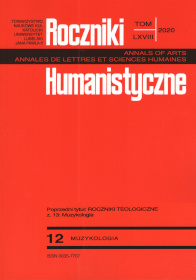 Copyright (c) 2020 Roczniki Humanistyczne
This work is licensed under a Creative Commons Attribution-NonCommercial-NoDerivatives 4.0 International License.