A Previously Unknown Repertoire of Alleluia Chants from the 1518 Graduale Cassoviense (Clmae 172a, 172b)
Rastislav Adamko

Catholic University in Ružomberok, Slovakia
Keywords:
Cathedral of St. Elizabeth in Košice, Graduale Cassoviense, post-Gregorian repertoire, alleluia chants, modality
Abstract
The Graduale Cassoviense  is a late medieval musical-liturgical manuscript. Apart from the standard Gregorian repertoire, it also contains original local chants. Moreover, it also includes several alleluia chants that—so far—have not been found in any other sources or reported in the existing databases. A mutual comparison of these chants (as well as their comparison with other repertoires) provides a chance to show their genetic connections and conditionality. The repertoire shows a late medieval explosion of local musical and poetic production in the territory of Central and Eastern Europe. Nevertheless, this production shows different aesthetical bases and rules than the typical Gregorian ones. For such reasons, we can define it as a post-Gregorian work.
References
Atkinson, Charles Mercer. "Agnus Dei". Die Musik in Geschichte und Gegenwart, Sachteil, vol. 1, edited by Ludwig Finscher, Bärenreiter Metzler, 1994, p. 272.
Balogh, Jolán. "Varadinum, Várad vára". Müvészettörténeti Füzetek 13/2, Akadémiai Kiadó, 1982, pp. 149-150.
Berkovits, Ilona. "A Kassai-graduale és a XVI. századi kassai festészet." Emlékkönyv Gerevich Tibor születésének 60. évfordulójára, Franklin-Társulat, 1942, pp. 68-72.
Güntherová, Alžbeta, and Ján Mišianik. Stredoveké knižná maľba na Slovensku. Slovenské vydavateľstvo krásnej literatúry, 1961.
Hofmann, Edith. "A Nemzeti Múzeum Széchényi Könyvtárának illuminált kéziratai." Magyar Könyvszemle, vol. 34, no. 1, 1927, pp. 1-43.
Kiss, Gábor, Zsuzsa Czagány, and Robert Klugseder, editors. Ordinariums-Gesänge in Mitteleuropa Repertoire-Übersicht und Melodienkatalog. Monumenta Monodica Medii Aevi–Subsidia, vol. 6. Bärenreiter, 2009.
Kiss, Gábor. "A true 'Central European' manuscript: the Graduale Cassoviense from 1518." Musica Mediaeva Liturgica II. Zborník príspevkov z muzikologickej konferencie, edited by Rastislav Adamko, Verbum, 2016, pp. 77-89.
Kiss, Gábor. "The 'liedhafte E-Melodik'." Studia Musicologica Academiae Scientiarum Hungariae, vol. 40, no. 4, 1999, pp. 315-324, www.jstor.org/stable/902501. Accessed 23 November 2020.
Pikulik, Jerzy. Polskie graduały średniowieczne. Wydawnictwo UKSW, 2001.
Schlager, Karlheinz, editor. Alleluia-Melodien ab 1100, vol. 2. Monumenta Monodica Medii Aevi, vol. 8. Bärenreiter, 1987.
Schlager, Karlheinz, editor. Alleluia-Melodien bis 1100, vol. 1. Monumenta Monodica Medii Aevi, vol. 7. Bärenreiter, 1968.
Zubko, Peter. Dejiny Košickej cirkvi v prameňoch (1803-2006), Edícia Dejiny Košického arcibiskupstva, vol. 5. Vydavateľstvo Michala Vaška, 2006.
Zubko, Peter. Kult Svätej Krvi v Košiciach: Rozprávanie o stratených stredovekých relikviách. Viliam Ščiavnický, 2012.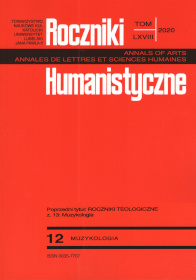 Copyright (c) 2020 Roczniki Humanistyczne
This work is licensed under a Creative Commons Attribution-NonCommercial-NoDerivatives 4.0 International License.