Has Everything about Translating Literature Been Explained?
(rev.: Piotr Sulikowski, Emil Lesner, in collaboration with Artur Kubacki and Monika Płużyczka, Stilum vertas. Podręcznik do nauki przekładu literackiego dla studentów neofilologii z ćwiczeniami [Textbook for Learning Literary Translation for Students of Neophilology with Exercises])
References
Nowicka-Jeżowa, Alina, i Danuta Knysz-Tomaszewska. Przekład literacki. Teoria, historia, współczesność. Wydawnictwo Naukowe PWN, 1997.
Barańczak, Stanisław. Ocalone w tłumaczeniu. Szkice o warsztacie tłumacza poezji z dołączeniem małej antologii przekładów. Wydawnictwo a5, 1992.
Jarniewicz, Jerzy. Gościnność słowa. Szkice o przekładzie literackim. Znak, 2012.
Kozak, Jolanta. Przekład literacki jako metafora. Między logos a lexis. Wydawnictwo Naukowe PWN, 2009.
Lipiński, Krzysztof. Mity przekładoznawstwa. Egis, 2004.
Słownik Języka Polskiego PWN. Zasady pisowni, sjp.pwn.pl/zasady/;629516. Dostęp 24. 10.2019.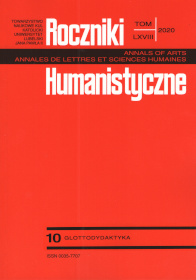 Copyright (c) 2020 Roczniki Humanistyczne
This work is licensed under a Creative Commons Attribution-NonCommercial-NoDerivatives 4.0 International License.