Polish Cultural Motifs in "Where Shall We Go?" by Boris Akunin and in the Polish Translation of the Novel
Keywords:
translation, Boris Akunin, Polish cultural elements, cultural connotation, stylisation
Abstract
The aim of this paper is to present the results of translators' individual choices in the process of transmitting Polish culture-specific elements from a Russian text to Polish culture. The source material was taken from the novel "Where shall we go?" by Boris Akunin and its translation into Polish. During the analysis, a comparative-descriptive method was used. The different ways of transferring units in a situation when stylisation concerns the language into which the translation is made, especially in such a specific situation as "double" stylisation are discussed. As a result of the analysis, it is possible to assess the extent to which the translator's decisions made it possible to convey cultural connotations and preserve in the translation text the functions performed by the considered translation units in the original text.
References
Акунин, Борис. «Куда ж нам плыть?». Борис Акунин. Планета вода. Захаров, 2016, сс. 351-412 [Akunin, Boris. «Kuda zh nam plyt'?». Boris Akunin. Planeta voda. Zakharov, 2016, ss. 351-412].
Akunin, Borys. «Dokąd płyniemy?». Borys Akunin. Planeta woda. Tł. Aleksandra Okuniewska-Stronka, Świat Książki, 2016, ss. 399-477.
Alekseyeva, Irina Sergeyevna. Tekst i perevod. Voprosy teorii. Moskva: Mezhdunarodnyye otnosheniya, 2008 [Алексеева, Ирина Сергеевна. Текст и перевод. Вопросы теории. Международные отношения, 2008.
Barkhudarov, Leonid Stepanovich. Yazyki perevod. Mezhdunarodnyye otnosheniya, 1975 [Бархударов, Леонид Степанович. Язык и перевод. Международные отношения, 1975].
Garbovskiy, Nikolay Konstantinovich. Teoriya perevoda. Izdatel'stvo Moskovskogo Universiteta, 2007 [Гарбовский, Николай Константинович. Теория перевода. Москва: Издательство Московского университета, 2007].
Kubaszczyk, Joanna. Faktura oryginału i przekładu. O przekładzie tekstów literackich. Wydawnictwo Naukowe PWN, 2016.
Lewicki, Roman. Obcość w odbiorze przekładu. Wydawnictwo UMCS, 2000.
Lewicki, Roman. Zagadnienia lingwistyki przekładu. Wydawnictwo UMCS, 2017.
Listrova-Pravda, Yuliya Timofeyevna. Inoyazychnyye vkrapleniya-bibleizmy v russkoy literaturnoy rechi XIX-X vv. Vestnik VGU. Seriya 1, Gumanitarnyye nauki, № 1,2001 [Листрова-Правда, Юлия Тимофеевна. Иноязычные вкрапления-библеизмы в русской литературной речи XIX-XX вв. Вестник ВГУ. Серия 1, Гуманитарные науки, № 1, 2001].
Snigireva, Tat'yana Aleksandrovna, & Aleksey Vasil'yevich Snigirev. «Dokazatel'stvo 'otprotivnogo': Rossiya, russkiy yazyk i kharakter v romanakh B. Akunina», Izvestiya Ural'skogo federal'nogo universiteta. Seriya 2: Gumanitarnyye nauki, vol 127, № 2, 2014, ss. 75-83 [Снигирева, Татьяна Александровна, & Алексей Васильевич Снигирев. «Доказательство 'от противного': Россия, русский язык и характер в романах Б. Акунина». Известия Уральского федерального университета. Серия 2: Гуманитарные науки, том 127, № 2, 2014, сс. 75-83.].
Urbanek, Dorota. "Od rosyjskiej Biezduchownosti do polskiej Pustki duchowej. Kilka uwag o przekładzie tekstów kulturoznawczych". Między oryginałem a przekładem, t. XV, red. Jerzy Brzozowski & Maria Filipowicz-Rudek. Wydawnictwo Księgarnia Akademicka, 2009, ss. 41-51.
Vinogradov,Venedikt Stepanovich. Vvedeniye v perevodovedeniye. Izdatel'stvo Instituta obshchego srednego obrazovaniya RAO, 2001 [Виноградов, Венедикт Степанович. Введение в переводоведение. Издательство института общего среднего образования РАО, 2001].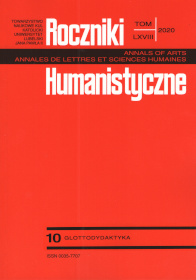 Copyright (c) 2020 Roczniki Humanistyczne
This work is licensed under a Creative Commons Attribution-NonCommercial-NoDerivatives 4.0 International License.