Foreign Language Teaching in the Context of Educational Inequalities in Poland
Keywords:
educational inequality, foreign language, Poland
Abstract
The results of numerous research studies examining educational inequality have indicated that children's school success depends, among other things, on their socio-economic status (SES). Children from socio-economically privileged families also tend to achieve better results in foreign language learning than children from less privileged backgrounds. According to the Survey on Foreign Language Learning and Teaching, differences in SES explain 21 percent of the variation in achievements in foreign language learning.
The aim of this paper is to give some insight into the current state of the art of foreign language learning, and to present the results of the author's research into how Polish teachers perceive and evaluate the impact of socio-economic inequalities on language learning and teaching at the secondary school level.
References
Bourdieu, Pierre, i Claude Passeron. Reprodukcja: Elementy teorii systemu nauczania. Tłum. Elżbieta Neyman, Wydawnictwo Naukowe PWN, 2006.
Brémond, Alice, Jean-François Couet, i Anne Davie. Kompendium wiedzy o socjologii. Tłum. Krzysztof Malaga, Wydawnictwo Naukowe PWN, 2006.
Coleman, James Samuel. "Social Capital in the Creation of Human Capital". The American Journal of Sociology, vol. 94, 1988, ss. 95-120. www.jstor.org/stable/2780243.
Dąbrowski, Mirosław, i Maria Szymczak. "Środowisko rodzinne dziecka a poziom umiejętności". Badanie umiejętności podstawowych uczniów klas szkoły podstawowej. Raport z badań, red. Mirosław Dąbrowski i Małgorzata Żytko, Centralna Komisja Egzaminacyjna, 2007, ss. 15-160.
Długosz, Piotr. "Nierówności edukacyjne jako problem społeczny w społeczeństwach posttransformacyjnych". Zeszyty Pracy Socjalnej, vol. 22, nr 2, 2017, ss. 143-156.
Dolata, Roman, Aleksandra Jasińska-Maciążek i Joanna Stelmach. Raport o stanie edukacji w Ostrołęce – wybrane zagadnienia. Wydział Pedagogiczny Uniwersytetu Warszawskiego, 2019.
Dolata, Roman, i Ewelina Jarnutowska. "Czynniki statusowe a wyniki nauczania". Czy szkoła ma znaczenie: Zróżnicowanie wyników nauczania po pierwszym etapie edukacyjnym oraz jego pozaszkolne i szkolne uwarunkowania, red. Roman Dolata, Instytut Badań Edukacyjnych, 2014, ss. 177-232.
Domański, Henryk. "Nowe ogniwa nierówności edukacyjnych w Polsce". Studia Socjologiczne, nr 1 (196), 2010, ss. 7-33.
Dziemianowicz-Bąk, Agnieszka, Jan Dzierzgowski i Anna Wojciuk. Autoselekcja na progu gimnazjum: Działania rodziców w kontekście działań szkół i polityki samorządu. Instytut Badań Edukacyjnych, 2015.
ESLC: Raport tematyczny. Europejskie Badanie Kompetencji Językowych ESLC. Raport krajowy 2011. Instytut Badań Edukacyjnych, 2013.
Gajewska-Dyszkiewicz, Agata, Mariusz Marczak, Katarzyna Paczuska, Joanna Pitura, Katarzyna Kutyłowska. Efekty nauczania języka angielskiego na III etapie edukacyjnym: Raport końcowy Badania uczenia się i nauczania języków obcych w gimnazjum i Badania umiejętności mówienia. Instytut Badań Edukacyjnych, 2015.
Jakubowski, Maciej. "Wpływ czynników ekonomicznych na wyniki egzaminów zewnętrznych". Biuletyn Badawczy Egzamin, vol. 11, 2007, ss. 24–51.
Panek, Tomasz, i Jan Zwierzchowski. Opis metodologii badawczej współzależności między wykluczeniem społecznym a edukacją. Instytut Badań Edukacyjnych, 2015.
Smulczyk, Marek. Przezwyciężenie statusowej determinacji karier szkolnych. Wydawnictwa Uniwersytetu Warszawskiego, 2019.
Wilczyńska, Weronika, i Anna Michońska-Stadnik. Metodologia badań w glottodydaktyce. Wprowadzenie. Avalon, 2010.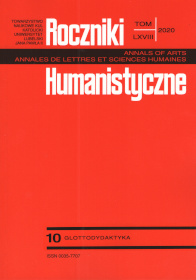 Copyright (c) 2020 Roczniki Humanistyczne
This work is licensed under a Creative Commons Attribution-NonCommercial-NoDerivatives 4.0 International License.