Genre Cinema as an Object of Translation: Implications for Teaching
Keywords:
film genre, disaster film, didactics of film translation
Abstract
The starting point for this research is the hypothesis that film translation is internally varied by its very nature, not only by the techniques used (voice-over, dubbing, subtitles), but also by a particular film's genre, by analogy with the current translation typologies based on the criterion of a specific genre for a typical verbal text (i.e. literary, functional, specialist). Therefore, the translation of different film genres requires from the film translator a different approach to a given genre, a different way of strategic thinking, a thorough analysis of film material (verbal and visual), a close look at the word, picture and sound in translation as the components of aesthetics and the building blocks of the plot patterns of the film. These are tasks for the didactics of film translation. Such a hypothesis sets out the following objectives: 1) determining the linguistic invariant of the text with a set of formal-linguistic features, which is indicative of a given genre and which should be respected in translation; 2) analysing translation procedures focused on the level of maintaining the invariant in translation; 3) a proposal of practical applications in the academic didactics of film translation.
References
Adamowicz-Grzyb, Grażyna. Tłumaczenia filmowe w praktyce. FORTIMA Tłumaczenia – Edukacja – Media, 2013.
Baldry, Anthony, i Paul J. Thibault. Multimodal Transcription and Text Analysis. Equinox, 2006.
Bogucki, Łukasz. Areas and Methods of Audiovisual Translation Research. Peter Lang, 2013.
Bogucki, Łukasz. "Metodologia badań w przekładzie audiowizualnym". Metodologie językoznawstwa. Od dialektologii do dialektyki, red. Piotr Stelmaszczyk, Wydawnictwo Uniwersytetu Łódzkiego, 2015, ss. 73-87.
Chmiel, Agnieszka, i Iwona Mazur. Audiodeskrypcja. Wydział Anglistyki UAM, 2014. AMUR – Adam Mickiewicz University Reopsitory, http://repozytorium.amu.edu.pl:8080/bitstream/10593/12861/1/Audiodeskrypcja_Chmiel_Mazur_2014.pdf. Dostęp 12.01.2020.
Delebastita, Dirk. "Translation and Mass Communication: Film and TV Translation as Evidence of Cultural Dynamics". Babel, vol. 35(4), 1989, ss. 192-218.
Díaz-Cintas, Jorge. "Audiovisual Translation in the Third Millennium". Translation Today: Trends and Perspectives, red. Gunilla Anderman, i Rogers Margaret, Multilingual Matters, 2003, ss. 192-204.
Gambier Yves, i Henrik Gottlieb, redaktorzy. (Multi)Media Translation: Concepts, Practices and Research. John Benjamins, 2001.
Garcarz, Michał. Przekład slangu w filmie. Tertium, 2007.
Gottlieb, Henrik. "Subtitling – A New University Discipline". Teaching Translation and Interpreting. Training. Talent and Experience, red. Cay Dolleru i Anne Loddegaard, John Benjamins, 1992, ss. 161-170.
Hendrykowski, Marek. Drugie wejrzenie. Analizy i interpretacje. Wydawnictwo Naukowe UAM, 2018.
Hołobut, Agata, i Monika Woźniak. Historia na ekranie. Gatunek filmowy a przekład audiowizualny. Wydawnictwo Uniwersytetu Jagiellońskiego, 2017.
Kaczmarek, Anna. "Dydaktyka przekładu audiowizualnego na filologii romańskiej od podstaw: metody, treści, propozycje rozwiązań". Między Oryginałem a Przekładem, vol. 19, nr 1-2, 2013, ss. 67-84.
Loska, Krzysztof. "Gatunek filmowy". Słownik filmu, red. Rafał Syska, Krakowskie Wydawnictwo Naukowe, 2010, ss. 72-73.
McLoughlin, Laura Uncalcaterra. "Subtitling and the Didactics of Translation". Global Trends in Translator and Interpreter Training, red. Severine Hubscher-Davidson i Michał Borodo, Bloomsbury Academics, 2012, ss. 127-143.
Mocarz, Maria. Predykatywy leksykalne w konfrontacji przekładowej. Towarzystwo Naukowe KUL, 2005.
Moine, Raphaëlle. Cinema Genre. Wiley-Blackwell, 2008.
Post, Michał. Film jako tekst multimodalny. Założenia i narzędzia jego analizy. Wydawnictwo Wyższej Szkoły Filologicznej, 2017.
Reinart, Sylvia. Untertitelung in einem Synchronistionsland. Peter Lang, 2018.
Szarkowska, Agnieszka. "Przekład audiowizualny w Polsce – perspektywy i wyzwania". Przekładaniec, vol. 22, 2008, ss. 8-25.
Szarkowska, Agnieszka. Forms of Address in Polish-English Subtitling. Peter Lang, 2013.
Tomaszkiewicz, Teresa. Przekład audiowizualny. Wydawnictwo Naukowe PWN, 2006.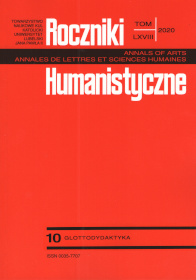 Copyright (c) 2020 Roczniki Humanistyczne
This work is licensed under a Creative Commons Attribution-NonCommercial-NoDerivatives 4.0 International License.