Translating into Polish: On Target Text Cohesion
Keywords:
written translation, text cohesion, source language, target language
Abstract
The purpose of this article is, above all, to draw attention to some of the problems which many Polish students face in the area of making a coherent translation of a foreign-language text into Polish. Additionally, the need to develop this competence during university studies will be discussed. Translation practice shows that high competence in one's native language (as the target language), consisting of the ability to create a coherent text, taking into account syntactic, lexical (semantic) and stylistic nuances, is a sine qua non for professional success. The object of the analyses presented in this article is a body of texts translated by Polish students who are studying for a master's degree in romance languages.
References
Bartmiński, Jerzy, i Stanisława Niebrzegowska-Bartmińska. Tekstologia. Wydawnictwo Naukowe PWN, 2009.
Cockiewicz, Wacław, i Małgorzata Brożyna-Reczko. "Plan (de)kompozycyjny jako narzędzie analizy tekstu". Problemy współczesnej glottodydaktyki i nauczania przekładu, red. Joanna Mampe, Jolanta Hinc i Adam Jarosz, Wydawnictwo Uniwersytetu Gdańskiego, 2017, ss. 225-244.
Daneš, František. "Semantyczna i tematyczna struktura zdania i tekstu". Tekst i język. Problemy semantyczne, red. Renata Mayenowa, Ossolineum. Wydawnictwo PAN, 1974, ss. 23-40.
Dobrzyńska, Teresa. Tekst. Próba syntezy. Wydawnictwo IBL, 1993.
Dybiec-Gajer, Joanna. Zmierzyć przekład? Z metodologii oceniania w dydaktyce przekładu pisemnego. Universitas, 2013.
Hejwowski, Krzysztof. Kognitywno-komunikacyjna teoria przekładu. Wydawnictwo Naukowe PWN, 2004.
Hejwowski, Krzysztof. "Klasyfikacja błędów tłumaczeniowych – teoria i praktyka". Jakość i ocena tłumaczenia, red. Jerzy Tomaszczyk, Wydawnictwo Academia, 2009, ss. 141-161.
Jakobson, Roman. "Poetyka w świetle językoznawstwa". Tłum. Krystyna Pomorska, Pamiętnik Literacki, vol. 51/2, 1960, ss. 431-473.
Karczewska, Dorota. "O błędach w tłumaczeniu". Język rodzimy a język obcy. Komunikacja, przekład, dydaktyka, red. Andrzej Kopczyński i Urszula Zaliwska-Okrutna, Wydawnictwa Uniwersytetu Warszawskiego, 2002, ss. 129-135.
Kelly, Dorothy. A Handbook for Translator Trainers. St. Jerome Pub., 2005.
Kozłowska, Zofia. "O błędach językowych w tekstach polskich przekładów". Język rodzimy a język obcy. Komunikacja, przekład, dydaktyka, red. Andrzej Kopczyński, i Urszula Zaliwska-Okrutna, Wydawnictwa Uniwersytetu Warszawskiego, 2002, ss. 137-147.
Matulewska, Aleksandra. "Horrory tłumaczeniowe czy tłumaczenia z piekła rodem? Czyli kilka słów o efektywności komunikacji interlingwalnej". Scripta Neophilologica Posnaniensia, vol. 14, 2014, ss. 101-118.
Mayenowa, Maria Renata. Poetyka teoretyczna. Zagadnienia języka, wyd. 2, Ossolineum, 1979.
Nida, Eugene. Toward a Science of Translating. E.J. Brill, 1964.
Paprocka, Natalia. "Les erreurs relatives engendrées par les éléments culturels dans les traductions de textes pragmatiques français réalisées par des étudiants polonais". Romanica Wratislaviensia, vol. 52, 2005, ss. 63-76.
Piotrowska, Maria, Artur Czesak, Aleksander Gomola i Sergiy Tyupa, redaktorzy, Kompetencje tłumacza. Tom dedykowany Profesor dr hab. Elżbiecie Tabakowskiej, Tertium, 2012.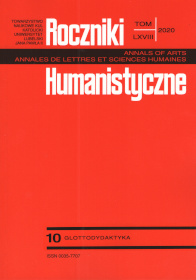 Copyright (c) 2020 Roczniki Humanistyczne
This work is licensed under a Creative Commons Attribution-NonCommercial-NoDerivatives 4.0 International License.