The Role of Translation in Teaching Russian as a Foreign Language to Russian Studies Students Based on the Example of a Survey of Slovak Students from the Faculty of Arts at the Prešov University
Keywords:
translation, foreign language teaching, students, interview, linguistic competence
Abstract
The use of Translation in Language Teaching (TILT) has had many ups and downs over its history. While it was dominant during the Grammar Translation Method (GTM), by the advent of the "Direct Method" and "Reform Movement", however, some scholars were calling for the revival of TILT, as they believed that translation could facilitate the process of language learning. This paper is based on a brief overview of the theoretical literature and an analysis of the results of the survey. The findings of this survey suggest that translation is a useful tool in Russian-language learning, aimed at the enhancement of students' foreign language skills.
References
Atkinson, David. Teaching Monolingual Classes. Longman, 1993.
Belyayev, B[oris] V[asil'yevich]. Ocherki po psikhologii obucheniya inostrannym yazykam. 2-ye izd. Prosveshcheniye, 1965 [Беляев, Б[орис] В[асильевич]. Очерки по психологии обучения иностранным языкам. 2-е изд. Просвещение, 1965].
Brown, H. Douglas. Principles of Language Learning and Teaching. 4th ed. Longman, 2002.
Dergachëva, G.I. Perevod kak odin iz aspektov obucheniya russkomu yazyku inostrannykh studentov-filologov. Russkiy yazyk, 1984 [Дергачёва, Г.И. Перевод как один из аспектов обучения русскому языку иностранных студентов-филологов. Русский язык, 1984].
Komenskiy, Yan Amos. Velikaya didaktika. Gosudarstvennoye Uchebno-pedagogicheskoye Izdatel'stvo Narkomprosa RSFSR [Коменский, Ян Амос. Великая дидактика. Государственное Учебно-педагогическое издательство Наркомпроса РСФСР, 1939].
Konysheva, A[ngelina] V[iktorovna]. Sovremennyye metody obucheniya angliyskomu yazyku. Izd. 2-ye, stereotip. TetraSistems, 2004 [Конышева, А[нгелина] В[икторовна]. Современные методы обучения английскому языку. Изд. 2-е, стереотип. ТетраСистемс, 2004].
Leont'yev, A[leksey] A[lekseyevich]. «Psikhologicheskiye osnovy obucheniya russkomu yazyku». Russkiy yazyk za rubezhom, № 4, 1974, ss. 4-11 [Леонтьев, А[лексей] А[лексеевич]. «Психологические основы обучения русскому языку». Русский язык за рубежом, № 4, 1974, сс. 4-11].
Malmkjaer, Kirsten. Translation and Language Teaching. St Jerome, 1998.
McDonough, Jo. «The Teacher as Language Learner: Worlds of Differences?». ELT Journal, vol. 56, no 4, 2002, ss. 404-411. doi: 10.1093/elt/56.4.404.
Mikhaylova, E.R, & I.B. Getskina, «Perevod kak sredstvo obucheniya inostrannomu yazyku». Nauchnyy al'manakh. Pedagogicheskiye nauki, № 8 (10), 2015, ss. 587-589 [Михайлова, Э.Р., и И.Б. Гецкина. «Перевод как средство обучения иностранному языку». Научный альманах. Педагогические науки, № 8, 2015, сс. 587-589]. Издательство Ukonf, http://ucom.ru/doc/na.2015.08.587.pdf. Доступ 28.09.2020.
Nelyubin, L[yev] L['vovich]. Tolkovyy perevodovedcheskiy slovar'. 3-ye izd., pererab. Flinta: Nauka, 2003. [Нелюбин, Л[ев] Л[ьвович]. Толковый переводоведческий словарь. 3-е изд., перераб. Флинта: Наука, 2003].
Nolasco, Rob, i Lois Arthur. Large Classes. Phoenix ELT, 1995.
Petríková, Anna, Tamara Kuprina & Ján Gallo. Didaktika ruštiny II – reč a jej rozvíjanie prostredníctvom základných rečových aktivít. Filozofická fakulta Prešovskej univerzity v Prešove, 2013.
Popovic, Radmila. «The place of translation in Language Teaching». Sue Leather Associates, https://www.sueleatherassociates.com/wp-content/uploads/2018/01/Article_translationinlanguageteaching.pdf. Доступ 28.09.2020.
Schaffner, Christina. Qualification for Professional Translators: Translation in Language Teaching Versus Teaching Translation. St. Jerome publishing, 1998.
Sheremet, O.V. «Modernizatsiya uchebnogo perevodakak metodicheskogo priyema obucheniya russkomu yazyku v turetskoy auditorii», Yazyk i tekst – Language and Texr, tоm 6, № 1, 2019, ss. 97-104. doi: 10.17759/langt.20190601171 [Шеремет, О.В. «Модернизация учебного перевода как методического приема обучения русскому языку в турецкой аудитории». Язык и текст – Language and Text, Том 6, № 1, 2019, сс. 97-104. doi: 10.17759/ langt.2019060117].
Štátny pedagogický ústav. Štátný vzdelávací program. Ruský jazyk (Vzdelávacia oblasť: Jazyk a komunikácia). Príloha ISCED 3 В 2.85 s., https://www.statpedu.sk/files/articles/dokumenty/statny-vzdelavaci-program/rusky_jazyk_isced1.pdf. Доступ 28.09.2020.
Szutkowski, Tomasz. «Subkompetencja frazeologiczna studentów-neofilologów jako składnik kompetencji językowej tłumacza – badanie pilotażowe», Roczniki Humanistyczne, Tom 67, z. 7, 2019, ss. 95-111. doi: 10.18290/rh.2019.67.7-6.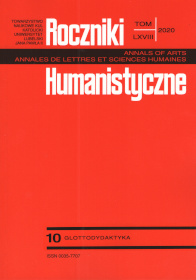 Copyright (c) 2020 Roczniki Humanistyczne
This work is licensed under a Creative Commons Attribution-NonCommercial-NoDerivatives 4.0 International License.