The Other Shoah: The Genocide on the 'Gypsies' in Literature after 1989
Keywords:
Cultural memory discourse, genocide, Holocaust, Roma, Sinti, Papusza, Colum McCann
Abstract
Prejudices against the Romani people, who are still often discriminatorily called Zigeuner, gypsies, gitanes or gitanos, still have an influence on the cultural memory discourse of the Shoah. The genocide of the Romani is either denied or trivialised. The fact that there are hardly any autobiographies of Romani survivors results from an inability to process extreme trauma, while the conventions of the people concerned prohibits them from speaking out about their trauma in the language of the perpetrators. It is thanks to the committed work of civil rights movements that Romani victims could collaborate with writers and publishers to finally tell the majority cultures of their suffering and of the genocide of the Romani people.
References
"Zigeuner." Enzyklopädie des Holocaust. Die Verfolgung und Ermordung der europäischen Juden, edited by Eberhard Jäckel, Peter Longerich, Julius H. Schoeps. Band 3. Argon Verlag, 1998, pp. 1630-1634.
Blandfort, Julia, and Marina M. Hertrampf, editors. Grenzerfahrungen – Roma-Literaturen in der Romania. LIT Verlag, 2011.
Bogdal, Klaus-Michael. Europa erfindet die Zigeuner. Eine Geschichte von Faszination und Verachtung. Suhrkamp, 2011.
Bogdal, Klaus-Michael. "Symbolische Gewalt. Die Literatur und die 'Zigeuner'". Nachwort zu: Die Morgendämmerung der Worte. Poesie-Atlas der Roma und Sinti, edited by Wilfried Ihrig and Ulrich Janetzki, Die andere Bibliothek, 2018, pp. 356-374.
Breger, Claudia. Ortlosigkeit des Fremden. 'Zigeunerinnen' und 'Zigeuner' in der deutschsprachigen Literatur um 1800. Böhlau, 1998.
Brittnacher, Hans Richard. "Die Repräsentation des Genozids an Sinti und Roma in der deutschen Nachkriegsliteratur". Akten des XII. Internationalen Germanistenkongresses in Warschau, Bd.6: Vielheit und Einheit der Germanistik weltweit, edited by Franciszek Grucza, Peter Lang Verlag, 2013, pp. 227-236.
Brittnacher, Hans Richard. "Erinnerungen an das Undenkbare: Der Porrajoms in der Literatur von und über ,Zigeuner'". Geschichte und Gedächtnis in der Literatur vom 19. bis 21. Jahrhundert, edited by Janusz Golec and Irmela von der Lühe, Peter Lang Verlag, 2010, pp. 215-228.
Brittnacher, Hans Richard. Leben auf der Grenze. Klischee und Faszination des Zigeunerbildes in Literatur und Kunst. Wallstein, 2012.
Eder-Jordan, Beate. "Die nationalsozialistische Rassen- und Vernichtungspolitik im Spiegel der Literatur der Roma und Sinti". Der nationalsozialistische Genozid an den Roma Osteuropas. Geschichte und künstlerische Verarbeitung, edited by Felicitas Fischer von Weikersthal, Christoph Garstka, Urs Heftrich and Heinz-Dietrich Löwe, Böhlau, 2008. 115-167.
Hauser, Christa. "Ceija Stojka, eine Begegnung." Meine Wahl zu schreiben – ich kann es nicht. O fallo de isgiri – me tschischanaf les. Gedichte (Romanes/deustch) und Bilder. EY3, 2003 pp. 6-9.
Hille, Almut. Identitätskonstruktionen. Die Zigeunerin in der deutschen Literatur des 20. Jahrhunderts, Königshausen & Neumann, 2005.
Hübschmanova, Milena. "Birth of Romani Literature in Czechoslowakia. Social and Political background." Cahier de Littérature orale, vol. 30, 1991, pp. 91-97.
Krumwiede-Steiner, Franziska. Formen und Funktionen von Mündlichkeit in der Gegenwartsliteratur der "Sinti und Roma." LIT Verlag, 2017.
Lewy, Gunter. "Himmler and the ,Racial Pure Gypsies'". Journal of Contemporary History, vol. 34, Heft 2, 1999, pp. 201-214.
Reinhardt, Dotschy. "Vorwort." Die Morgendämmerung der Worte. Poesie-Atlas der Roma und Sinti, edited by Wilfried Ihrig and Ulrich Janetzki, Die andere Bibliothek, 2018, pp. 14-24.
Saul, Nicholas. Gypsies and Orientalism in German Literature and Anthropology of the Long Nineteenth Century. Legenda, 2007.
Solms, Wilhelm. "Tuckermanns Aneignung von Höllenreiners Lebensgeschichte." Antiziganismusforschung, vol. 1, 2006.
Tscherenkow, Lev, and Stéphane Laederich. The Roma. Otherwise known as Gypsies, Gitanos, Tsiganes, Tigani, Cingene, Zigeuner, Bohémiens, Travellers, Fahrende etc. Band 1-2. Schwabe, 2004.
Wippermann, Wolfgang. ,Auserwählte Opfer?' Shoah und Porrajmos im Vergleich: eine Kontroverse. Frank & Timme, 2005.
Zimmermann, Michael. "Die nationalsozialistische Verfolgung der Zigeuner. Ein Überblick". Sinti, Roma, Gypsies. Sprache – Geschichte – Gegenwart, edited by Yaron Matras, Hans Winterberg, and Michael Zimmermann. Metropol, 2003, pp. 115-153.
Zimmermann, Michael. Rassenutopie und Genozid. Die nationalsozialistische Lösung der Zigeunerfrage. Christians, 1996.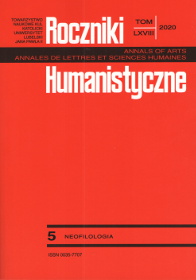 Copyright (c) 2020 Roczniki Humanistyczne
This work is licensed under a Creative Commons Attribution-NonCommercial-NoDerivatives 4.0 International License.