Russian Studies in Israel: From Cultural Separation to the Demarginalisation of Russian-Jewish Culture
Keywords:
Russian studies in Israel, Russian in Israel, demarginalisation of Russian-Jewish culture, cultural separation
Abstract
The objective of this research is to discuss the state of Russian studies in Israel. The area the study focuses on are the socio-political circumstances which have influenced the growth of the status of the Russian language, the dynamics of the decline of its attractiveness, and also the perspectives of maintaining interest in Slavic culture. This article gives the names of various Israeli Slavists and discusses their achievements in the field of Slavic research, as well as those factors which have narrowed their academic preferences. So far, the concern of Israeli Rusicists has been focused on the literature of the First Wave of Russian emigration. Recently, however, more and more frequently it refers to Russian literature in Jewish and Israeli contexts. The analysis conducted indicates that Russian studies flourished the most in the 1990s. In the 21st century, interest in Russian studies in Israel is decreasing due to a poorer knowledge of Russian language and culture among the younger generation of repatriated people, worldwide trends and the processes of globalisation.
References
Adamczyk-Garbowska, Monika. Odcienie tożsamości. Literatura żydowska jako zjawisko wielojęzyczne. Wydawnictwo Uniwersytetu Marii Curie-Skłodowskiej, 2004.
Almog, Oz. Wielokulturowy Izrael. Tłum. Agnieszka Olek, Aleksandra Rawska, Wojciech Tworek. Wydawnictwo Wyższej Szkoły Pedagogicznej TWP, 2011.
Aloe, Stefano. "Razvitiye slavyanovedeniya v yevropeyskikh imperiyakh. Materialy Mezhdunarodnoy konferentsii". Slavyanovedeniye, nr 4, 2008, ss. 121-124 [Алоэ, Стефано. «Развитие славяноведения в европейских империях. Материалы Международной конференции Комиссии по Истории Славистики при МКС»., Славяноведение, № 4, 2008, сс. 121-124].
Bauman, Zygmunt. Globalizacja. I co z tego dla ludzi wynika. Tłum. Ewa Klekot. Państwowy Instytut Wydawniczy, 2000.
Chuprynin, Sergey. Russkaya literatura segodnya: Zarubezh'ye. Vremya, 2008. [Чупрынин Сергей. Русская литература сегодня: Зарубежье. Время, 2008].
Clifford, James. Kłopoty z kulturą: Dwudziestowieczna etnografia, literatura i sztuka. Tłum. Ewa Dżurak. Wydawnictwo KR, 2000.
Dąbrowski, Stanisław. "Pogardzana służba. O komentowaniu prac literaturoznawczych", Teksty Drugie, nr 6, 1996, ss. 64-71.
Famulska-Ciesielska, Karolina, i Sławomir Jacek Żurek. Literatura Polska w Izraelu. Leksykon. Austeria, 2012.
Foucault, Michel. "Inne przestrzenie". Tłum. Agnieszka Rejniak. Teksty Drugie, nr 6, 2005, ss. 117-125.
Grzymała-Kazłowska, Aleksandra, i Piekut Aneta. "Integracja migrantów w społeczeństwie przyjmującym". 25 wykładów o migracjach, red. Magdalena Lesińska i Marek Okólski, Wydawnictwo Naukowe Scholar, 2018, ss. 178-196.
Katsman, Roman, "Demarginalization of Contemporary Russophone Literature in Israel", www.academia.edu/35544512/Demarginalization_of_Contemporary_Russophone_Literature_in_Israel. Dostęp 26.03.2020.
Lenart, Agnieszka. "Kultura literacka rosyjskojęzycznego Izraela. Spory wokół "narodowości" literatury". Archiwum Emigracji, z. (1-2) 20-21, 2014, ss. 80-90.
Lenart, Agnieszka. "W poszukiwaniu tożsamości. "Polskie" i "rosyjskie" życie literackie w Izraelu". Literatura polsko-żydowska. Studia i szkice, red. Eugenia Prokop-Janiec i Sławomir Jacek Żurek, Księgarnia Akademicka, 2011, ss. 245-252.
Michalska-Suchanek, Mirosława. "Najnowsza literatura rosyjsko-izraelska. Zarys zagadnienia". Przegląd Rusycystyczny, nr 1(169), 2020, ss. 180-197.
Naydich, Larisa. "Novaya aliya sokhranyayet russkiy". Otechestvennyye zapiski, nr 2(23), 2005, www.strana-oz.ru/2005/2/novaya-aliya-sohranyaet-russkiy. Dostęp 10.05.2020 [Найдич, Лариса. «Новая алия сохраняет русский». Отечественные записки, № 2(23), 2005, www.strana-oz.ru/2005/2/novaya-aliya-sohranyaet-russkiy].
Nycz, Ryszard. Literatura jako trop rzeczywistości. Poetyka epifanii w nowoczesnej literaturze polskie. Universitas, 2001.
Olshtain, Elite, i Bella Kotik. "The Development of Bilingualism in an Immigrant Community Language". Identity and Immigration, red. Elite Olshtain, Gabriel Horenczyk. Magnes, 2000, ss. 212-215.
Przewrocka-Aderet, Karolina. Polanim. Z Polski do Izraela. Wydawnictwo Czarne, 2019.
Pucek, Zbigniew. "Tożsamość w przestrzeni wielokulturowej". Państwo i Społeczeństwo nr 3, 2004, ss. 25-42.
Raźny, Anna. "Słowo wstępne". Tożsamość, indywidualizm, wspólnotowość w kulturze rosyjskiej, red. Anna Raźny. Wydawnictwo Uniwersytetu Jagiellońskiego, 2014, ss. 7-9.
Ricoeur, Paul. O sobie samym jako innym. Tłum. Bogdan Chełstowski. Wydawnictwo Naukowe PWN, 2003.
Segal, Dimitriy. "Literatura kak vtorichnaya modeliruyushcha sistema". Slavica Hierosolimytana, nr 4, 1979, ss. 1-35 [Сегал, Димитрий. «Литература как вторичная моделирующа система». Slavica Hierosolimytana, № 4, 1979, nr 4, сс. 1-35].
Semenchenko, Nina. "Status russkogo yazyka v Izraile". Tezisy i doklady 7-oy nauchnoy mezhinstitutskoy konferentsii Rossiyskaya diaspora v stranakh Vostoka, red. Dar'ya Panarina, Institut vostokovedeniya RAN, 2016 [Семенченко, Нина, «Статус русского языка в Израиле». Тезисы и доклады 7-ой научной межинститутской конференции Российская диаспора в странах Востока, ред. Дарья Панарина, Институт востоковедения РАН, 2016].
Silayev, Aleksandr. "Mikhail Vayskopf: Romantik idet po zhizni kak lunatik po karnizu". Vecherniy Krasnoyarsk, nr 39 (280), newslab.ru/article/33912. Dostęp 23.05.2020. [Силаев, Александр. «Михаил Вайскопф: Романтик идет по жизни как лунатик по карнизу». Вечерний Красноярск, № 39 (280)].
Timenchik, Roman. Chto vdrug. Stat'i o russkoy literature proshlogo veka. Mosty kul'tury, 2008 [Тименчик, Роман. Что вдруг. Статьи о русской литературе прошлого века. Мосты культуры, 2008].
Vayskopf, Mikhail. "Stena ili simbioz, muzey ili zhivoy bum?". Booknik, 2006, booknik.ru/ today/all/stena-ili-simbioz-muzeyi-ili-jivoyi-bum/. Dostęp 10.05.2020 [Вайскопф, Михаил. «Стена или симбиоз, музей или живой бум?», Booknik, 2006, booknik.ru/today/ all/stena-ili-simbioz-muzeyi-ili-jivoyi-bum/].
Wołk, Marcin. "O literaturze żydowskiej w językach nieżydowskich – wprowadzenie". Archiwum Emigracji, z. (1-2) 20-21, 2014, ss. 9-22.
Zil'berg, Narspi. "Russkiye yevrei v Iyerusalime: kul'turnyye kody i manifestatsiya etnichnosti", Vremya iskat', nr 6, 2002, ss. 141-162 [Зильберг, Нарспи. «Русские евреи в Иерусалиме: культурные коды и манифестация этничности». Время искать, № 6, 2002, сс. 141-162].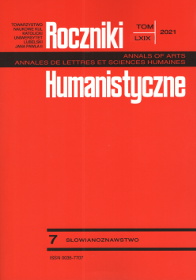 Copyright (c) 2021 Roczniki Humanistyczne
This work is licensed under a Creative Commons Attribution-NonCommercial-NoDerivatives 4.0 International License.