Truth the Foundation of Education
Stanisław Łabendowicz

The John Paul II Catholic University of Lublin, Faculty of Theology
Keywords:
truth; education; Christ − the Way, the Truth, the Life, the Good
Abstract
In each one of us there is an inborn need of the knowledge of everything that surrounds us and that in a true way. The love of truth reveals itself in the need to know it and to abide by it in our life. In coming to know the truth about the world which surrounds him, man gradually gains the aptitude of an independent distinguishing of truth from falseness. The securing of this capacity lets such a person be recognized as a mature human being. A most important element of education of the younger generation for truth is to show children and youth the person and life of Christ, who is not only the Truth, but also the Way, the Life and the Good (cf. J 14:6). For there is no education without a previous explaining of truth. Education in truth consists of seeking it, but also of giving testimony to it in the different circumstances of life. Education in truth is an education for a courageous life. For truth demands that we fearlessly stand by it and, should the need arise, defend it with courage, and even heroically sacrifice ourselves for it. The human being is called to a life in truth and love. This not only concerns those who educate, but also those who are educated.
References
Benedykt XVI, "Wychowanie jest integralną częścią ewangelizacji". Homilia w czasie Mszy Świętej w uroczystość Świętej Bożej Rodzicielki Maryi, Watykan, 1 stycznia 2012 r.
Benedykt XVI, Przemówienie do ambasadorów sześciu krajów przy Stolicy Apostolskiej, Watykan 2013, za: Papież o wychowaniu młodzieży w prawdzie, https://www.deon.pl/kosciol/papiez-o-wychowaniu-mlodziezy-w-prawdzie,125145 (dostęp: 27.09.2019).
Bianchi E., Słowa dla życia, Kielce 2014.
Gogola J.W., Osoba i wspólnota, Kraków 2002.
Jan Paweł II, "Odnowa człowieka i społeczeństwa dokonuje się za sprawą odnowy sumień". Przemówienie Ojca Świętego do III grupy Biskupów, Watykan, 14 lutego 1998 r.
Jan Paweł II, Homilia wygłoszona do młodzieży w czasie Mszy Świętej, Westerplatte, 12 czerwca 1987 r.
Jan Paweł II, Homilia wygłoszona w czasie Mszy Świętej, Łowicz, 14 czerwca 1999 r.
Jan Paweł II, Jezus nauczyciel naszym wzorem. Przemówienie Ojca Świętego wygłoszone do studentów, pracowników naukowych i administracyjnych Katolickiego Uniwersytetu "Sacro Cuore", wygłoszone na Placu św. Piotra 13 kwietnia 2000 r., w: Wielki jubileusz roku 2000, red. S. Dziwisz, H. Nowacki, S. Nasiorowski, P. Ptasznik, Librería Editrice Vaticana 2001.
Jan Paweł II, Przekroczyć próg nadziei, Lublin 1994.
Jan Paweł II, W imię przyszłości kultury. Przemówienie Ojca Świętego w siedzibie UNESCO (2 czerwca 1980 r.), w: Jan Paweł II, Nauczanie papieskie, t. 3, cz. I, Poznań−Warszawa 1985.
Jan XXIII, Myśli wyszukane. Wybór i wstęp A.E. Chiffolo, Kraków 2003.
Klimas S., Koinônia – wspólnota z Bogiem i braćmi. Realizacja nowotestamentalnej koinonii w monastycyzmie, Kielce 2017.
Klimas S., Prawda jako droga do poznania siebie i poznania Boga, http://rmissio.pl/pl/prawda-jako-droga-do-poznania-siebie-i-poznania-boga/ (dostęp: 27.09.2019).
Komisja Episkopatu Polski, "Wychowywać do prawdy". List Pasterski z okazji IV Tygodnia Wychowania (14-20 października 2014 r.), Warszawa, 10 czerwca 2014 r.
Łabendowicz S., Wychowanie do prawdy w katechezie, "Zeszyty Formacji Katechetów" 2015, 2(58).
Magrassi M., Biblia i modlitwa, Kraków 2002.
Prawda w nauczaniu Jana Pawła II, https://www.centrumjp2.pl/wikijp2/index.php?title=Prawda (dostęp: 27.09.2019).
Prawda, w: Słownik języka polskiego PWN, https://sjp.pwn.pl/sjp/prawda-I;2507920.html (dostęp: 21.10.2019).
Ratzinger J., Drogi wiary w dobie współczesnych przemian, "Communio" 1992, nr 2(12).
Tischner J., Etyka wartości i nadziei, w: Wokół wartości, red. D. von Hildebrand, J.A. Kłoczowski, J. Paściak, J. Tischner, W drodze, Poznań 1984.
Wychowanie do prawdy, https://parafiajugow.pl/parafianie,napisali,forum,parafii,jugow,27.html, (dostęp: 27.09.2019).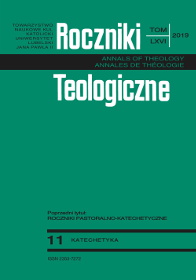 Copyright (c) 2019 Roczniki Teologiczne
This work is licensed under a Creative Commons Attribution-NonCommercial-NoDerivatives 4.0 International License.