John Paul II's Theology of Law: An Evangelical Appreciation
Joan Lockwood O'Donovan

University of St Andrews
Keywords:
theology of law; revelation; creation; Jesus Christ; promise; fulfilment; natural law; public law; freedom
Abstract
From the 'evangelical'perspective of English Reformation theology, this article considers appreciatively the theology of law in Veritatis Splendor in its implications for understanding public law. It highlights three features of the encyclical: 1. its unfolding of law as an intrinsic dimension of God's dynamic revelation of himself in Jesus Christ as the Truth and the Good who obliges human beings as actors and grounds their freedom; 2. its exposing of tendencies in contemporary moral philosophy and theology which have severed the law and freedom of created and fallen human community from the history of their perfecting renewal witnessed in the Scriptures; 3. its portrayal of the church as the community of faith and discipleship, to whom Christ has entrusted the `showing forth' of God's promise and law in their unity, and imparted the Spirit of Truth and Holiness. In highlighting these features, the article also draws attention to the under-developed theme of law as the revelation of God's condemning judgment on sinful human actors, both in the internal forum of the conscience and the social forum of public law, and the corresponding theme of the church's witness to the risen Christ's overcoming of the law's condemnation.
References
Booty, John, ed. The Book of Common Prayer 1559. Charlottesville/London: University of Virginia Press, 2005.
Hittinger, Russel. The First Grace: Rediscovering the Natural Law in a Post-Christian World. Wilmington, Del.: ISI Books, 2002.
Hütter, Reinhard, Theodor, Dieter, eds. Ecumenical Ventures in Ethics: Protestants Engage Pope John Paul II's Moral Encyclicals. Grand Rapids/Cambridge: Eerdmans, 1998.
Lockwood O'Donovan, Joan. `A Timely Contribution of the English Reformation to an Evangelical Public Theology of Law and Freedom'. Political Theology 19:4(2018), 314-330.
O'Donovan, Oliver. On the Thirty-Nine Articles: Conversations with Tudor Christianity. 2nd edition. London: SCM Press, 2011.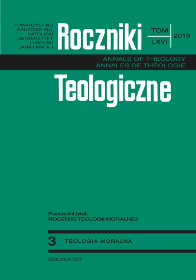 Copyright (c) 2019 Roczniki Teologiczne
This work is licensed under a Creative Commons Attribution-NonCommercial-NoDerivatives 4.0 International License.