Indications Concerning the Upbringing of Children Presentedin the Documents of Catholic Church
Keywords:
children upbringing; family; values; faith
Abstract
The article discusses the most important indications concerning the upbringing of children presented in the Church documents from 1929 to 2016. The review is comprehensive, it includes the Catechism of the Catholic Church and the Code of Canon Law, the declaration of the Second Vatican Council Gravissimum educationis and papal encyclicals and exhortations: Divini illius Magistri by Pius XI, Humanae Vitae by Paul VI, Familiaris Consortio, Veritatis Splendor and Evangelium Vitae of John Paul II, Amoris Laetitia of Pope Francis. In addition to documents devoted entirely to the issue of education (GE, DIM), the ones that deal with the subject fragmentarily are discussed (FC, AL) and also those that do not explicitly talk about upbringing, but the subject matter of basic values is indirectly a necessary call and educational guidelines (HV, VS, EV). Although they come from the period of nearly 90 years, there is a visible coherence of educational thought based on God's revelation. The synthesis of the subject seems especially necessary in the present times, when parents face completely new challenges when it comes to the broadly understood environment of raising their children.
References
Antoniano S., Dell'Educazione Cristiana e Politica de' Figliuoli (…), s. 1, Milano: Tipi di Giuseppe Pogliani 1821; https://archive.org/details/DelleducazioneCristianaEPoliticaDeFigliuoli (dostęp: 21.12.2018).
Dziekoński S., Pius XI papież doktryny wychowawczej Kościoła, w: Wychowanie w wierze w kontekście przemian współczesności, red. R. Buchta, S. Dziekoński, [Seria: Studia i Materiały Wydziału Teologicznego Uniwersytetu Śląskiego w Katowicach, nr 61, red. A. Malina], Katowice: Księgarnia św. Jacka 2011, s. 27-40.
Franciszek, Posynodalna adhortacja apostolska Amoris laetitia o miłości w rodzinie (19.03.2016), Częstochowa: Edycja Świętego Pawła 2016.
Jan Paweł II, Adhortacja apostolska Familiaris consortio o zadaniach rodziny chrześcijańskiej w świecie współczesnym (22.11.1981), Watykan: Drukarnia Watykańska "Polyglotta" 1981.
Jan Paweł II, Encyklika Veritatis splendor o niektórych podstawowych problemach nauczania moralnego Kościoła (6.08.1993), Poznań: Pallottinum 2003.
Jan Paweł II, Encyklika Evangelium vitae o wartości i nienaruszalności życia ludzkiego (25.03.1995), Katowice: Drukarnia Archidiecezjalna w Katowicach 1995.
Jan Paweł II, Pan Jezus was kocha. Przemówienie do dzieci pierwszokomunijnych w kościele Świętej Rodziny w Zakopanem (7.06.1997), "L'Osservatore Romano" [wyd. pol.] 18(1997), nr 7(194), s. 50.
Katechizm Kościoła Katolickiego, Poznań: Pallottinum 1994.
Kodeks Prawa Kanonicznego. Przekład polski zatwierdzony przez Konferencję Episkopatu, tł. E. Sztafrowski, red. K. Dynarski, Poznań: Pallotinum 1984.
Mszał Rzymski, tł. i objaśnienia O.O. Benedyktyni z Opactwa Tynieckiego, red. S. Kaźmierczak, Poznań: Pallottinum 1963.
Paweł VI, Encyklika Humanae vitae o zasadach moralnych w dziedzinie przekazywania życia ludzkiego (25.07.1968), Wrocław: Wydawnictwo TUM 1999.
Pius XI, Encyklika Divini illius Magistri o chrześcijańskim wychowaniu młodzieży (31.12.1929), [Seria: Magisterium Kościoła Katolickiego], Warszawa: Wydawnictwo Te Deum 1999.
Sobór Watykański II, Deklaracja o wychowaniu chrześcijańskim Gravissimum educationis (28.10.1965), w: Sobór Watykański II, Konstytucje. Dekrety. Deklaracje, wyd. 3, Poznań: Pallottinum 1986, s. 313-324.
Sobór Watykański II, Dekret o apostolstwie świeckich Apostolicam actuositatem (18.11.1965), w: Sobór Watykański II, Konstytucje. Dekrety. Deklaracje, wyd. 3, Poznań: Pallottinum 1986, s. 379-405.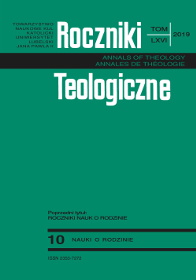 Copyright (c) 2019 Roczniki Teologiczne
This work is licensed under a Creative Commons Attribution-NonCommercial-NoDerivatives 4.0 International License.