Delimitation in the Preaching
Michał Klementowicz

The John Paul II Catholic University of Lublin, Faculty of Theology
Keywords:
preaching; semantic clarification; kerygmatic delimitation; narrative delimitation
Abstract
This article considers the use of delimitation in preaching the Word of God. When expressing the meanings of different types of texts it is important to indicate the beginning and end of each individual text, that is delimitation. The point of reference in the article is the semantic meaning of the content to be communicated which determines the extent of the formulated statements. Three styles of delimitation are highlighted in the text: the semantic specification of the proclaimed content; a description of kerygmatic delimitation and narrative delimitation.
References
Chaim W., Bibliodrama w głoszeniu słowa Bożego, "Roczniki Teologiczne" 64(2017), z. 12, s. 5-18.
Clark B., Relevance Theory, Cambridge University Press, Cambridge 2013.
Dąbała J., Tajemnica i suspens w sztuce pisania. W kręgu retoryki dziennikarskiej i dramaturgii medialnej, Wydawnictwo Adam Marszałek, Toruń 2010.
Dobrzyńska T., Tekst: próba syntezy, "Pamiętnik Literacki" 82(1991), nr 2, s. 142-183.
Dobrzyńska T., Tekst, w: Współczesny język polski, red. J. Bartmiński, Wydawnictwo Uniwersytetu Marii Curie-Skłodowskiej, Lublin 2001, s. 293-314.
Duszak A., Tekst, dyskurs, komunikacja międzykulturowa, Wydawnictwo Naukowe PWN, Warszawa 1998.
Dyk S., Co głosić, aby uwierzyli. Studium homiletyczne lekcjonarza mszalnego, Wydawnictwo KUL, Lublin 2013.
Jakowska K., Delimitacja tekstu w cyklu opowiadań, "Pamiętnik Literacki" 84(1993), nr 2, s. 94-106.
Klementowicz M., Funkcja fatyczna języka homilii i kazań, "Roczniki Teologiczne" 63(2016), z. 12, s. 61-73.
Klementowicz M., Homilia jako tekst integralny teologicznie, w: Homilia integralna. Studium treści przepowiadania homilijnego, red. M. Dąbrówka, M. Klementowicz, Wydawnictwo Biblos, Tarnów 2017, s. 9-19.
Klementowicz M., Performatywna funkcja języka homilii, "Roczniki Teologiczne" 62(2015), z. 12, s. 161-174.
Klementowicz M., Spójność tekstu jako warunek poprawnej homilii, "Roczniki Teologiczne" 64(2017), z. 12, s. 63-77.
Majewski M., Jak przekłady zmieniają Biblię. O teorii i praktyce tłumaczenia Pisma Świętego, Uniwersytet Papieski Jana Pawła II (skrypt), Kraków 2013, w: https://upjp2.academia.edu/MarcinMajewski (dostęp: 1.09.2018).
Spójność tekstu, w: Słownik pojęć i tekstów kultury, red. E. Szczęsna, Wydawnictwa Szkolne i Pedagogiczne, Warszawa 2002.
Warchala J., Dialog potoczny a tekst, Wydawnictwo Uniwersytetu Śląskiego, Katowice 1991.
Wilkoń A., Spójność i struktura tekstu. Wstęp do lingwistyki tekstu, Towarzystwo Autorów i Wydawców Prac Naukowych Universitas, Kraków 2002.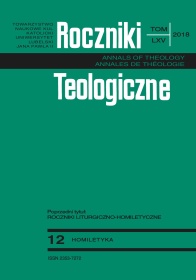 Copyright (c) 2018 Roczniki Teologiczne
This work is licensed under a Creative Commons Attribution-NonCommercial-NoDerivatives 4.0 International License.