Sense of Security in Males Addicted to the Internet
Karolina Komsta-Tokarzewska

The John Paul II Catholic University of Lublin, Faculty of Theology
Keywords:
sense of security; Internet addiction
Abstract
The aim of the article is to present and discuss the findings of research on a group of Internet addicts in the context of a sense of security. A growing interest in the issue of a sense of security, both from the socio-cultural and psychological perspective, is also reflected in the emergence of research on a sense of security among those who are at a high risk of Internet addiction. In Poland, this type of research is virtually non-existent so far. Its implementation and dissemination, coupled with the reflection thereon seems to be of paramount importance because of its wide practical implications: in the area of a therapeutic relationship, a healing process and prevention, as well as a deeper insight into the problems of Internet addicted patients.
An interpretive analysis covered the results for 136 respondents, including: Internet addicts and those not addicted to the Internet, aged 18-39. The research involved male subjects only.
Method. The research used the Sense of Security and Personal Resiliency Questionnaire (KPB-PO) by Zenon Uchnast and the Internet Addiction Test (IAT) by Kimberly Young.
Results. There are differences in a sense of security of Internet addicts and non-addicts. Developing a sense of security can contribute to improving the functioning of people who are addicted to the Internet.
References
Andrzejewska, Anna. Children and Adolescents in the Net of Real and Virtual Threats. Theoretical and Empirical Aspects. Warsaw: Difin, 2014.
Armstrong, Lynette, James G. Phillips, and Lauren L. Saling. "Potential Determinants of Heavier Internet Usage." The International Journal of Human-Computer Studies 53(2000), 4: 537-50.
Brzeziński, Jerzy. Metodologiczne i psychologiczne wyznaczniki procesu badawczego w psychologii. Poznań: Wydawnictwo Uniwersytetu im. Adama Mickiewicza, 1978.
Chen, Sze Hua, and Chau Chiung. "A Review of the Research on Internet Addiction." Educational Psychology Review 17(1999), 4: 363-388.
Eichenberg, Christiane, Schott Markus, Decker Oliver, and Brigitte Sindelar. "Attachment Style and Internet Addiction: An Online Survey." Journal of Medical Internet Research 19(2017), 5: 170-78.
Horney, Karen. The Neurotic Personality of Our Time. Warsaw: Dom Wydawniczy REBIS, 1999.
Jakubik, Andrzej. "Internet Addition Syndrome." Studia Psychologica UKSW 3(2002): 133-42.
Jakubik, Andrzej, Justyna Popławska. "Internet Addition Syndrome." Studia Psychologica 4(2002): 123-31.
Kaliszewska, Katarzyna. Excessive Internet Use. Psychological Characteristics. Poznań: UAM, 2010.
Kowalski, Radosław. "Internet Addiction: Truth, Circumstantial Evidence or Fiction?" Wychowanie na co dzień 9(2005): 4-8.
Krzyżak-Szymańska, Ewa, Andrzej, Szymański. Preventing New Addictions among Children and Adolescents. Katowice: Górnośląska Wyższa Szkoła Handlowa im. Wojciecha Korfantego, 2013.
Kuss, Daria J., Olatz Lopez-Fernandez. "Internet Addiction and Problematic Internet Use: A Systematic Review of Clinical Research." World Journal of Psychiatry 6(2016), 1: 143-76.
Maslow, Abraham. Manual for the Security-Insecurity Inventory. Palo Alto: CA: Consulting Psychologists Press, 1952.
Maslow, Abraham. Toward a Psychology of Being. Warsaw: PAX, 1986.
Maslow, Abraham. "A Theory of Human Motivation." In Motivation and Personality. Edited by Abraham Maslow. Warsaw: PAX, 1990.
Poprawa, Ryszard. "Problematic Use of the Internet − Symptoms and Method of Diagnosis. Research among Adolescents," Psychology of Quality of Life 11(2012), 1: 57-82.
Reber, Arthur S. Dictionary of Psychology. London: Penguin Books, 1985.
Shubnikova, Ekaterina G., Anvar N., Khuziakhmetov, and Daria P. Khanolainen. "Internet-Addiction of Adolescents: Diagnostic Problems and Pedagogical Prevention in the Educational Environment." Eurasia Journal of Mathematics, Science and Technology Education 13(2017), 8: 5261-71.
Uchnast, Zenon. "The Concept of Man as Understood by Humanistic Psychologists." Częstochowskie Studia Teologiczne 6(1979): 461-77.
Uchnast, Zenon. "The Method of Measuring the Sense of Security." In Lectures on Psychology at the Catholic University of Lublin. Edited by Zenon Uchnast, Tomasz Witkowski. Lublin: RW KUL, 1991.
Ulman, Piotr. "Social and Family Determinants of Addictions in Children and Young People." Fides et Ratio 8(2011), 4: 74-86.
Walc, Wiesława. Addictions among Children and Young People: Selected Problems. Rzeszów: Wydawnictwo Uniwersytetu Rzeszowskiego, 2016.
Woronowicz, Bohdan T. Addictions and their Treatment: Full Disclosure. Warsaw: IPiN, 2001.
Young, Kimberly, Robert Rodgers. "The Relationship between Depression and Internet Addiction." CyberPsychology and Behavior 1(1998), 1: 25-8.
Young, Kimberly. "Psychology of Computer Use: XL. Addictive Use of the Internet: a Case that Breaks the Stereotype." Psychological Report 79(1996): 899-902.
Young, Kimberly. "Internet Addiction: A New Clinical Phenomenon and Its Consequences." American Behavioral Scientist 48(2004), 4: 402-15.
Young, Kimberly. "Technology is Changing the Nature of Problems People are Having as well as how We Treat Them". In Treatment Outcomes with Internet Addicts. Published in CyberPsychology&Behavior,2007,Vol.10,No.5;pp.671-679. Last modified April 14, 2018; http://www.netaddiction.com/articles/Treatment.pdf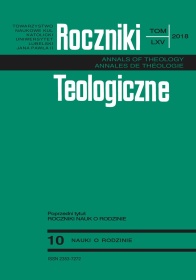 Copyright (c) 2018 Roczniki Teologiczne
This work is licensed under a Creative Commons Attribution-NonCommercial-NoDerivatives 4.0 International License.