Physical Activity among Women and Men in Time off from Work
Julia Gorbaniuk

The John Paul II Catholic University of Lublin, Faculty of Social Science

Maria Chuchra

The John Paul II Catholic University of Lublin, Faculty of Social Science
Keywords:
physical activity; motor activity; women; men
Abstract
Introduction. Research on the literature shows different and sometimes contradictory data on the physical activities of women and men.
Aim. The goal of the research study is to compare selected aspects of physical activity in women and men.
Material and methods. 100 men and 100 women were selected and tested using the "pairing method" and examined in terms of four variables: place of residence, education, marital status and age. A specially prepared survey questionnaire was used.
Results. Men and women differ in terms of certain aspects of physical activity (especially its forms), while their motivations and limitations only slightly differ.
Conclusions. Women significantly more often prefer walking as a physical activity, while men prefer running, swimming, and using the weight room and gym for team sports. On working days, women have significantly less free time than men. The only motivating factor for physical activity that differentiates both groups is the "beauty" motif that is more often present in women. Both groups do not differ in terms of obstacles keeping them from undertaking physical activity, although women more often report lack of time.
References
Aktywność fizyczna Polaków, CBOS, Warszawa 2013.
Aktywność fizyczna Polaków 2017, https://sponsoringsport.pl/raport-aktywnosc-fizyczna-polakow-2017 [10.04.2018].
Chuchra M., Gorbaniuk J., Selected health behaviours in professionally active men and women, "Polish Journal of Public Health" 2017, nr 2, s. 67-70.
Duda B., Charakterystyka aktywności fizycznej osób dorosłych, "Medycyna Sportowa" 2006, nr 6, s. 329-332.
Gorbaniuk J., Chuchra M., Preferencje żywieniowe kobiet i mężczyzn aktywnych zawodowo, "Roczniki Teologiczne" 64(2017), nr 10, s. 161-164.
Góreczka A., Garczyński W., Motywy podejmowania aktywności fizycznej – przegląd literatury, "Heath and Sport" 2017, nr 7, s. 322-337.
Kaźmierczak U., Radzimińska A., Dzierżanowski M., Bułatowicz I., Strojek K., Srokowski G., Zukow W., Korzyści z podejmowania regularnej aktywności fizycznej przez osoby starsze, "Journal of Education, Health and Sport" 2015, nr 5(1), s. 56-68.
Poziom aktywności fizycznej Polaków, KANTAR PUBLIC 2017 s. 4. Ministerstwo Sportu i Turystyki, https://msit.gov.pl/download/1/13795/Analizawynikow2017.pdf [10.05.2018].
Słopiecka A., Kamusińska E., Formy wypoczynku preferowane przez kobiety. "Medycyna Ogólna i Nauki o Zdrowiu"18(2012), nr 1, s. 1-7.
Sport i aktywność fizyczna, Eurobarometr (nr 3.334), Belgia 2010.
Stachura A., Płatek Ł., Benek A., Aktywność ruchowa kobiet i mężczyzn w różnym wieku, w: Kultura fizyczna i zdrowotna współczesnego człowieka – teoretyczne podstawy i praktyczne implikacje, red. A. Kazimierczak, A. Maszorek-Szymala, E. Dębowska, Łódź 2008, s. 214-219.
Uczestnictwo Polaków w sporcie i rekreacji ruchowej w 2012 r., GUS, Warszawa 2013.
Wleklak K., Janowski J., Bresińska-Krawiec E., Konarski J., Liberka M., Karpowicz K.., Apolinarska J., Porównanie motywów uczestnictwa kobiet w różnych formach aktywności fizycznej typu aerobik i aqua – aerobik, "Aktywność ruchowa ludzi w różnym wieku" 17(2013), nr 1, s. 65-75.
Zapała M., Kowalczyk B., Lubińska-Żądło B., Aktywność fizyczna a styl życia kobiet w wieku produkcyjnym, "Medycyna Ogólna i Nauki o Zdrowiu" 21(2015), nr 4, s. 391-397.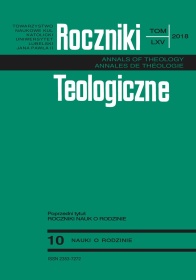 Copyright (c) 2018 Roczniki Teologiczne
This work is licensed under a Creative Commons Attribution-NonCommercial-NoDerivatives 4.0 International License.