Family Determinants of Youth's Attitudes Towards Pornography − Research Report
Joanna Dworakowska

The John Paul II Catholic University of Lublin, Faculty of Social Science
Keywords:
youth; attitude; pornography; family
Abstract
Pornography is among these phenomena which have not been clearly defined in the subject literature yet. Ambiguity of the phenomenon promoted in contemporary socio-cultural realityand its normalizationcause that it can be interpreted and evaluated in many different ways. Available research and analyses lack anyapproach that would describe how pornography affects development and behaviour of youth in different care and upbringing environment.
This article aims to discuss results of the author'sstudyrelated to family determinants of youth's attitudes towards pornography. Author's intention is to initiate discussion and further study into this topic. Study was based on a sample of 127 student. To obtain empirical data, survey questionnaire of the present author was used. Through analysis, an attempt was made to find answers to question if selected variables of family environment (type of parents' relationship, type of parenting style in a family, a sense of emotional support from parents, values adopted by parents) differentiate youth's attitudes towards pornographyin cognitive, emotional and behavioural aspects.
References
Bryant J., Brown D., Uses of Pornography, w: Pornography: Research Advances and Policy Considsiderations, red. D. Zillmann, J. Bryant, Hove−London−New Jersey 1989, s. 25-55.
Fagan P., Wpływ pornografii na jednostkę, małżeństwo, rodzinę i społeczeństwo, Wydawnictwo Fundacja "Głos dla Życia", Poznań 2010.
Jakubowski T., Zagrożenia w dziedzinie płciowości − pornografia, "Katecheta" 1999, nr 7-8, s. 37-43.
Kornas-Biela D., Wpływ pornografii na rozwój osobowości człowieka, w: Dział Ekspertyz Biura Informacji i Dokumentacji Senackiej Kancelarii Senatu, Pornografia − zagrożenia dla rodziny i społeczeństwa, Wydawnictwo Kancelaria Senatu Biuro IiDS, Warszawa 1999, s. 12-30.
Lew-Starowicz Z., Encyklopedia erotyki, Wydawnictwo Muza, Warszawa 2004.
Lew-Starowicz Z., Seks w sieci i nie tylko…, Wydawnictwo Medyczne, Kraków 2002.
Łaciak B., Świat społeczny dziecka, Wydawnictwo Akademickie ŻAK, Warszawa 1998.
Łukaszek M., Szorstka młodość. Socjalizacyjne wyznaczniki zachowań seksualnych młodzieży (na podstawie badań wychowanków Ochotniczych Hufców Pracy), Wydawnictwo Uniwersytetu Rzeszowskiego, Rzeszów 2013.
Mądrzycki T., Psychologiczne prawidłowości kształtowania się postaw, Wydawnictwo Szkolne i Pedagogiczne, Warszawa 1977.
McNair B., Seks, demokratyzacja pożądania i media, czyli kultura obnażania, tłum. E. Klekot, Wydawnictwo Muza, Warszawa 2004.
Mika S., Psychologia społeczna, PWN, Warszawa 1987.
Nowak S., Teorie postaw, PWN, Warszawa 1973.
Obuchowska I., Jaczewski A., Rozwój erotyczny, Wydawnictwo Akademickie ŻAK, Warszawa 2002.
Rodan A., Historia erotyki, t. 1. Pornografia, Wydawnictwo Garmond A.G., Łódź 1996.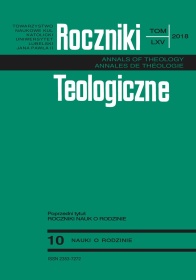 Copyright (c) 2018 Roczniki Teologiczne
This work is licensed under a Creative Commons Attribution-NonCommercial-NoDerivatives 4.0 International License.