Gambling Seniors and the Family Context
Bernadeta Lelonek-Kuleta

The John Paul II Catholic University of Lublin, Faculty of Theology
Keywords:
gambling; senior; addiction
Abstract
The article presents some of the results of surveys on the gambling activity of seniors in Poland.1 Research on 80 respondents aged 60+ was conducted using an in-depth qualitative interview method. The article presents the results of the family context of gambling seniors. The following aspects linking family factors to elderly people gambling have been taken into account: family conditions that initiate gambling among seniors, family factors that motivate gambling, family attitudes towards gambling by seniors, and the consequences of gambling on family life. Gamblers often saw gambling practices in their own family homes, and so gambling practiced in old age may be a way of escaping from loneliness or be a source of hope for improving their financial situation and helping relatives. Gambling in extreme cases contributes to the breakup of the family, and often causes conflicts among family members. Relatives show different attitudes towards gambling, from tolerance and downplaying to severe opposition (depending on the severity of gambling by a senior).
References
Abbott, M., Stone, C. A., Billi, R., Yeung, K., Gambling and problem gambling in Victoria, Australia: Changes over 5 years. "Journal of Gambling Studies" 2016, nr 32, s. 47-78.
Alberghetti A., Collins P.A., A passion for gambling: A generation-specific conceptual analysis and review of gambling among older adults in Canada, "Journal of Gambling Studies" 2015, nr 31(2), s. 343-358.
Ariyabuddhiphongs V., Older adults and gambling: A review, "International Journal of Mental Health and Addiction" 2012, nr 10(2), s. 297-308.
Badora B., Gwiazda M., Herrmann M., Kalka J. Moskalewicz J., Oszacowanie rozpowszechnienia wybranych uzależnień behawioralnych oraz analiza korelacji pomiędzy występowaniem uzależnień behawioralnych a używaniem substancji psychoaktywnych, Centrum Badania Opinii Społecznej, Warszawa, 2015.
Botterill E., Gill P.R., McLaren S., Gomez R., Marital status and problem gambling among Australian older adults: The mediating role of loneliness, "Journal of Gambling Studies" 2015, nr 10, s. 1-12.
Burge A.N., Pietrzak R.H., Molina C.A., Petry N., Age of gambling initiation and severity of gambling and health problems among older adult problem gamblers, "Psychiatric Services" 2005, nr 55(12), s. 1437-9.
Ciura G., Szymańczak J., Biuro Analiz Sejmowych Kancelarii Sejmu, Warszawa 2012.
Lelonek-Kuleta B., Patologiczny hazard wśród osób starszych, "Świat Problemów" 2015, nr 9, s. 37-41.
Medeiros G.C., Leppink E., Yaemi A., Mariani M., Tavares H., Grant J., Gambling disorder in older adults: A cross-cultural perspective, "Comprehensive Psychiatry" 2015, nr 58, s. 116-121.
Rahman A.S., Pilver C.E., Desai R.A., Steinberg M.A., Rugle L., Krishnan-Sarin S., Potenza M.N., The relationship between age of gambling onset and adolescent problematic gambling severity, "Journal of Psychiatric Research" 2012, nr 46(5), s. 675-683.
Racław M, Rosochacka-Gmitrzak M., Proces starzenia się w kontekście wyzwań demografii, polityki społecznej oraz doniesień badawczych, Projekt "Aktywny senior – najlepszy rzecznik swoich społeczności" współfinansowany ze środków Ministerstwa Pracy i Polityki Społecznej w ramach Rządowego Programu na rzecz Aktywności Społecznej Osób Starszych na lata 2012-2013.
Strzelecki Z, Witkowski J., Demograficzne uwarunkowania systemu ubezpieczeń społecznych w Polsce, w: Ubezpieczenia społeczne w Polsce. 10 lat reformowania, red. J. Hrynkiewicz, ISNS UW, Warszawa 2011, s. 15-69.
Subramaniam M., Prevalence and determinants of gambling disorder among older adults: A systematic review, "Addictive Behaviors" 2015, nr 41, s. 199-209.
Subramaniam M., Abdin E., Shahwan S., Vaingankar J., Picco L., Browning C., Thomas S., Chong S., Culture and age influences upon gambling and problem gambling, "Addictive Behaviors Reports" 2015, nr 1, s. 57–63.
Szlązak M., Starzenie się populacji wyzwaniem dla polityki społecznej, "Materiały konferencyjne", Regionalny Ośrodek Polityki Społecznej w Krakowie, Kraków 2012.
Tirachaimongkol L.C., Jackson A.C., Tomnay J.E., Pathways to problem gambling in seniors, "Journal of Gerontological Social Work" 2010, nr 53(6), s. 531-546.
Wądałowska K., Obraz typowego Polaka w starszym wieku, Warszawa, Centrum Badania Opinii Społecznej, BS/2/2010.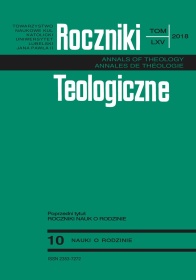 Copyright (c) 2018 Roczniki Teologiczne
This work is licensed under a Creative Commons Attribution-NonCommercial-NoDerivatives 4.0 International License.