Pastoral Aspects of Pope Francis' Four Rules
Bogusław Drożdż

Pontifical Faculty of Theology in Wrocław
Keywords:
rules of social development; evangelical criteria; evangelization; pope Francis' teaching; methodology of pastoral theology; practical theology
Abstract
Pope Francis in exhortation Evangelii gaudium names four rules managing the development of community life and peacebuilding. He names them as evangelical criteria as well. He formulates them in the following way: the first rule – time exceeds space; the second one – unity predominates over conflict; the third one – reality is more important than idea; the fourth one – whole exceeds part. Pastoral look at these rules opens new horizons for theological analyses which may be translated into practical solutions, so essential for modern evangelization of the world.
References
Bartnik Czesław Stanisław, Teologia historii, Lublin: "Standruk" 1999.
Biel Robert, Duszpasterstwo w kontekście paradygmatów czasu przełomu, w: Współczesne wyzwania teologii pastoralnej, red. Radosław Chałupniak, Jerzy Kostorz. Opole: Wydawnictwo Świętego Krzyża 2016, s. 67-77.
Bielecki Stanisław, Znaki czasu i ich rozpoznawanie, w: Teologia pastoralna, red. Ryszard Kamiński, t. I: Teologia pastoralna fundamentalna, Lublin–Wrocław: Wydawnictwo KUL– Atla 2 2000, s. 223-247.
Drożdż Bogusław, Nowość nowej ewangelizacji, "Perspectiva" 11(2012), nr 1, s. 23-29.
Franciszek, Adhortacja apostolska Amoris laetitia. O miłości w rodzinie (19.03.2016), Wrocław: TUM 2016.
Franciszek, Adhortacja apostolska Evangelii gaudium. O głoszeniu Ewangelii w dzisiejszym świecie (24.11.2013), Kraków: Wydawnictwo M 2013.
Franciszek, Encyklika Laudato si'. W trosce o wspólny dom (24.05.2015), Kraków: Wydawnictwo M 2015.
Graczyk Marian, Francuska teologia rzeczywistości ziemskich. Próba retrospekcji i reinterpretacji, Warszawa: [b.m.w.] 1992.
Jan Paweł II, Encyklika Centesimus annus w setną rocznicę encykliki Rerum novarum (1.05.1991), "L'Osservatore Romano" 12(1991), nr 4, s. 4-30.
Marco Donald de, Wiker Benjamin, Architekci kultury śmierci, Warszawa: Fronda 2014.
Przyczyna Wiesław, Pojęcie ewangelizacji, w: Nowa ewangelizacja. Język – teologia – kultura, red. Małgorzata Nowak, Wiesław Przyczyna, Tarnów: Wydawnictwo Diecezji Tarnowskiej Biblos 2017, s. 9-22.
Przygoda Wiesław, Laikat i formy apostolstwa świeckich, w: Teologia pastoralna, red. Ryszard Kamiński, t. I: Teologia pastoralna fundamentalna, Lublin–Wrocław: Wydawnictwo KUL–Atla 2 2000, s. 392-416.
Špidlik Tomáš, Rupnik Marko Ivan, Teologia pastoralna. Duszpasterstwo na nowe czasy, Kraków: Wydawnictwo Salwator 2010.
Wiker Benjamin, Dziesięć książek, które zepsuły świat. Ponadto pięć innych, które temu dopomogły, Warszawa: Fronda 2012.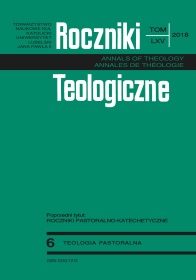 Copyright (c) 2018 Roczniki Teologiczne
This work is licensed under a Creative Commons Attribution-NonCommercial-NoDerivatives 4.0 International License.