How Can We Define the Meaning of the Word Caritas with the Tool of Text Analysis?
Nándor Birher

Ecclesial University of Veszprém
Keywords:
text analysis; key word; norm; Caritas; responsibility; activity
Abstract
What is the main sense of the word Caritas? We try to answer with the method of the text analysis. We search the key worlds in the Gospel of Marc and in different documents of ecclesial norms (Encyclical Deus Caritas Est, Motu propio Intima Ecclesiae Natura). The end-result is: Caritas mean: activity and responsibility. In the second part of our article we give some advises how to realize this responsibility and activity. This activity can be realised only trough the cooperation of different levels the transactions, but the key his efectivness is the precise definition the goals of our activity.
References
Abonyi János, Adatbányászat a hatékonyság eszköze, Budapest: CoputerBooks Kiadó 2006.
Birher Nándor, Boros István, Kocziha Mihály [et al.], A kvantitatív szövegelemzés mint előrejelzési lehetőség, 2014. Online: http://www.penzugyiszemle.hu/tanulmanyok-eloadasok/a-kvantitativ-szovegelemzes-mint-elorejelzesi-lehetoseg.
Birher Nándor, Bertalan Péter, Hálózatokban, Veszprém: Oktker-Nodus Kiadó 2014.
Buber Martin, Ich und Du, Gütersloh: Güterslocher Verlagshaus 1999.
Coing Helmut, A jogfilozófia alapjai, Budapest: Osiris Kiadó 1996.
Granovetter Mark, The Strength of Weak Ties: A Network Theory Revisited, "Sociological Theory" 1(1983), s. 201-233.
Habermas Jürgen, A kommunikatív cselekvés elmélete, Budapest: Gondolat Kiadó 2011.
Habermas Jürgen, A kommunikatív etika, Budapest: Új Mandátum Kiadó 2001.
Kant Immanuel, A gyakorlati ész kritikája, Budapest: Osiris Kiadó 1996.
Tikk Domonkos, Szövegbányászat, Budapest: Typotex Kiadó 2007.
Wittgenstein Ludwig, Logikai-filozófiai értekezés. Tractatus logico-philosophicus, Budapest: Akadémiai Kiadó 1989.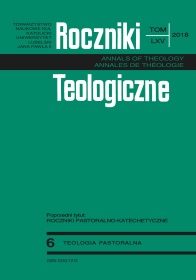 Copyright (c) 2018 Roczniki Teologiczne
This work is licensed under a Creative Commons Attribution-NonCommercial-NoDerivatives 4.0 International License.