Towards Harmonious Relationship between Hierarchical and Charismatic Gifts
Jakub Walczak

Istituto di Spiritualità, Pontificia Università Gregoriana
Keywords:
hierarchical gifts; charismatic gifts; relationship with God; openness; good intention
Abstract
The document Iuvenescit Ecclesia issued by the Congregation for the Doctrine of the Faith draws attention to the existence in the Church of two different gifts: hierarchical and charismatic. The former refer to her institutional dimension, the latter to the charismatic. Mutual existence and dialogue of two different entities is always a challenge. Each of them brings something of its own and characteristic for itself. Each should also take into account the existence of the other with its features as well as mutual dependencies and circumstances of the encounter. It may lead to tensions and difficulties in mutual relationships. Thus, the question of how to strive to make this relationship harmonious is still valid and of great importance. We are trying to take up this challenge in the case of hierarchical and charismatic gifts in the Church and to propose a path to the aim of their mutual harmonious relationship.
References
Caputo, John D. Deconstruction in a Nutshell. A Conversation with Jacques Derrida. New York: Fordham University Press, 1997.
Derrida, Jacques. Of Hospitality. Stanford: Stanford University Press, 2000.
Kant, Immanual. Perpetual Peace. New York: Liberal Art Press, 1957.
Kowalska, Fautyna M. Diary of Saint Maria Faustina Kowalska, Divine Mercy in my Soul, Stockbridge: Marian Press, 2005.
Manzanas, Ana M., Sanchez Jsús B. Cities. Borders and Spaces in Intercultural American Literature and Film. New York: Routledge, 2011.
Monge, Claudio. Dieu hôte. Recherche historique et théologique sur les rituels de l'hospitalité. Bucarest: Zeta books, 2008.
Nouwen, Henn J.M. "Hospitality". Monastic Studies (1974), 10:1-28.
Nouwen, Henn J.M. I tre movimenti della Vita spirituale. Viaggio spirituale per l'uomo contemporaneo. Brescia: Edizioni Queriniana, 2002.
Ruiz, Federico. San Giovanni della Croce. Mistico e maestro, Bologna: Edizioni Dehoniane, 1989.
Sacrosanctum Concilium Oecumenicum Vaticanum II. Constitutio Dogmantica de Ecclesia (21st of November 1964), 12. AAS(1965), 57:5-67.
San Juan de la Cruz. Obras completas. Novena Edición Preparada por E. Pacho. Burgos: Monte Carmelo, 2011.
The Congregation for the Doctrine of the Faith. "Letter Iuvenescit Ecclesia to the Bishops of the Catholic Church Regarding the Relationship Between Hierarchical and Charismatic Gifts in the Life and the Mission of the Church" (15th of May 2016), L'Osservatore Romano 135(15th of June 2016).
Walczak, Jakub. Christian Life as Spousal Hospitality. An Implicit Theme in the Writings of St. John of the Cross. Roma: Editrice Pontificia Universitá Gregoriana, 2016.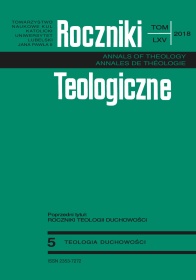 Copyright (c) 2018 Roczniki Teologiczne
This work is licensed under a Creative Commons Attribution-NonCommercial-NoDerivatives 4.0 International License.