About the Influence of Greek Laws on Roman Law. Two Voices for Discussion
Joanna Rataj

Cardinal Stefan Wyszyński University in Warsaw
Keywords:
Greek laws; Roman law; narrative transculturation; legal reception; legal isolationism
Abstract
After the conquest of the Peloponnese Peninsula by the Romans, Greek thought invaded the Empire, first and foremost in the field of art, philosophy and literature. Or also in the field of law? Two untranslated into Polish publication are hidden behind the title voices. Both move the issue of influence of Greek laws on Roman law, coming from the knowledge of law sources, as well as from modern scientific language and method, which are to be useful for describing a complex history of Greek-Roman legal relations. Both publications are extremely different in theses, reasoning and conclusions. In the first one, a new model of narrative transculturation (borrowed from Ibero-American anthropology and literary criticism) is proposed for interpretation of Greek-Roman relations, the second one stands guard over legal isolation of the Romans. Due to the limited size of this article, my purpose is not to judge the substantive content of the aforementioned publications, but to present them briefly. Both works prove the fact that the discussion about the influence of Greek laws on Roman law continues.
References
Buis E.J., Ancient Entanglements: The Influence of Greek Treaties in Roman `International Law' under the Framework of Narrative Transculturation, w: Entanglements in Legal History: Conceptual Approaches, ed. Thomas Duve, Max Planck Institute for European Legal History, Frankfurt am Main 2014, s. 151-185.
Flacelière R., Historia literatury greckiej, Wydawnictwo Antyk, Kęty 2004.
Kelly J.M., Historia zachodniej teorii prawa, Wydawnictwo WAM, Kraków 2006.
Kuryłowicz M., Prawa antyczne. Wykłady z historii najstarszych praw świata, Wydawnictwo UMCS, Lublin 2006.
Osuchowski W., Homer w Digestach, w: Pamiętnik trzydziestolecia pracy naukowej prof. dr. Przemysława Dąbkowskiego, Lwów 1927, s. 163-184.
Płodzień S., Lex Rhodia de iactu. Studium historycznoprawne z zakresu rzymskiego prawa handlowomorskiego, Wydawnictwo KUL, Lublin 2010.
Romanowska J., Transkulturowość czy transkulturacja? O perypetiach pewnego bardzo modnego terminu, "Zeszyty Naukowe Towarzystwa Doktorantów UJ". Nauki Humanistyczne, 1(6)2013, s. 143-153.
Russel B., Dzieje zachodniej filozofii, Wydawnictwo Aletheia, Warszawa 2012.
Sójka-Zielińska K., Historia prawa, Wydawnictwo Naukowe PWN, Warszawa 1995.
Tokarczyk R., Historia filozofii prawa, Kantor Wydawniczy Zakamycze, Zakamycze 2000.
Watson A., The Spirit of Roman Law, University of Georgia Press, Athens and London 1995.
Wołodkiewicz W., Greckie wpływy na powstanie Ustawy XII Tablic (na marginesie glosy Accursiusa do D. 1, 2, 2, 4), "Prawo Kanoniczne" 37(1994), nr 3-4, s. 39-45.
Zabłocka M., Pierwsza palingenezja Ustawy XII tablic, "Prawo Kanoniczne" 36(1993), nr 3-4, s. 140-155.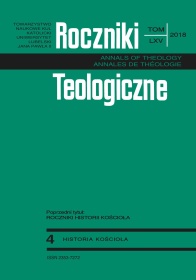 Copyright (c) 2018 Roczniki Teologiczne
This work is licensed under a Creative Commons Attribution-NonCommercial-NoDerivatives 4.0 International License.