Neverending History of the Use of Vaccines Derived from Aborted Infants. Part II: Moral Evaluation in the Light of the Principle of Double Effect and Encyclicals Veritatis Splendor and Evangelium Vitae
René Balák

University of Ss. Cyril and Methodius,Faculty of Arts
Keywords:
moral evaluation; mandatory vaccination; papal magisterium; bonum; abortion; vaccines
Abstract
Repeated moral revaluation of mandatory vaccination with vaccines derived from aborted children from a theological angle of view is necessary considering the increasing timeliness of the issue. The principle of double effect, along with the Tomist concept of moral analysis of human action, is an adequate way of moral evaluation of this bioethical dilemma facing Catholic parents. The papal Magisterium of the chosen encyclicals provides a complementary methodological and meritory basis for respecting the unborn human life as well as the doctrinal key for moral evaluation of concerned subjects' behavior.
References
Agmon-Levin, Nancy, Hughes Graham R.V., Shoenfeld, Yehuda. "The spectrum of ASIA: `Autoimmune (Auto-inflammatory) Syndrome induced by Adjuvants,'" Lupus 21(2012), 118-120.
Balák, René. "Mandatory vaccination and conscience clause." Forum Teologiczne 15(2014), 67-82.
Bo Ma et al. "Characteristics and viral propagation properties of a new human diploid cell line, walvax-2, and its suitability as a candidate cell substrate for vaccine production." Human Vaccines & Immunitherapeuthics 11(2015), 4: 998-1009; DOI: 10.1080/21645 515. 2015.1009811.
Frattallone, Raimondo. "Persona e atto umano." In Nuovo Dizionario di teologia morale. A cura di, F. Compagnoni, G. Piana, S. Privitera, 932-952. Cinisello Balsamo, Milano, 1994.
Gatti, Antonietta M., Montanari, Stefano. "New Quality-Control Investigations on Vaccines: Micro and Nanocontamination." International Journal of Vaccines and Vaccination 4(2017), 1; DOI: 10.15406/ijvv.2017.04.00072.
Khan, Zakir et al. "Slow CCL2-dependent translocation of biopersistent particles from muscle to brain." BMC Medicine 2013 (April), 11:99, PMID: 23557144.
Kokoszka, Adam. Teologia moralna fundamentalna. Tarnów: BIBLOS, 1996.
Leiva, René. "A Brief History of Human Diploid Cell Strains." The National Catholic Bioethics Quarterly (Autumn 2006), 443-451.
Privitera, Salvatore. "Duplice effetto." In Dizionario di Bioetica. A cura di S. Leone, S. Privitera, 30-309. Palermo: EDB-ISB 1994.
Masson, Jean-Daniel et al. "Critical analysis of reference studies on the toxicokinetics of aluminumbased adjuvants." Journal of Inorganic Biochemistry (December) 2017, https://doi. org/10.1016/j.jinorgbio (15.12.2017).
May W.E. "Double Effect." In Encyclopedia of Bioethics. I. Ed. W.T. Reich. New York–London 1978.
Miglietta, Guido M., Russo, Giovanni. "Duplice effetto." In Enciclopedia di bioetica e scienza giuridica IV. Direzione di E. Sgreccia, A. Tarantino. Napoli: Edizioni Scientifiche Italiane, 2011.
Mold, Matthew, Umar, Dorcas, King, Andrew, Exley, Christopher. "Aluminium in brain tissue in autism." Journal of Trace Elements in Medicine and Biology 46(2018), 76-82, https://doi.org/10.1016/j.jtemb (12.11.2017).
Nagórny, Janusz. Wartość życia ludzkiego. Lublin: Wydawnictwo KUL, 2009.
Pruss, Alexander R. "Cooperation with paste evil and use of cell-lines derived from aborted fetuses." In Cooperation, Complicity & Conscience. Ed. H. Watt, 89-104. London: The Linacre Centre, 2005.
Sgreccia, Elio. Manuale di bioetica. Vol. I. Fondamenti ed etica biomedica, 236-238. Milano: Vita e Pensiero, 2007.
Tomljenovic, Lucija, Shaw, Christopher. "Aluminium vaccine adjuvants: are they save?" Curr Med Chem 18(2011), 17:2630-7.
Vidal, Marciano. Manuale di etica teologica 1. Morale fondamentale. Assisi: Cittadella Editrice, 1994.
Wojtyła, Karol. Osoba i czyn oraz inne studia antropologiczne. Lublin: TN KUL, 1994.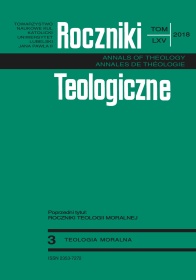 Copyright (c) 2018 Roczniki Teologiczne
This work is licensed under a Creative Commons Attribution-NonCommercial-NoDerivatives 4.0 International License.