Theomaterialism of the Liturgy and the Divinizazione of the Human Person according to Pavel Evdokimov
Radosław Kimsza

Bialystok University of Technology
Keywords:
Eastern spirituality; liturgical theology; liturgical spirituality; Byzantine liturgy; theomaterialism
Abstract
This article presents the person and thought of one of today's orthodox theologians, Paweł N. Evdokimov. The author concentrated on his theology of divinisation with particular emphasis on the liturgy, presented by Evdokimov as a specific "theomaterialism", ie in the words, gestures, and space of the liturgy tangible God allowing believers to recognize, experience, enter into intimate relationships, taste the sky on earth and to go the way of the Divine likeness.
References
Clement Olivier, La vita e le opere di Paul Evdokimov, in: Paul Evdokimov, La santità nella tradizione della Chiesa Ortodossa, Microcosmo 4, Fossano 1972, p. 5-99.
Evdokimov Paul, L'Orthodoxie, Bibliothèque Théologique, Delachaux et Niestlé, Neuchatel, Paris 1959.
Evdokimov Paul, La Connaissance de Dieu selon la Tradition Orientale. L'enseignement patristique, liturgique et iconographique, X. Mappus, Lyon 1967.
Evdokimov Paul, La nouveauté de l'Esprit. Etudes de spiritualité, Abbaye de Bellefontaine, Bégrolles 1977.
Evdokimov Paul, La Prière de l'Eglise d'Orient. La Liturgie Byzantine de Saint Jean Chrysostome (Approches Oecuméniques), Edité par Ed. Salvator, Paris−Tournai 1966.
Evdokimov Paul, Le Buisson ardent, Editions P. Lethielleux, Paris 1981.
Evdokimov Paul, L'Esprit Saint dans la Tradition Orthodoxe (Bibliothèque Oecuménique. Théologie sans frontières 10), Éditions du Cerf, Paris 1969.
Gajek Giovanni S., La Chiesa Domestica in una prospettiva orientale, Centro Russia Ecumenica, Roma 1984, p. 20-24.
Gajek Jan S., Paweł Nikołajewicz Ewdokimow (1901-1970) − świadek prawosławia na Zachodzie i jego eklezjologia, "Roczniki Teologiczne" 45(1995), z. 7, p. 18-36.
Gianazza Pier G., Paul Evdokimov cantore dello Spirito Santo, Biblioteca di Scienze Religiose 52, Roma 1983.
Pecheff-Evdokimov Nina, Mon père, "Contacts" 23(1971), p. 225-229.
Taft Robert F., Oltre l'oriente e l'occidente. Per una tradizione liturgica viva, Lipa, Roma 1999.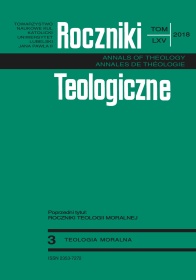 Copyright (c) 2018 Roczniki Teologiczne
This work is licensed under a Creative Commons Attribution-NonCommercial-NoDerivatives 4.0 International License.