On a Path Towards Integral Christology
Łukasz Pondel

Adam Mickiewicz University in Poznań
Keywords:
Top Down Christology; Bottom Christology; Integral Christology
Abstract
The fundamental task of this paper, which the author has chosen was to show that the Christology is in need of methodological and substantive transposition. For this purpose, the Author will analyze the contemporary models for Christology which dominate today, as well, as show their current inadequacy. The Author's intention will not be to contradict the current Christological approaches but to combine them against the background of the new model. The applied method will only present a sample of historical analysis of available Christological models, with its equivalents in contemporary theology and a conceptual explication of the directions of research, that require clarification and broadening of the knowledge. The culmination of this publication will be an attempt to combine available models, thus presenting an integral direction of research that respects the methods available in science.
References
Balthasar von H.U., Wiarygodna jest tylko miłość, tł. E. Piotrowski, Kraków 1997.
Barth K., Der Römerbrief 1922, Zürich 2015.
Barth K., Die christliche Dogmatik im Entwurf, Bd. 1: Die Lehre vom Worte Gottes, Prolegomena zur christlichen Dogmatik 1927, Zürich 1982.
Barth K., Die kirchliche Dogmatik, Bd. 1-4, Zürich 1967.
Barth K., Prolegomena zur kirchlichen Dogmatik, w: Die kirchliche Dogmatik, Bd. 1, Tl. 1-2, Zürich 1964.
Bouyer L., Syn Przedwieczny, tł. W. Dzieża, P. Rak, Kraków 2000.
Bultmann R., Jesus, Germany 1965.
Concilium Chalcedonense, De duabus naturis in Christo, w: H. Denzinger, A. Schönmetzer, Enhiridion symbolorum definitionum et declarationum de rebus fidei et morum, Barcinone 1976, s. 106-109.
Dionysius, De Trinitate et Incarnatione, w: H. Denzinger, C. Bannwart, Enhiridion symbolorum definitionum et declarationum de rebus fidei et morum, Friburgi Brisgoviae 1928, s. 24-28.
Kasper W., Jezus Chrystus, tł. B. Białecki, Warszawa 1983.
Nossol A., Chrystologia Karola Bartha: wpływ na współczesną chrystologię katolicką, Lublin 1979.
Nossol A., Duch Święty jako obecność Jezusa Chrystusa, "Collectanea Theologica" 50(1980), nr 3, s. 5-24.
Nossol A., Per Christum et in Christo: kierunki współczesnej chrystologii katolickiej, "Collectanea Theologica" 45(1975), nr 4, s. 5-28.
Nossol A., Teocentryzm czy chrystocentryzm w wykładach teologii dogmatycznej, "Collectanea Theologica" 41(1971), nr 2, s. 15-28.
Nossol A., Teologia bliższa życiu, Paris 1993.
Nossol A., Teologia na usługach wiary, Opole 1978.
Müller G.L., Chrystologia – nauka o Jezusie Chrystusie, tł. W. Szymona, Kraków 1998.
Rahner K., Podstawowy wykład wiary, tł. T. Mieszkowski, Warszawa 1987.
Ratzinger J., Wprowadzenie w chrześcijaństwo, tł. Z. Włodkowa, Kraków 2018.
Reimarus H.S., Fragments from Reimarus, tł. G.E. Lessing, London and Edinburgh 1879.
Schürmann H., "Pro-existenz" als christologischer Grundbegriff, "Analecta Cracoviensia" 17 (1985), s. 345-372.
Teilhard de Chardin P., Fenomen człowieka, tł. K. Waloszczyk, Warszawa 1993.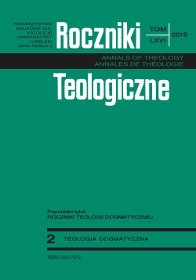 Copyright (c) 2019 Roczniki Teologiczne
This work is licensed under a Creative Commons Attribution-NonCommercial-NoDerivatives 4.0 International License.