Jewish-Samaritan Antagonism in the Time of Ezra and Nehemiah
Mateusz Kandzia

The John Paul II Catholic University of Lublin, Faculty of Theology
Keywords:
Samaritans; Book of Ezra; Book of Nehemiah; jewish-samaritan antagonisms; the temple of Jerusalem
Abstract
The history of the Samaritans is strictly linked with the history of the Israelites. From the very beginning there was lack of unity between the tribes of the ancient Israel. After kings Salomon's' death his kingdom was divided into two separate states: Judah in the south and Israel in the north. In 722/21 BC the kingdom of Israel had collapsed after Assyrian invasion. Many local inhabitants were taken captivity and deported to Assyria. On their place new people were settled. The society of the former kingdom became mixed. This was the beginning of the Samaritan community.
The next important event that led to the Samaritan schism was the collapse of the Kingdom of Judah in 587/586 BC. Their inhabitants were taken captivity to Babylon. It lasted for 50 years. In 538 the Jews were permitted return. After returning to Palestine, they wanted to rebuild their ethnic and religious community concentrated around the Temple. Samaritans wanted to take part in the reconstruction of the Temple, but their request was denied. Among many gods Samaritans worshiped Yahweh, but not in the way required by Jews from Judah. After being rejected by the Jews, Samaritans started to establish their own cult centred near the mount of Gerizim.
References
Briend J., Damaszek i Izrael, w: A. Lemaire (red.), Świat Biblii, Wrocław 2001, s. 181-187.
Bright J., Historia Izraela, przeł. J. Radożycki, Warszawa 1994.
Brzegowy T., Jeroboam I – fundator Królestwa Izraela, "Studia Theologica Varsaviensia" 33(1995), s. 17-41.
Chrostowski W., Asyryjska diaspora Izraelitów w świetle Księgi Ezechiela. Wojciechowi Pikorowi w odpowiedzi, "Zeszyty Naukowe Stowarzyszenia Biblistów Polskich" 9(2012), s. 335-384.
Chrostowski W., "Nic nie zostało, jak tylko samo pokolenie Judy" (2 Krl 17,18b) – czy naprawdę? Zagłada Samarii i Królestwa Izraela oraz jej skutki, "Collectanea Theologica" 68(1998), s. 5-22.
Dexinger F., Samarytanie w nauce i historii, "Analecta Cracoviensia" 30-31(1998-1999), s. 435-451.
Evans W.E, An Historical Reconstruction of the Emergence of Israelite Kingship and Reign of Saul, Winona Lake 1983.
Flawiusz J., Dawne dzieje Izraela, IX,14.3, przeł. E. Dąbrowski, Poznań−Warszawa−Lublin 1962.
Gacek S., Księga Jozuego. Wstęp − przekład z oryginału − komentarz − ekskursy, Tarnów 1993.
Górka B., Jezus wobec judaizmu i samarytanizmu w J 4,1-30.39-42, "Scripta Biblica et Orientalia" 1(2009), s. 215-220.
Herrmann S., Storia di Israele. I tempi dell'Antico Testamento, Brescia 2004.
Liverani M., Nie tylko Biblia. Historia starożytnego Izraela, Warszawa 2014.
Noth M., Storia d'Israele, Brescia 1975.
Piwowar A., Historia Izraela czasów Starego Testamentu. Od patriarchów do podboju przez Rzymian, Lublin 2013.
Ratzinger J., Opera Omnia, t. VI/1: Jezus z Nazaretu. Studia o chrystologii, przeł. M. Górecka, W. Szymona, red. K. Góźdź, M. Górecka, Lublin 2015, s. 142-143.
Rosik M., Jezus a judaizm w świetle Ewangelii według św. Marka, Warszawa 2004.
Soggin J.A., Storia d'Israele, Brecia 1984.
Tułodziecki T., Izrael i Juda: jeden naród czy dwaj rywale wobec Bożego wybrania, "Verbum Vitae" 10(2006), s. 71-91.
Tułodziecki T., "Schizma Samarytan" − spór o władzę nad Judą i Jerozolimą, "Verbum Vitae" 14(2008), s. 39-56.
Warzecha J., Historia dawnego Izraela, Warszawa 2005.
Warzecha J., Samarytanie – perspektywa polityczna i religijna, w: W. Chrostowski, Słowo Twoje jest Prawdą. Księga Pamiątkowa dla Ks. Prof. Stanisława Mędali CM w 65 rocznicę urodzin, Warszawa 2000, s. 340-356.
Wróbel M.S., Księga Ezdrasza. Księga Nehemiasza. Wstęp − przekład z oryginału − komentarz − ekskursy, Tarnów 1993.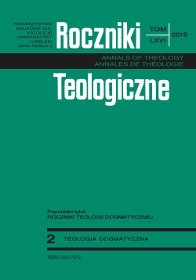 Copyright (c) 2019 Roczniki Teologiczne
This work is licensed under a Creative Commons Attribution-NonCommercial-NoDerivatives 4.0 International License.