The Kingdom of God in Jezus' Message
Leon Siwecki

The John Paul II Catholic University of Lublin, Faculty of Theology
Keywords:
Kingdom of God; Jesus Christ; Church
Abstract
In Jesus the Father wanted to establish the covenant definitely. Christ is the incarnate revelation of God who is "rich in mercy." The Father's love is freely given in Jesus through the Spirit. Jesus perceived this as being the Kingdom of God that was to come through him into the world as God's unconditional love which knows no limits in fulfilling the age old promise of salvation for every person and the whole of creation. "To carry out the will of the Father Christ inaugurated the Kingdom of heaven on earth" (LG 3).
References
Boff, L. Jesus Christ Liberator: A Critical Christology for our Time. New York, 1978.
Bright, J. The Kingdom of God: The Biblical Concept and its Meaning for the Church. Nashville, 1953.
Catechism of the Catholic Church. London, 1994.
Bultmann, R. Theology of the New Testament. Vol. I. New York, 1951.
Dupont, J. The Poor and Poverty in the Gospels and Acts. Chicago, 1977.
Dupuis J. "Evangelization and Kingdom Values: The Church and the `Others,'" Indian Missiological Review 14(1992), 4-21.
Dupuis, J. "The Kingdom of God and World Religions." Vidyajyoti 51(1987), 530-544.
Fischer, N.F. The Parables of Jesus Glimpses of God's Reign. New York, 1990.
Glazier, M. (ed.). The New Dictionary of Theology, 851-856. Wilmington, 1987.
Góźdź, K. "Ku rehabilitacji teologii wyzwolenia," Roczniki Teologiczne 62(2015), 2: 5-20.
Hollenbach, P. "Liberating Jesus for Social Involvement," Biblical Theology Bulletin 15(1985), 151-157.
John Paul II. Redemptoris Missio: On the Permanent Validity of the Church's Missionary Mandate. Città del Vaticano, 1991.
Kudasiewicz, J. "Królestwo Boże. Królestwo Boże a Kościół." In: Encyklopedia Katolicka. Vol. 9, col. 1339-1344. Lublin, 2002.
Lohfink, G. "The exegetical predicament concerning Jesus' kingdom of God proclamation. Theology Digest 36(1989), 103-110.
Loisy, A. L'evangile et l'eglise. Paris, 1902.
Moser, A. "Sin as Negation of the Kingdom." Theology Digest 30(1982), 27-30.
Neumann, J. Idea zbawcza Królestwa Bożego. Warszawa, 2000.
Nowicki, A. Kościół w horyzoncie Królestwa Bożego. Studium eklezjologiczno-biblijne. Wrocław, 1995.
Rahner, K., Thüssing, W. Christologie systematisch und exegetisch. Freiburg, 1972.
Schillebeeckx, E. Church: The Human Face of God. New York, 1990.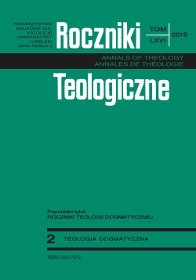 Copyright (c) 2019 Roczniki Teologiczne
This work is licensed under a Creative Commons Attribution-NonCommercial-NoDerivatives 4.0 International License.