Question of God – Today
Keywords:
God; Existence; Faith; Revelation; Critique of Religion
Abstract
Contemporary atheism, which has its roots in the Enlightenment as well as in the 18th and 19th-century critique of religion, differs from the historically more distant forms of negating God's existence or His effectiveness in the world. These approaches assume that the human intellect has freed itself from the Dark Ages of metaphysics and theology of revelation to find its natural state in immanentism and secularism. In this way, the non-existence of God becomes unquestionable, because He is nothing more than an imaginary being, whose existence cannot be proved empirically or granted an a priori status. At the same time, some prominent thinkers challenge the conceptual viability of positivism. Their arguments pertain to the intellectual and existential questions that are inseparable from the spiritual nature of the human being. They also point to the argumentative conviction that the human being displays a predilection to investigate the transcendent origin and purpose of the world. Reference to God allows a reappraisal of the historical evidence of the historical act of God's revealing Himself through Jesus Christ. Faith in God, who is present in the world, gives hope even in the face of death, as Dietrich Bonhoeffer confessed shortly before his execution by the godless Nazis.
References
Bethge, Eberhard, Bonhoeffer, Dietrich. Theologe-Christ-Zeitgenosse. München, 1983.
Evangelii gaudium (Apostolic Exhortation, 2013).
Fforde, Matthew. Entsozialisierung. Die Krise der Postmoderne. Freiburg i.Br., 2016.
Gaudium et spes (Pastoral Constitution, 1965).
Horkheimer, Max, Adorno, Theodor W. Dialectic of Illuminism-Dialektik der Aufklärung. Frankfurt a.M., 1969.
Kissler, Alexander. Der aufgeklärte Gott. Wie die Religion zur Vernunft kam. München, 2008.
Lubac, Henri de. Über Gott hinaus. Einsiedeln, 1984.
Monod, Jacques. Zufall und Notwendigkeit. München, 1971.
Russell, Bertrand. Warum ich kein Christ bin. München, 1963.
Spaemann, Robert. Der letzte Gottesbeweis. München, 2007.
Taylor, Charles. A Secular Age [German Edition Ein säkulares Zeitalter. Frankfurt a.M., 2009].
Thomas von Aquin. De pot. q.7 a.5. ad 14.
Volker, Gerhardt. Sense of Being. An approach to the Divine. Berlin, (2)2015.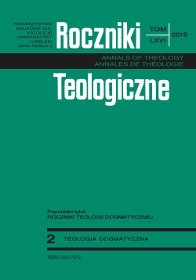 Copyright (c) 2019 Roczniki Teologiczne
This work is licensed under a Creative Commons Attribution-NonCommercial-NoDerivatives 4.0 International License.