The Leitmotif of God's Mercy in the Musical Culture from The Middle Ages to Present Times
Franciszek Koenig

University of Opole, Faculty of Theology
Keywords:
Divine Mercy; cult; liturgy; mysticism; spirituality; musical style; leitmotif; musical factors
Abstract
The leitmotif of God's Mercy has been present in the musical culture of all eras, from the Middle Ages, when it was present in Gregorian chants, to present times. The basis for the songs created in the course of centuries were usually biblical texts praising the mystery of God's Mercy and Grace. The way of expressing the leitmotif of God's Mercy depended on how the text was combined with the factors of a musical style of a given era.
In our times, we can witness the creation of many compositions including the leitmotif of God's Mercy. This is connected with the cult of Divine Mercy being intensively developed in recent years, especially during the pontificate of St. John Paul II. What triggered the development of the cult was first the revelation given to St. Sister Faustina in the 1930s, written down in her diary, and later the cult of St. John Paul II and the blessed Rev. Michał Sopoćko. Therefore, the basis for the content of contemporary compositions connected with the cult of Divine Mercy are first and foremost the words from the diary of Sister Faustina.
Contemporary compositions including the leitmotif of God's Mercy were and are created among others by I. Pfeiffer, S. Ziemiański and R. Twardowski.
References
Bramorski J., Teologia muzyki według Księgi Psalmów, "Collectanea Theologica" 2012, nr 1, s. 33-56.
Darłak G., Inspiracje religijne w twórczości kompozytorów środowiska katowickiego w latach 1945-2005, Akademia Muzyczna im. K. Szymanowskiego w Katowicach, Katowice 2014.
Dąbek T.M., "Magnificat" wzorem modlitwy chrześcijańskiej, "Salvatoris Mater" 2005, nr 3/4 (27/28), s. 190-201.
Hinz E., Nurt religijny w muzyce różnych epok, Bernardinum, Pelplin 2003.
Kałamarz W., Muzyka drogą do Boga, w: Muzyka w służbie liturgii, red. R. Tyrała, Wydawnictwo Naukowe PAT, Kraków 2005, s. 159-182.
Kowalska M.F., Dzienniczek. Miłosierdzie Boże w mojej duszy, Wydawnictwo Księży Marianów, Warszawa 2004.
Kuczer R., Maryja wzorem wiary, nadziei i miłości w nauczaniu Jana Pawła II, "Salvatoris Mater" 2005, nr 3/4 (27/28), s. 85-173.
Machniak J., Kult Miłosierdzia Bożego, w: Encyklopedia Katolicka, t. 12, red. E. Gigilewicz i in., TN KUL, Lublin 2008, k. 1113.
Michałek K., Miłosierdzie Boże jako źródło inspiracji twórczej. Idea Miłosierdzia Bożego w muzyce wokalnej i wokalno-instrumentalnej na podstawie wybranych utworów, "Pro Musica Sacra" 2013, nr 11, s. 219-244.
Pociej B., Muzyka i mistyka, "Życie Duchowe" 2007, nr 52, s. 93-99.
Pociej B., Studia muzycznej duchowości. Trzy wykłady, Akademia Muzyczna im. K. Szymanowskiego, Katowice 2009.
Ratzinger J., Nowa pieśń dla Pana, Znak, Kraków 1999.
Scheffer B., Dzieje muzyki, Wydawnictwa Szkolne i Pedagogiczne, Warszawa 1983.
Śpiewnik. Jezu, ufam Tobie. Pieśni do miłosierdzia Bożego (Śpiewnik z płytą CD), red. A. Buszko, A. Eratowska, Caritas Ordynariatu Polowego Wojska Polskiego, Warszawa 2002.
Tronina A., Maryja, Matka miłosierdzia, "Msza Święta" (Miesięcznik biblijno-liturgiczny) 2016, nr 5, s. 10-13.
Witczyk H., Miłosierdzie Pana od wieków i na wieki, Jedność, Kielce 2015.
Wolff Ch., Johann Sebastian Bach. Muzyk i uczony, Lokomobila, Warszawa 2011.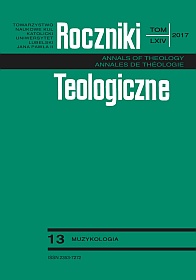 Copyright (c) 2017 Roczniki Teologiczne
This work is licensed under a Creative Commons Attribution-NonCommercial-NoDerivatives 4.0 International License.