Inexistent Organs of the Rieger Brothers from Krnov in the Church of St. Jacob in Tuchow. Instrumentological Analysis
Andrzej Gładysz

The John Paul II Catholic University of Lublin, Faculty of Theology
Keywords:
organs; Gebrüder Rieger; parish church of St. Jacob in Tuchow
Abstract
In the article is carried out an instrumentological analysis of the Rieger Brothers of Jägerndorf (Krnov) organ dismantled in August 2015. The instrument, built in the Tuchów parish church 100 years ago, is part of the company's numerous organs in the Tarnow diocese and in Poland in general.
The first part of the article outlines the circumstances of assembly and repairs of the organs until they are dismantled. The second part focuses on the description of the instrument: chorus, case, bellow, console, tracker action, windchest, and instrumentation, along with a schematic display of the pipe system inside the cabinet. The third part is an analysis of the sound structure including the discussion of vertical and horizontal scale and the membership of individual voice families.
References
Babnis M., Kultura organowa Galicji ze szczególnym uwzględnieniem działalności organmistrza lwowskiego Jana Śliwińskiego, Wydawnictwo Naukowe Akademii Pomorskiej, Słupsk 2012.
Gładysz A., Organy i organiści w kościołach dekanatu tuchowskiego diecezji tarnowskiej. Studium historyczno-instrumetoznawcze, Lublin 2011, mps pracy mgr w AU KUL.
Gładysz A., Organy w kościołach dekanatu tuchowskiego diecezji tarnowskiej do 1918 roku, w: Studia Organologica, t. 5, red. M. Szymanowicz, Polihymnia, Lublin 2016, s. 107-126.
Gładysz J., Życie muzyczno-liturgiczne w Sanktuarium Matki Bożej Tuchowskiej w latach 1893-1966, Poligrafia Redemptorystów, Tuchów 2013.
Obrzut S., Kościół parafialny pod wezwaniem św. Jakuba Apostoła w Tuchowie, w: Kamienie milowe. Tuchowskie jubileusze końca wieku, red. J. Kozioł, Mała Poligrafia Redemptorystów, Tuchów 2000, s. 75-81.
Szymanowicz M., Organy w kościołach diecezji radomskiej. Historia i stan obecny, Polihymnia, Lublin 2006.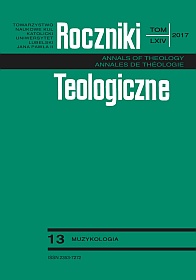 Copyright (c) 2017 Roczniki Teologiczne
This work is licensed under a Creative Commons Attribution-NonCommercial-NoDerivatives 4.0 International License.