The Joy of the "Laetare" Sunday. Towards a more Attentive Interpretation of the Antiphon "Laetare Ierusalem"
Dominik Ostrowski

Pontifical Faculty of Theology in Wrocław
Keywords:
antiphon "Laetare Ierusalem"; fourth Sunday of Lent; "Laetare" Sunday; joy; rose color; gold rose; history of the liturgy
Abstract
The antiphon "Laetare Ierusalem" has become an identification mark of the Fourth Sunday of Lent, Sunday "Laetare". It is generally emphasized that the title "Laetare" expresses the joyful character of the day, in addition to the rose color of liturgical vestments. However, the texts of the liturgy of this Sunday, do not emphasize the theme of joy apparently, and do not give the impression that it is essential. So the question is whether the name "Laetare Sunday" is merely a reminiscence of the old liturgy, and whether the antiphon "Laetare Ierusalem" has not lost its importance. The object of the study is an attempt of reading more attentively the appeal "Laetare Ierusalem", in order to locate a stronger connection of this antiphon with other, than joy, theological content, which this antiphon has brought already into the liturgy in the ancient times and still brings (the theme of the Holy City of Jerusalem, the royal theme and additional themes of gold, the gold rose and the rose color).
References
Acta Sanctae Sedis 34(1901).
Baldassarri A., La rosa d'oro pontificia, Presso Andrea Poletti, Venezia 1709.
Biblia Sacra Latina ex Biblia Sacra Vulgate Editionis Sixti V. et Clementis VIII., Samuel Bagster & Sons Limited, London 1977.
Biblia Tysiąclecia, Pallottinum, Poznań 20035.
Brzeziński D., Chrystus wczoraj i dziś. Anamnetyczny wymiar roku liturgicznego, Wydawnictwo "Bernardinum" i Toruńskie Wydawnictwo Diecezjalne, Toruń 2015.
Bugnini A., La riforma liturgica (1948-1975), Edizioni Liturgiche, Roma 2012.
Caeremoniale Episcoporum. Editio Princeps (1600), red. A.M. Triacca, M. Sodi, Libreria Editrice Vaticana, Città del Vaticano 2000.
Cantalamessa R., Słowo i życie. Refleksje o słowie Bożym na niedziele i święta, Rok A, Wydawnictwo św. Antoniego, Wrocław 1996 (rok B i C odpowiednio 1996, 1997).
Ebner A., Quellen Und Forschungen Zur Geschichte Und Kunstgeschichte Des Missale Romanum Im Mittelalter: Iter Italicum, Herdersche Verlagshandlung, Freiburg im Breisgau 1896.
Federici T., Teologia liturgica orientale 1, Pontificio Istituto Biblico, Roma 1978.
Głoście Ewangelię. Pomoce liturgiczno-homiletyczne 1. Niedziele i uroczystości Pańskie, Rok A, red. J. Bagrowicz, T. Lewandowski, Włocławskie Wydawnictwo Diecezjalne, Włocławek 1990 (rok B i C odpowiednio 1991).
Graduale Simplex, editio typica altera, Libreria Editrice Vaticana 1999.
Graduale Triplex, Abbaye Saint-Pierre de Solesmes, Solesmis 1979.
Hadrianum ex authentico ad fidem Codicis Camaracensis 164, w: Le Sacramentaire Grégorien. Ses principales formes d'après les plus anciens manuscrits 1, red. J. Deshusses (Spicilegium Friburgense 16), Editions Universitaires Fribourg Suisse, Fribourg 19792.
Innocenzo III, Il sacrosanto mistero dell'altare (De sacro altaris mysterio), red. S. Fioramonti (Monumenta Studia Instrumenta Liturgica 15), Libreria Editrice Vaticana, Città del Vaticano 2002.
Jugnmann J.A., Missarum sollemnia. Origini, liturgia, storia e teologia della Messa romana 1, Ancora (Edizione anastatica), Milano 2004.
Kempiak R., Spotkania ze Słowem Bożym, Rok A, Wydawnictwo Alleluja, Kraków 2010 (rok B i C również 2010).
Les Ordines Romani du Haut Moyen Age 4, red. M. Andrieu, Université Catholique de Louvain, Louvain 1956.
Loconsole M., Il simbolo della croce tra giudeo-cristianesimo e tarda antichità: un elemento della translatio Hierosolymae, "Liber annus" 53(2003), s. 1-58.
Lodi E., Liturgia della Chiesa. Guida allo studio della liturgia nelle sue fonti antiche e recenti, Edizioni Dehoniane, Bologna 1999.
Marsili S., Nel cuore della sacramentalità, "Rivista liturgica" 95(2008), nr 3 (Monografie di Rivista Liturgica: Salvatore Marsili OSB. Attualità di una mistagogia), s. 525[157]-540[172].
Mieczkowski J., Jednoczący charakter liturgii stacyjnej w Rzymie, Tyniec Wydawnictwo Benedyktynów, Kraków 2015.
Missale Romanum ex Decreto Concilii Tridentini restitutum S. Pii V. Pontificis Maximi jussu editum aliorumque pontificum cura recognitum a S. Pio X. reformatum et Benedicti XV auctoritate vulgatum. Reimpressio editionis XXVIII juxta typicam Vaticanam, Aedibus Palmarum, Bonn 2004.
Missale Romanum ex Decreto Sacrosancti Oecumenici Concilii Vaticani II instauratum auctoritate Pauli PP. VI promulgatum, Ioannis Pauli PP. II cura recognitum. Editio typica tertia, Libreria Editrice Vaticana, Civitas Vaticana 2008.
Missale Romanum ex Decreto SS. Concilii Tridentini restitutum. Summorum Pontificorum cura recognitum. Editio typica 1962, red. M. Sodi, A. Toniolo, Libreria Editrice Vaticana, Città del Vaticano 2007.
Missale Romanum Mediolani, 1474, red. R. Lippe, Henry Bradshaw Society 17, Harrison and Sons, London 1899.
Missale Romanvm, Ex Decreto Sacrosancti Concilij Tridentini restitvtvm, Pii V, Pont. Max. ivssv editum, Ex officina Christophori Plantini, Antverpiae 1577.
Mszał rzymski dla diecezji polskich. Wydanie drugie, poszerzone, Pallottinum, Poznań 2010,
Mszał rzymski łacińsko-polski, Editions du Dialogue, Paris 1968.
Nadolski B., Laetare, w: B. Nadolski, Leksykon liturgii, Pallottinum, Poznań 2006, s. 712.
Nadolski B., Liturgika 2. Liturgia i czas, Pallottinum, Poznań 1991.
Nowowiejski A., Wykład liturgii Kościoła Katolickiego 2, W drukarni Franciszka Czerwińskiego, Warszawa 1902.
Piccolo Paci S., Storia delle vesti liturgiche. Forma, immagine e funzione, Ancora, Milano 2008.
Righetti M., L'anno liturgico nella storia, nella messa, nell'ufficio (Manuale di storia liturgica 2), Editrice Ancora, Milano 1969 (Edizione anastatica 1998).
Rutkowski A., Laetare, w: Encyklopedia Katolicka, t. 10, red. E. Ziemann, Towarzystwo Naukowe KUL, Lublin 2004, k. 362.
Wilmart A., Le Comes de Murbach, "Revue Benedictine" 30(1913), s. 26-59.
Wilmart A., Le lectionnaire d'Alcuin, "Ephemerides Liturgicae" 51(1937), s. 136-197.
Zieliński Ch., Sztuka sakralna. Co należy wiedzieć o budowie, urządzeniu, wyposażeniu, ozdobie i konserwacji domu Bożego. Podręcznik opracowany na podstawie przepisów kościelnych, Księgarnia Św. Wojciecha, Poznań−Warszawa−Lublin 1959.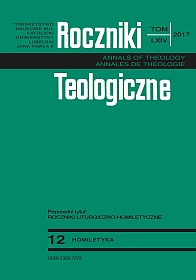 Copyright (c) 2017 Roczniki Teologiczne
This work is licensed under a Creative Commons Attribution-NonCommercial-NoDerivatives 4.0 International License.