Catechesis for Polish Children in Great Britain in the Opinion of Polish Priests
Paweł Mąkosa

The John Paul II Catholic University of Lublin, Faculty of Theology
Keywords:
Polish community in the United Kingdom; pastoral ministry; catechesis in the conditions of emigration
Abstract
The Church's concern for migrants has a very long tradition. In this time of contemporary, more and more dynamic, migration processes, it is growing. It is demonstrated by, among others, establishing personal parishes for migrants that are entrusted to priests who know their language and customs. The role of such communities is not only the celebration of liturgy, but also catechesis and the ministry of love. The article addresses the question of the shape and assessment of catechesis for Polish children on emigration. Based on empirical research carried out among Polish priests within a scientific project called Religious Education of Polish Emigrants in Great Britain. Current Status and Development Perspectives, answers were given on the organization, content, forms and methods of catechesis for Polish children in the United Kingdom. Their critical analysis and recommendations for further research were made.
References
Danilewicz W. Wybrane cechy i strategie poakcesyjnych migracji z Polski, "Warmińsko-Mazurski Kwartalnik Naukowy, Nauki Społeczne" 2012, nr 1, s. 33-49.
Irek M., Małek A., Napierała P., Praszałowicz D., Pustułka P., Pyłat J., Polskie szkolnictwo w Wielkiej Brytanii: Tradycja i nowoczesność – raport, Kraków 2012.
Jan Paweł II, Program dla Kościoła w Polsce. Jan Paweł II do polskich biskupów. Wizyta ad limina 1998, Kraków 1998.
Kostorz J., Ekumeniczny wymiar posoborowej katechezy w Polsce, Opole 2007.
Krotofil J., Rola religii w procesie przystosowania polskich migrantów do życia w Wielkiej Brytanii, w: Drogi i rozdroża. Migracje Polaków w Unii Europejskiej po 1 maja 2004 roku. Analiza psychologiczno-socjologiczna, red. H. Grzymała-Moszczyńska, A. Kwiatkowska, J. Roszak, Kraków 2010 s. 255-268.
Lopez Rodriguez M., Sales R., D'Angelo A., Ryan L., Polskie dzieci w brytyjskich szkołach podstawowych. Przewodnik dla rodziców, Middlesex University 2010.
Mąkosa P., The communities providing religious education and catechesis to Polish immigrants in England and Wales, "British Journal of Religious Education" 37(2015), vol. 2, s. 182-194.
Mąkosa P., Catholic sacramental formation for polish children and young people in England and Wales, "Studia Ełckie" 17(2015), nr 1, s. 73-90.
Mąkosa P., Czekamy na Pana Jezusa, Lublin−Londyn 2016.
Misiaszek K., Porażka katechezy parafialnej, "Warszawskie Studia Pastoralne" 9(2014), nr 2 (23), s. 75-87.
Office for National Statistics (ONS), Parents' country of birth, England and Wales, London 2012-2015.
Potocki A., Między szkołą i parafią. W kierunku katechezy sakramentalnej, "Teologia Praktyczna" 12(2011).
Zając M., Parafia miejscem katechezy, w: Miejsca katechezy. Rodzina, parafia, szkoła, red. S. Kulpaczyński, Lublin 2005.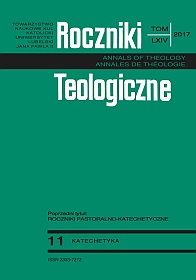 Copyright (c) 2017 Roczniki Teologiczne
This work is licensed under a Creative Commons Attribution-NonCommercial-NoDerivatives 4.0 International License.