The Justin Martyr's Concept of Logos Spermaticos and its Relevance to Theological Conversation in Africa Today
Patrick Mwania

Tangaza University in Nairobi
Keywords:
Semina Verbi; African traditional Religion
Abstract
In this article the author argues that in the indigenous religious beliefs and practices of the Africans are found authentic revelation of the Logos, which should be regarded and appreciated as a preparation for the proclamation of the Gospel message in the African cultural and religious milieu. Indeed in African religious beliefs and practices, there are fundamental values that represent both a preparation for the incarnation of the Logos in the vast religious and cultural African heritage as well as means of salvation for the adherents, until a personal encounter between the individual followers of the African traditional Religion and the incarnate Logos takes place. This knowledge and conviction is fundamental indeed a conditio sine qua non for doing theology in Africa. As a consequence then, it remains a daunting task of the Church in Africa to discern the mysterious presence of the Logos in the African heritage, to purify it from the stains of human sin, which might have contaminated it, and then incorporate it into Christian heritage, so that, one may give witness to the universal character of the Church of Christ that embraces all peoples and cultures.
References
Baëta, C.G ed. Christianity in Tropical Africa, London: Oxford University Press, 1968.
Bediako, Kwame. Theology and Identity: The Impact of Culture upon Christian Thought in the Second Century and in Modern Africa, Oxford: Regnum, 1992.
Conway, Eamonn. The Anonymous Christian — A Relativised Christianity?: An Evalution of Hans Urs von Balthasar's Criticisms of Karl Rahner's Theory of the Anonymous Christian. Frankfurt: Peter Lang, 1993.
Daniélou, Jean. Gospel Message and Hellenistic Culture. London: Westminster Press, 1973.
D'Costa, Gavin. "Karl Rahner's Anonymous Christians — A Reappraisal." Modern Theology 1(1985): 131-148.
Dupuis, Jacques. Toward a Christian Theology of Religious Pluralism. New York: Orbis Book, 2001.
Hastings, Adrian. Church and Mission in Modern Africa, London: Burns and Oates, 1967.
Holmes, Michael H. ed. The Apostolic Fathers: Greek Texts and English Translations. Grand Rapids: Baker Academic Publishing, 2007.
Idowu, E. Blaji. African Traditional Religion: A Definition. New York: Orbis Books, 1975.
Idowu, E. Blaji. Towards an Indigenous Church, London: Oxford University Press, 1965.
John Paul II. Encyclical Letter "Redemptoris missio" on the Permanent Validity of the Church's Missionary Mandate. Nairobi: Paulines Publications Africa, 1990.
John Paul II, Post—Synodal Apostolic Exhortation "Ecclesia in Africa" on the Church in Africa and its Evangelizing Mission Toward the Year 2000. Nairobi: Paulines Publications Africa, 1995.
Mbiti, John. "African Indigenous Culture in relation to Evangelism and Church Developments." In The Gospel and Frontier Peoples, edited by Beaver R. Pierce, 79-95. New York: Orbis Books, 1973.
Mbiti, John. African Religions and Philosophy. Nairobi: Heinemann, 1969.
Mbiti, John. "Christianity and Traditional Religions in Africa." International Review of Mission 39(1970): 430-440.
Mbiti, John. Introduction to African Traditional Religion. Nairobi: East African Educational Publishers, 1975.
Mbiti, John. "The Ways and Means of Communicating the Gospel." In Christianity in Tropical Africa, edited by E.G. Baeta, 329-350. London: Oxford University Press, 1968.
Mbiti, John, quoted in John W. Kinney. "A Comment." Occasional Bulletin of Missionary Research, 3(1979), ISS.2: 65-75.
Mulago, Vincent. Un Visage Africain du Christianisme: L'Union Vitale Bantu Face is a L'unité Lirale Ecclésiale. Paris: Presence Africaine, 1993.
Rahner, Karl. Foundations of Christian Faith. London: Darton Longman & Todd, 1973.
Rahner, Karl. "Grace." In Encyclopedia of Theology: A Concise Sacramentum Mundi, edited by Karl Rahner, 584−598. London: Burns & Oates, 1975.
Rahner, Karl. "Original Justice." In Theological Dictionary, edited by Karl Rahner & Herbert Vorgrimler, 325-342. New York: Herder and Herder, I965.
Rahner, Karl. Theological Investigations, L-XX. London: Darton, Longman & Todd, 1961-1981.
Saldanha, Chrys. Divine Pedagogy: A Patristic View of Non-Christian Religions. Rome: Libreria Ateneo Salesiano, 1984.
Stylianopoulos, Triantafyllos. Justin Martyr and the Mosaic Law. Missoula: Society of Biblical Literature, 1975.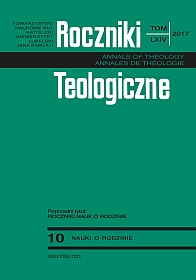 Section
Human Dignity Journal
Copyright (c) 2017 Roczniki Teologiczne
This work is licensed under a Creative Commons Attribution-NonCommercial-NoDerivatives 4.0 International License.