Theological Analysis of Syncretic and Paganistic Beliefs and Practices in Catholic Funerals in Igboland Nigeria
Edwin Chukwudi Ezeokeke

The John Paul II Catholic University of Lublin, Faculty of Theology
Keywords:
syncretism; paganism; igboland Nigeria; burial; funeral; beliefs; ractices; inculturation; purification; atonment; evil spirits, revenge and retaliation
Abstract
"Death is generally seen as the cessation of the connection between our mind and our body". Most people believe that death takes place when the heart stops beating. Death occurs when the subtle consciousness finally leaves the body to go to the next life. "In order word death is the termination of all biological functions that sustain the living organism." According to Catechism of the Catholic Church, "death is the separation of the soul from the body." At the moment of death, the soul separates from the body.
One particular belief that cuts across all cultures and religions is that all human beings must die and ought to be buried as a sign of respect and farewell. The question is what is the nature or rather what should be the nature of the burial and funeral rite of a deceased person? Do all human beings have the same or common burial and funeral rites or do our burial and funeral rites vary according to our religion, faith, beliefs, culture, age and understanding? Catholic Church teaches that death is a transformation and not the end of life. It is the teaching and belief of the Catholic Church that there is a resurrection and life of glory in heaven where those who have done well while on earth see God face to face.
Catholic Church also teaches and believes that on the last day, both the body and the soul will rise to see the glory of God. For this reason, the body of a dead Catholic deserves some respect and dignity. This corpse should be given the respect and dignity it deserves during burial. However, this is not always the case especially in Igboland, Nigeria. There are some syncretistic and fetish beliefs and practices associated with some Catholic burials and funerals in Igboland.
This paper therefore sets out to bring to light these syncretic, paganistic and fetish practices and beliefs associated with Catholic burials and funerals in Igboland. It will also offer some theological implications of these practices as well as the possible ways through which they can be curtailed and stopped.
References
Agu, Charles. Igbo Customs and Institution: A Case Study of Akokwa Town. Enugu: Heimmaus Press Enugu Nigeria, 1992.
Arinze, Francis. Living Our Faith. Onitsha, 1983.
Arinze, Francis. Sacrifice in Igbo Religion. Ibadan: University Press, 1970.
Eke, Martin. Denial of Catholic Funeral Rites and Irregular Marriages in Igboland. Enugu: Caritas Publication Press, 2014.
Gehman, Richard. African Traditional Religion in the light of the Bible. Kaduna: Baraka Press, 2001.
Ikeotuonye, Martin. Some Pagan Beliefs among Catholics today in Igboland: A Comparative Study. Owerri: Assumpta Press, 2008.
Maduekwe, Chike. "125 Years of Catholic Church in Igboland Eastern Nigeria". In Vanguard Newspapers, One of the Nigerian Dailies. Lagos: Vanguard Press, 30 December, 2010.
Mbiti, John. African Religion and Philosophy. London: Heinemann Educational Books Ltd., 1969.
Mbiti, John. African Traditional Religion. London: Heinemann Educational Books Ltd., 1971.
Metu, Innocent. Comparative Studies of African Traditional Religion. Onitsha: IMICO Publishers, 1987.
Nwankiti, Bonaventure. Catholic Church and Paganism in Igboland. Owerri: Snaap Press, 1998.
Obi, Celestine. "Background to the Planting of Catholic Christianity in the Lower Niger-Igboland". In A Hundred Years of the Catholic Church in Eastern Nigeria 1885-1985. Ed. Kenneth Onwubiko & Vincent Nwosu. Onitsha: Africana-Fep Publishers Limited, 1985.
Okafor, Regina. Widowhood in Igboland Nigeria. Nsukka: Bright Press, 1993.
Schineller, Peter. A Handbook on Inculturation. New York: New York Press, 1991.
Sourou, John. "African Traditional Religion and the Catholic Church in the Light of the African Synod for Africa: 1994 and 2009". African Human Rights Law Journal 1(2014), 8:121-134.
Ugorji, Lucius. Bishop of Umuahia. Decree on Christian Burial, given at Umuahia on the 21st day of February 1996 with effect from April 1 1996, reprinted in Lumen, 11(2007), 66-81.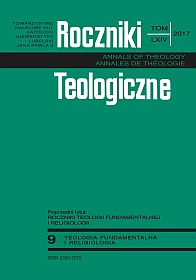 Copyright (c) 2017 Roczniki Teologiczne
This work is licensed under a Creative Commons Attribution-NonCommercial-NoDerivatives 4.0 International License.