The Ecumenical Dialogue according to Holy and Great Council of the Orthodox Church in Crete (2016)
Cristian Sonea

The Babeş-Bolyai University of Cluj-Napoca,Faculty of the Orthodox Theology
Keywords:
Holy and Great Council; Unity; Unity of faith; ecumenical dialog
Abstract
The purpose of this paper is to examine the question of the ecclesiastical recognition of the other Christian communities in the context of nowadays discussions within the Orthodox communities, after the Holy and Great Council in Crete (2016). We will look closely at the relation between the Church unity and the unity of faith, as understood by the Orthodox Churches, as well as at the meaning of the "the historical name of other non-Orthodox Christian Churches" with which the Orthodox Church is not in communion, stated by the document Relations of the Orthodox Church with the rest of the Christian world (ROCC).  In the end, we will argue that ROCC if understood properly, could constitue the basis for the ecumenical dialogue on Orthodox.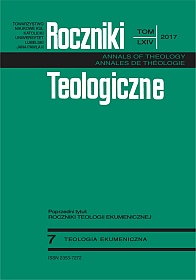 Copyright (c) 2017 Roczniki Teologiczne
This work is licensed under a Creative Commons Attribution-NonCommercial-NoDerivatives 4.0 International License.