Use of Animals for Educational and Entertainment Purposes. Trying to Essess in the Moral Theological Context
Krzysztof Smykowski

The John Paul II Catholic University of Lublin, Faculty of Theology
Keywords:
animals; animal fights; animal rights; moral theology; zoological parks
Abstract
The article seeks to evaluate the use of animals for educational and entertainment purposes in terms of theology and morality. After a synthetic presentation of the multifaceted concept of animal rights in the analogical aspects, an attempt was made to formulate an evaluation of selected forms of using animals: establishing zoological parks and organizing sports competitions and fights involving animals. Among the latter, the most serious objections are made to animal fights among those or against men, as they cause the suffering of living creatures that cannot be justified by a mere wish to provide entertainment for a specific social group.
References
Bardel M., Bestiarium Pliniusza, czyli o relacji ludzi i zwierząt w starożytnym Rzymie, "Znak" 60(2008), nr 6, s. 166-175.
Biernacka K., Koniec korridy końcem barbarzyństwa? "Krytyka Polityczna" 2010, nr 24-25, s. 170-175.
Caldecott S., Prawa zwierząt, "Communio" (wyd. pol.) 12(1992), nr 6, s. 97-102.
Caola G., Animali, attivita fisica e sport, w: Fondamenti di bioetica animale, red. G. Russo, Elledici, Torino 2007, s. 107-113.
Ciccone L., «Non uccidere». Questioni di morale della vita fisica, Edizioni Ares, Milano 1988.
Dunlap J., Kellert S.R., Zoo e parchi zoologici, w: Fondamenti di bioetica animale, red. G. Russo, Elledici, Torino 2007, s. 138-145.
Gabryś G., Rola ogrodów zoologicznych w ochronie gatunkowej zwierząt, "Przegląd Przyrodniczy" 11(2000), z. 2-3, s. 195-213.
International Federation of Horseracing Authorities, International Agreement on Breeding and Racing and Appendixes, http://www.horseracingintfed.com/default.asp?section=IABRW&area=2#a33 (dostęp: 12.11.2016).
Kasza J., Korrida. Taniec i krew, Wydawnictwo Otwarte, Kraków 2011.
Łukaszewicz K., Ogrody zoologiczne. Wczoraj – dziś – jutro, Wiedza Powszechna, Warszawa 1975.
Matkowski T., List otwarty do Ludwika Stommy, "Krytyka Polityczna" 2010, nr 24-25, s. 168-169.
Merkelbach B.H., Summa theologiae moralis ad mentem D. Thomae et ad normam iuris novi, t. II: De virtutibus moralibus, Brugis: Desclée de Brouwer 195910.
Mlekodaj S., Gorczański survival, "Parki Narodowe" 2000, nr 1, s. 9-11.
Mroczkowski S., Cierpienie zwierząt doświadczalnych, "Przegląd Hodowlany" 77(2009), nr 1, s. 1-3.
Noldin H., Summa theologiae moralis, t. II: De praeceptis, Verlag Felizian Rauch, Insbruck 195531.
Ogrody zoologiczne i parki zwierząt, red. B. Boruc, P. Zalewski, De Agostini, Warszawa 2011.
Paton W., Człowiek i mysz. Badania medyczne na zwierzętach, Wydawnictwo Naukowe PWN, Warszawa 1997.
Smykowski K., The Possibility of Conducting Experiments on Animals. Moral Theologian's Reflections, "Studia Ecologiae et Bioethicae" 13(2015), nr 2, s. 107-119.
Smykowski K., Zwierzęta jako przedmiot przedsoborowej myśli teologicznomoralnej, "Studia Bydgoskie" 8(2014), s. 77-88.
Spaemann R., Szczęście a życzliwość. Esej o etyce, Redakcja Wydawnictw KUL, Lublin 1997.
Szumowski W., Historia medycyny filozoficznie ujęta, Wydawnictwo Marek Derewiecki, Kęty 20084.
Światowe Stowarzyszenie Ogrodów Zoologicznych i Akwariów, Tworzenie przyszłości dla dzikiej przyrody. Strategia ochrony ogrodów zoologicznych i akwariów, Biuro Wykonawcze WAZA, Berno 2005.
Wróbel J., Zwierzęta i ich prawa, w: Prawa człowieka. W 60. rocznicę uchwalenia Powszechnej Deklaracji Praw Człowieka. Przesłanie moralne Kościoła, red. K. Jeżyna, T. Zadykowicz, Wydawnictwo KUL, Lublin 2010, s. 79-103.
Wyrostkiewicz M., Niemoralne oblicza sportu, "Roczniki Teologiczne" 53(2006), z. 3, s. 171-184.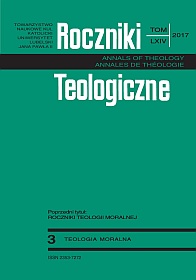 Copyright (c) 2017 Roczniki Teologiczne
This work is licensed under a Creative Commons Attribution-NonCommercial-NoDerivatives 4.0 International License.