The 'Stranger' as a Challenge for Communion Ecclesiology
Antoni Nadbrzeżny

The John Paul II Catholic University of Lublin, Faculty of Theology
Keywords:
stranger; ecclesiology; communion; the Church; mission; responsibility; solidarity
Abstract
In this paper, the author deals with the question of communion ecclesiology in the context of the current migration crisis in Europe. Contextual theology based on the correlation method tries to develop the understanding of the Church's essence and mission by using the ecclesiological model called communion and putting it in the contemporary social context. The notion of the 'stranger' introduced by the sociologists into the public discourse seems to be very operative and useful category for ecclesiology as well. The first part of the article presents the phenomenon of the stranger in sociological perspective. The second part discusses Jesus as Sacrament of God in the encounter with strangers. The author analyses Jesus' words and his attitude to strangers and socially alienated people. The third part describes the Church as the sacrament of responsibility and open home for strangers and poor people. The Church can be also understood as the mother with a heart open especially to those who suffer from war and misery. In the final part of this paper the author presents some pastoral implications. He draws attention to the necessity to enhance the social aspect of Eucharist and to encourage the believers to create the 'culture of solidarity' with refugees and strangers in need.
References
Bauman, Zygmunt. Socjologia. Poznań: Zysk i S-ka, 1990.
Czaja, Andrzej. "Communio w eklezjologii Soboru Watykańskiego II." In "Communio" w chrześcijańskiej refleksji o Kościele, edited by Andrzej Czaja, Marek Marczewski, 109-133. Lublin: TN KUL, 2004.
Coggins, Richard. "Samarytanie." In Słownik wiedzy biblijnej, edited by Bruce M. Metzger, 700-702. Warszawa: Vocatio, 1996.
Francis. Message for the 101st World Day of Migrants and Refugees 2015. Città del Vaticano, 2014.
Francis. Address to the European Parliament. Strasbourg, 2014.
Francis. Message for the 102nd World Day of Migrants and Refugees 2016. Città del Vaticano, 2015.
Heschel, Abraham J. Kim jest człowiek, translated by Katarzyna Wojtkowska. Łódź: Wydawnictwo Uniwersytetu Łódzkiego, 2014.
John Paul II. Novo millennio ineunte. Città del Vaticano: Libreria editrice vaticana, 2001.
Mariański, Janusz. "Indywidualizm religijny we współczesnym świecie wyzwaniem dla Kościoła." In "Communio" w chrześcijańskiej refleksji o Kościele, edited by edited by Andrzej Czaja, Marek Marczewski, 13-40. Lublin: TN KUL, 2004.
Nadbrzeżny, Antoni. "Eklezjologia odpowiedzialności. Z namysłu nad encykliką Redemptor hominis." Roczniki Teologii Dogmatycznej 1(56)2009, 31-44.
Niewidzialne światło. Z abp. Józefem Życińskim rozmawiają Dorota Zańko i Jarosław Gowin. Kraków: Znak, 2011.
Schillebeeckx, Edward. Menschliche Erfahrung und Glaube an Jesus Christus. Freiburg im Br.: Herder, 1979.
Schutz, Alfred. Collected Papers, vol. 2: Studies in Social Theory. The Hague: Martinus Nijhoff, 1964.
Simmel, Georg. Socjologia, translated by Małgorzata Łukasiewicz. Warszawa: PWN, 1975.
Waldenfels, Bernhard. Podstawowe motywy fenomenologii obcego. Warszawa: Oficyna naukowa, 2009.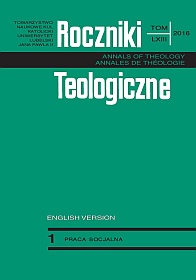 Copyright (c) 2016 Roczniki Teologiczne
This work is licensed under a Creative Commons Attribution-NonCommercial-NoDerivatives 4.0 International License.