The Beginning and Outline of the Dogma of the Trinity
Keywords:
Trinity; Logos; homoousios; homoiousios; consubstantial; ditheism
Abstract
The present article outlines the beginnings of the dogma of one God in three Persons. Albeit its germ was already present in Jesus' teaching, its growth happened in conditions that were sometimes adverse. This is also testified to by the fact that the very notion and word "Trinity" (Trinitas) – as one more precise and distinguished from "Triad" (Triás) that was a little older – appeared only at the end of the 2nd century. This development resulted from the Christians' absolute necessity, for they had to find a plane, on which faith in Jesus Christ as God's Son is in accordance with the truth that there is one God. The early twilight, or even disappearance of the Jewish Christianity current that was more sensitive to confessing a strict – that is numerical, and not only qualitative – unity of God, was marked by an influence of Greek philosophy. Its popular form was Middle Platonism combined with Stoicism that was mainly characterized by the teaching about the Word (ho Lógos), that is a divine intermediate being between God and the world that, by the way, was supposed to be created by Him. Its way to the Biblical theology was cleared by an Alexandrian Jew whose name was Philo, a Jesus's peer, and this way influenced the Christian thought as soon as the middle of the 2nd century thanks to Justin, and then – to Origen and the Cappadocian Fathers. Even today it is a feature of history of Eastern theology, where the verdict of the First Council of Nicaea is an exception; and the verdict is not without a connection with the thought of Tertullian who worked in the Latin Carthage at the turn of the II and III centuries.
References
Altaner, Berthold, Stuiber Albert. Patrologia, translated by P. Pachciarek. Warszawa: PAX, 1990.
Beatrice, Pier F. Introduzione ai Padri della Chiesa. Vicenza: Istituto San Gaetano, 1982.
Chadwick, Henry. The Early Church. Translated by Andrzej Wypustek. Warszawa: Państwowy Instytut Wydawniczy 2004.
Dünzl, Franz., Breve storia del dogma trinitario nella Chiesa antica, translated by Carlo Danna. Brescia: Queriniana, 2007.
Huculak, Benedykt J., OFM. "Jana Dunsa Szkota nauka o Osobie w Trójcy." Roczniki Teologii Dogmatycznej 3(58)2011, 113-140.
Huculak, Benedykt J., OFM. "Wczesnochrześcijańska nauka o Duchu Świętym w przekazie Dydyma Aleksandryjskiego, nazywanego Ślepcem." Roczniki Teologiczne 50 (2003), issue 2, 101-116.
Huculak, Benedykt J., OFM. Herbem Trójca i Wcielenie. Wybór pism pomniejszych. Rzeszów: Wydawnictwo Św. Józefa Sebastiana Pelczara, 2014.
Huculak, Benedykt J., OFM. Najświętsza Trójca na tle dzieła zbawczego. Kalwaria Zebrzydowska: Calvarianum, 2000.
Huculak, Benedykt J., OFM. "W sprawie odniesienia poglądu Focjusza do Symbolu Nicejsko-Konstantynopolitańskiego." Analecta Cracoviensia 25(1993), 147-154.
Kelly, John N. Early Christian Doctrines: Revised Edition. New York: HarperOne, 1978. Translated by Julia Mrukówna. Warszawa: PAX, 1988.
Montanelli, Indro. Storia dei Greci. Mediolan: Corriere della Sera, 2004.
Mossé, Claude. Pericle, l'inventore della democrazia, translated by Barbara Gregori. Roma−Bari: Laterza, 2006.
Nowowiejski, Antoni J. Msza święta, vol. 1. Warszawa: Antyk, 2001.
Pierrard, Pierre. Historia Kościoła katolickiego, translated by Tadeusz Szafrański. Warszawa: Instytut Wydawniczy Pax, 1984.
Prestige, George L. Dio nel pensiero dei Padri, translated by Aldo Comba. Bolonia: Il Mulino, 1969.
Rauschen, Gerhard. Patrologie. Fryburg Br.: Herder, 1926.
Simonetti, Manilo. La crisi ariana nel IV secolo. Roma: Institutum patristicum Augustinianum, 1975.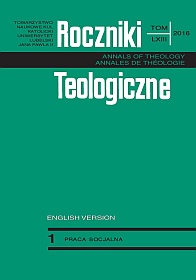 Copyright (c) 2016 Roczniki Teologiczne
This work is licensed under a Creative Commons Attribution-NonCommercial-NoDerivatives 4.0 International License.