Mary – the Morning Star Announcing the Dawn of Resurrection
Grzegorz Bartosik

Cardinal Stefan Wyszyński University in Warsaw
Keywords:
Mary – the Morning Star; Resurrection; Messiah's Second Coming
Abstract
The present article shows in a synthetic form, how Mary lightens up our darkness; in what sense we may call Her the Morning Star announcing the dawn of Resurrection. First of all Her faith is shown that on Good Friday and on Holy Saturday became the faith of the whole arising Church. Until today we have been remembering Mary's faith and we have been learning it from Her every Saturday. But Mary also prepares us for the Messiah's Second Coming and for our Resurrection. As a loving Mother, seeing our sins, She descends to the earth and in Fatima calls us to come to our senses, so that we do not offend God. She again reveals Herself as the Morning Star announcing the Lord's Coming. It is up to each of us if we reply to Her motherly pleas, and if we indicate God's light to other people.
References
Brewiarz franciszkanów świeckich, edited by Jolanta Bogdanów; Alojzy Marian Pańczak et al. Niepokalanów: Wydawnictwo Ojców Franciszkanów, 2011.
Bartosik, Grzegorz. "Maryja jako znak nadziei i Gwiazda Nowej Ewangelizacji". Warszawskie Studia Pastoralne UKSW 9 (2014), no 3, 141-166.
Bartosik, Grzegorz M. Z Niej narodził się Jezus. Szkice z mariologii biblijnej. Niepokalanów: Wydawnictwo Ojców Franciszkanów 2004.
Bartosik, Grzegorz. "Poświęcenie Niepokalanemu Sercu Maryi." In Niepokalane Serce Maryi. Spojrzenie Kościoła (Wielka Nowenna Fatimska 2009-2017), edited by Krzysztof Czapla, 51-70. Ząbki: Apostolicum, 2011.
Bożejewicz, Wiesław. Prorocki charakter Objawień Matki Bożej w Fatimie w interpretacji i wykładni Kościoła Katolickiego. PhD thesis on Mariology written under the supervision of Fr. Prof. Grzegorz Bartosik OFMConv in the Chair of Mariology at the Department of Theology of UKSW (Warszawa: Centrum Studiów Mariologicznych Kolbianum, 2015), MS.
Feuillet, André, Pierre Grelot. "Światło i ciemności." In Słownik teologii biblijnej, edited by X. Léon-Dufour, 958-963. Poznań−Warszawa: Pallottinum, 1985.
Głowacki, Leonard. Podejmować wciąż na nowo fatimskie orędzie. Warszawa: Wydawnictwo Sióstr Loretanek, 2013.
Kaczmarek, Tomasz. Światła w ciemności. Męczennicy 1939–1945, Włocławek: Wydawnictwo Duszpasterstwa Rolników 2000.
Kudasiewicz, Józef. Biblijna droga pobożności maryjnej. Z Księdzem profesorem Józefem Kudasiewiczem rozmawia Danuta Mastalska. Kielce: Jednosć, 2002.
Leksykon liturgii. Edited by Bogusław Nadolski. Poznań: Pallottinum, 2006.
Magrassi, Mariano. "Maria nel mistero della Chiesa." Liturgia 1976, no 226-227, 696-697.
Mussner, Franz. Maryja Matka Jezusa w Nowym Testamencie. Kraków: Salwator, 2014.
Naab, Erich. Morgenstern. In Marienlexikon, edited by Remigius Bäumr, Leo Scheffczyk, vol. 4. St. Ottilien: EOS 1992.
Nowak, Antoni J. "Szatan." In Leksykon duchowości chrześcijańskiej, edited by Marek Chmielewski, 849-850. Lublin−Kraków: Wydawnictwo M, 2002.
Rienecker, Fritz, Maier Gerhard. Leksykon biblijny. Warszawa: Vocatio, 2001.
Serra, Aristide. Maria di Nazaret. Una fede in cammino. Milano: Paoline Editoriale Libri, 1993.
Skalski, Edmund. "Świeca paschalna w liturgii Kościoła." Anamnesis 10(2004), no 38, 115-116.
Wojtczak, Adam. "Teologiczny sens maryjnego tytułu Gwiazda zaranna." Studia Warmińskie 48 (2011), 93-115.
Wspomnienia S. Łucji z Fatimy, vol. 1, edited by Ludwik Kondor; Joaquin Maria Alonso. Fatima: Secretariado dos Pastorinhos, 2002.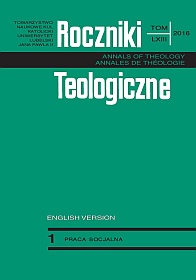 Copyright (c) 2016 Roczniki Teologiczne
This work is licensed under a Creative Commons Attribution-NonCommercial-NoDerivatives 4.0 International License.